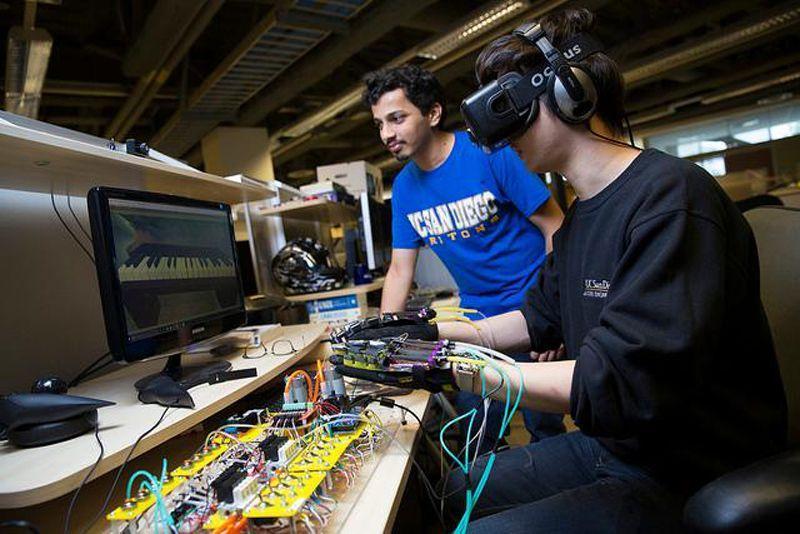 Predictions are a tricky business, especially when tasked with attempting to predict the state of online gaming, and what the future for this industry may be. The best way to gauge as to what tomorrow may hold for the online gaming industry (any industry for that matter) is to take a look at current trends and ascertain which direction each trend may be headed towards.
There are a few online gaming trends, particularly when looking to sites offering online slots games, that have been occupying the space of analysts' discussions, and are continuing to provide a much-talked-about platform whereby gaming experts and analysts alike can compare notes, thoughts, and opinions.
The online gaming trends that are gaining much attention these days are as follows:
1.     Virtual Reality:
This particular type of online gameplay is indeed a hot topic in the igaming world, and has been a point of contention, and excitement for a number of years now. Although there are still many different problems and issues with Virtual Reality, the components needed to run such an online game and the issue of costs – players are still quite excited about the prospect of being able to play a game whilst being able to experience the game in question in a way that blurs the lines of reality and fantasy.
VR games are posed to be able to take the player directly into a virtual world, where the player will be immersed in all elements that the particular game has on offer. The various colors, textures, and tones of a VR game are experienced by the online game player right throughout their virtual reality gameplay.
Many game developers are of the opinion that although VR gaming is indeed on the cusp of innovation and online gaming advancements, there are still quite a few other gaming avenues online game players can pursue that are just as novel and exciting, while posing considerably less operational issues that VR holds, when it comes to providing great gameplay.
2.     Augmented Reality:
Taking a look at Augmented Reality, many game players are prone to opting towards this type of gameplay. Being an amalgamation of virtual reality gameplay and the normal digital gameplay that we have come to know, Augmented Reality gaming is a great way for game players to get immersed in their game of choice. A great example of just how successful AR gaming can be is the immense popularity that accompanied the Pokémon Go game.
As soon as 'Pokémon Go', an AR game was released to the general public, the great hype-machine was unleashed, creating a sensation that literally swept the game players of many nations. I can clearly recall the fascination that many game players had with this AR game, as millions of gamers took to the streets, chasing down and attempting to catch the various pocket monsters released into the natural surrounding via the augmented reality interface.
One can see, by looking at this one example of AR gaming, that by and large, people are ready to engage with the likes of augmented reality gaming, and will go all out to ensure they remain on the curve of the AR developments and offerings. Indeed, we expect to see a whole lot more from this type of gaming. Especially when looking towards online slots gameplay.
3.     Incremental Console Updates:
Taking leave from the XBox One S, as well as the PlayStation offering, namely Neo, it is clear to see that gaming operators are intent on giving their devout players a fresh, new and improved console with which to enjoy their online gameplay.
Increasingly, the trend seems to be to offer game players a new console update incrementally throughout any given year, and half-way through the previous console generation.
One could assume that the reason for these incremental console updates could be due to the fact that mobile smartphones are advancing technologically at such a rapid pace, meaning that without the incremental console updates, the console in question would be less powerful than the mobile phone after the consoles' 7-year cycle.
4.     Feel Engineering:
Creating a game by initially aiming to create the feeling that one would want the said game to impart on the game player, followed by working backward to create the game's mechanics and dynamics is fundamentally the crux of 'Feel engineering'.
This type of game development is taking the end-aim of each game production into consideration first, and allowing for the nitty gritty and 'how to implement the game's feels', turning it into a fully functioning and responsive game to follow suit.
As we move toward a future of online gaming, it is important for game developers to keep in mind that the player will be wanting to get some form of emotional investment from the game being played, which is precisely why Feel engineering is fast becoming a thing in the future of online gaming.
5.     Mobile Gaming Advances:
It is quite common these days to see just about anyone holding a mobile device of sorts in their hands. Thanks to the ongoing technological advances and perpetual dynamism of the nature of mobile gaming, one can surely expect the mobile gaming industry to continue to increase its user-base as time marches on.
Ensuring that online slots gaming is keeping in line with the rest of the world, it is imperative for game developers to incorporate mobile solutions into their strategizing and planning of online games, as more and more game players will opt to use their mobile devices to get their online gaming on.
Most often, game developers and online gaming sites, for example, mFortune Casino, will ensure their online slots offerings and casino table games are available for gameplay via various mobile devices. In the case of casino online gaming sites these days, most of them are iOS, Android, and Windows OS compatible.
Taking into account the technological advances that will no doubt define the future, one can only expect further improvements that will point toward the streamlining of online gaming products. We are surely in for a great ride, when it comes to what is in store for all online gaming enthusiasts in the future to come.