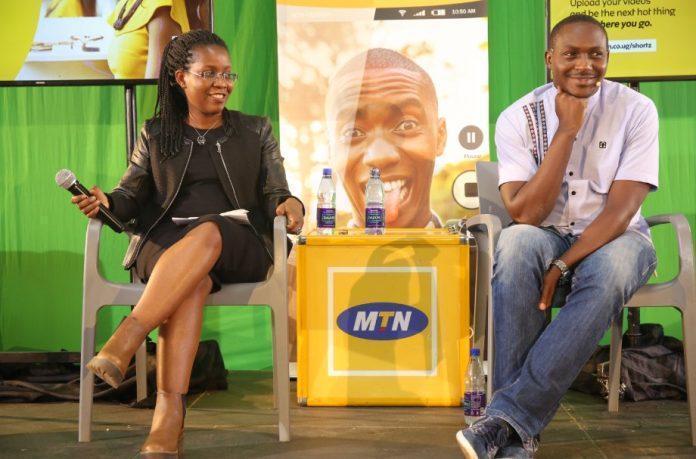 Telecom firm; MTN Uganda on Thursday at The Square Palace in Kampala launched a new product dubbed; MTNShortz; a platform that allows subscribes watch videos of a maximum length 10 minutes on their mobile phones/tablets on an active data bundle limited to MTN Uganda customers.
MTN Shortz comes after the launch MTN Pulse a community platform targeting the youth, giving them the power to be themselves, unleash their full potential and live life with No Fear. Therefore making it part of the pulse movement. It (MTN Shortz) being accessible on mobiles/tablets is because today 80-90% of videos is watched on these devices.
All videos that will be created for the platform will by Ugandan for Ugandans organized under channels. A customer will have to subscribe to a channel in order to watch videos within that channel. However, customers will have to pay a subscription fee from 200 UGX to 1,000 UGX including taxes. And will have access to these videos for 24 hours. The fee can be paid either by airtime or mobile money.
Once a customer has an active subscription to MTNShortz then they can be able to stream content from anywhere in the world as long as they have an internet connection.
Content creators for MTNShortz
These will share original content to MTNShortz for MTN customers to watch. In return have an opportunity to earn money from their content. This is because in order to watch videos MTN customers must pay by subscribing.
To be eligible to provide content, one has to signup first. MTN has designated content integrators whose role is to signup content owners and manage their content on MTNShortz. The integrator for MTNShortz is Content connect Africa and can be contacted at the Shortzug website or by phone +256 (0) 777 800094.
How to subscribe and start watching MTNShortz
On your mobile phone/tablet, visit the MTN Shortz website.
Select a Channel of your choice.
Subscribe to the channel.
Watch videos within the channel. (Note: videos can't be downloaded at any point)
MTN CMO; at the launch said the telecom firm is going to support this initiative.
"We're on our side are obviously going to put a lot of marketing and investment because we want it to work," he said.
Editor's Note: This article has been updated since its last publication.