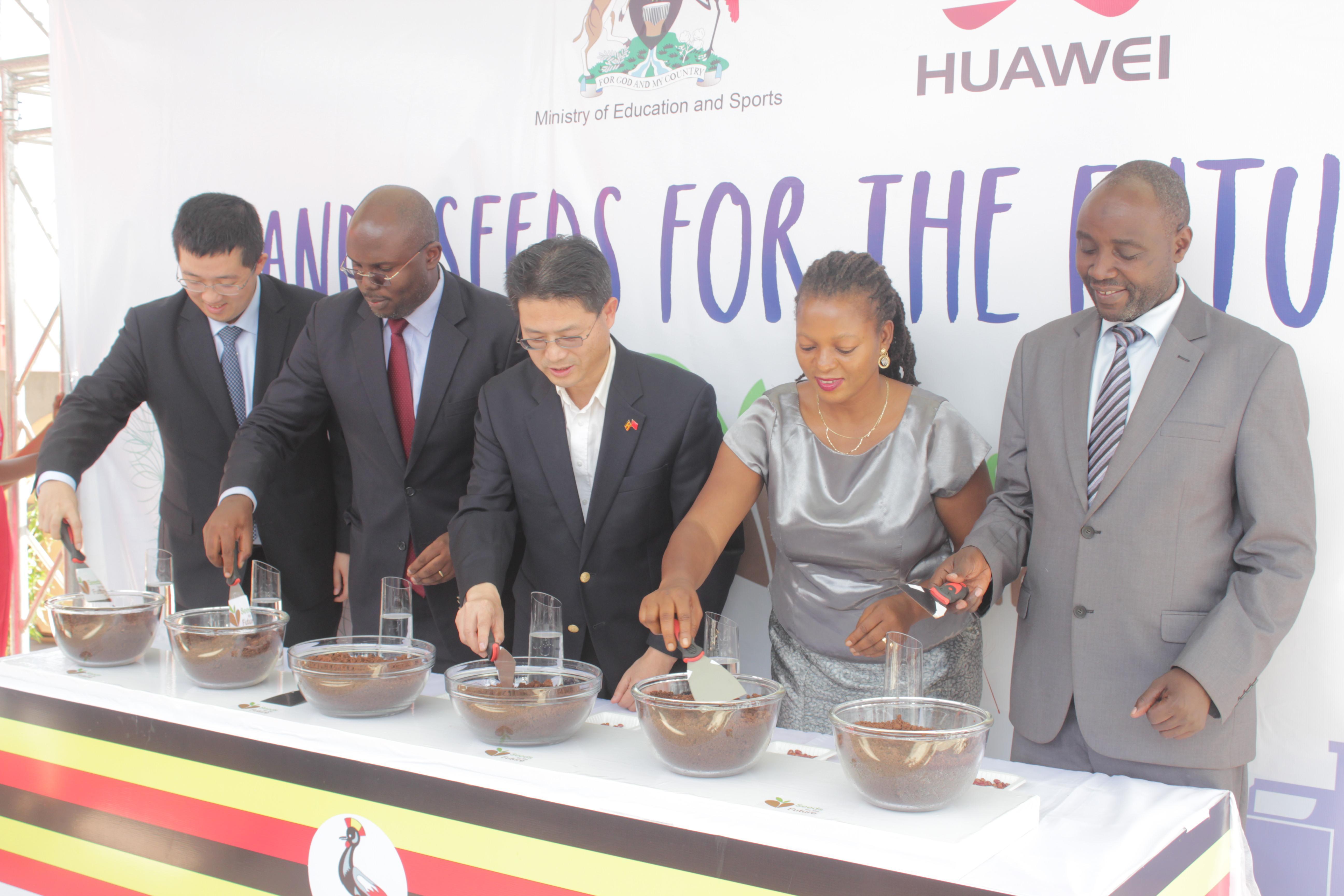 Huawei on Wednesday partnered with the Ministry of Education and Sports to launch the 2018 edition of the Seeds for the Future Program.
The program that selects top college students in ICT-related courses for a study trip in China was launched at Huawei's Representative Office at Kisementi in Kampala and is to take place for the third time.
Speaking on behalf of the Permanent Secretary of the Ministry of Education and Sports Mr. Muzanilu Mukwatampola, the Acting Commissioner for Higher Education in the Ministry lauded Huawei for the program.
"On this note I thank Huawei for allowing us to be a part of this initiative that has benefited Uganda's education sector through knowledge transfer, enhancement of teaching and scientific research capabilities, exposure to the newest technology trends and provision of high quality courses and opportunities for hands-on practice", he said.
The program that was flagged off by H.E. Yoweri Museveni began in Uganda in 2016 with 10 ICT talents visiting China in Beijing and Shenzhen. In 2017, 10 more students from the various public universities of Uganda participated in the same training; in the Chinese culture such as language, calligraphy, painting learning, historical tour in Beijing and cutting-edge ICTs lessons, enterprise management experience sharing, lab practices, Huawei exhibition hall visit and solutions demonstration in Shenzhen, where Huawei's headquarter is located.
According to the Managing Director of Huawei Mr. liujiawei "Out of the 10 students that went to China last year, one has been offered employment in Huawei known as Maria Drolence, Maria Angella Namuleme was offered internship to continue training with our Uganda office, other three were offered employment in other companies and others continued with their studies."
"Our focus this year is to have the top 10 ten students out of the 35 forwarded by all government of universities of Uganda. In our most advantage labs, they will keep their fingers on the pulse of technologies to explore for the future where digital technology is taking us", He added.
10 students selected by their proposals required for the program shall leave for China on 6th April for two weeks.
The Deputy Chief of Mission Chinese Embassy to Uganda Mr. Chu Maoming noted that the program is a good example of Chinese companies carrying out win-win cooperation fulfilling the wellbeing of all Ugandans through Corporate Social Responsibility.
"Seed is a symbol of life, future and hope. Talent is the key factor to the growth and development of any industry. The "Seeds for the Future" Program initiated by Huawei is actually a very good example of Chinese companies carrying out win-win cooperation and fulfilling corporate social responsibilities in Uganda. I am sure that this Program will not only plant the seeds of ICT, but also seeds of China – Uganda friendship and cooperation", He said
The Seeds for the Future program was initiated in 2008 by Huawei with over 280 universities globally taking part.