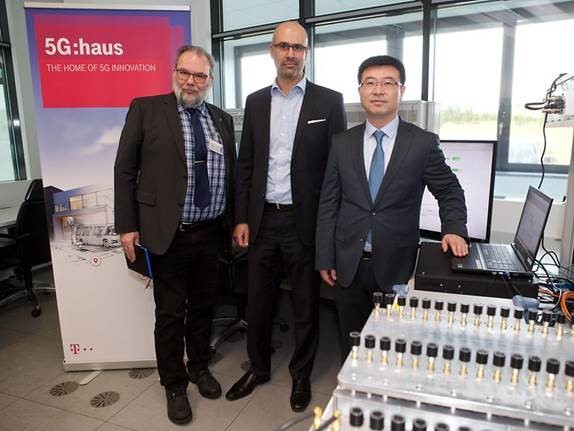 Deutsche Telekom, Intel and Huawei prove the world's first 5G interoperability and development testing (IODT) based on the 3GPP R15 Standard with a commercial base station in an operator lab environment. This successful test in Bonn, Germany, is another important milestone after the three partners initially verified the first 5G NR interoperability in Huawei's Shanghai labs.
The test is based on Huawei's 5G commercial base station and Intel's third generation 5G NR Mobile Trial Platform (MTP). It is a critical step towards the early development of full commercial 5G equipment in 2019, accelerating the 5G ecosystem.
The test configuration used by the three parties is based on the largest C-band cell bandwidth defined by the 5G NR standard. It also incorporates the latest Massive MIMO multi-antenna and beamforming technology enabled by the standard framework.
Arash Ashouriha, Senior Vice President Technology Innovation of Deutsche Telekom said: " The successful testing in our 5G:haus operator environment is  another significant step on the path to 5G ecosystem maturity and early 5G commercialization."
Huawei has been innovating and investing in 5G for years. Huawei will spend a minimum of US$600 million on 5G research and innovation by 2018. At present, Huawei has more than 2,000 5G R&D engineers and 11 5G R&D centers around the world, including three centers in Europe and six centers in China. Huawei has forged alliances with ecosystem partners from around the world. By March 2016, Huawei had more than 30 partners, including leading global carriers, industry alliances, organizations, and vertical leaders.
Yang Chaobin, President of Huawei's 5G product line, said: "As the standard continues to be updated, Huawei will continue to work with all parties to step up additional interoperability tests and promote the 5G industry maturity process, and to welcome the arrival of the entire industry digitization."
[related-posts]
Asha Keddy, Vice President Client, and General Manager Next Generation Standards, Intel Corporation, said: "Intel has been actively working with leading 5G companies to take advantage of Intel's unique end-to-end 5G NR technology and to accelerate 5G testing and commercialization based on the latest 5G NR technology. The Intel®XMM™8000 modem family maturity and time to launch will significantly benefit from this early multi-vendor interoperability progress and the realization of a global 5G NR industry ecosystem, with initial launches in mid-2019 and large-scale scaling in 2020."