Tigo Tanzania, in partnership with Reach for Change; a non-profit organization, on Thursday last week awarded two (2) lucky winners who were selected from a group of hundreds of passionate social entrepreneurs of its 5th annual edition of the Tigo Digital Changemakers Competition (TDCC) $20,000 each and also were given access to Tigo and Reach for Change Incubator Program, which provides them with advice, expertise and access to global networks, enabling them to build financially sustainable social enterprises that create lasting, large scale change to the community.
Speaking during the award ceremony that was held in Dar es Salaam, Tanzania, Tigo's Tanzania Managing Director Diego Gutierrez said; "We believe that with the addition of these two Changemakers, we will impact on the lives of more children and help to make Tanzania a better place for our future generations."
The competition aimed at identifying and supporting social entrepreneurs who use digital tools and technology to improve communities and impact future generations.
Two Winners:
One of the winners; Sophia Mbega, came up with a mobile application she called VICOBA (Village Community Banks) that creates a collaborative platform that uses existing tools for financial and task management in a way that is adaptable to the African context. Through the app, all users, regardless of where they are, can transfer money from their mobile wallet to their Vicoba group account (directly from the app by using an USSD code), view all of their financial records, profit generated, weekly reports, etc.
One the other hand, Nancy Sumari who also won the TDCC award, came up with an initiative dubbed JENGA HUB that focuses on foundation knowledge for children. Through her hub and co-creation space for kids, she teaches computer programming, robotics and coding skills to primary school children. The hub also exposes children to learning basic Information and Communication Technology such as programming skills that can in turn be used for creation of a range of educational and entertainment content.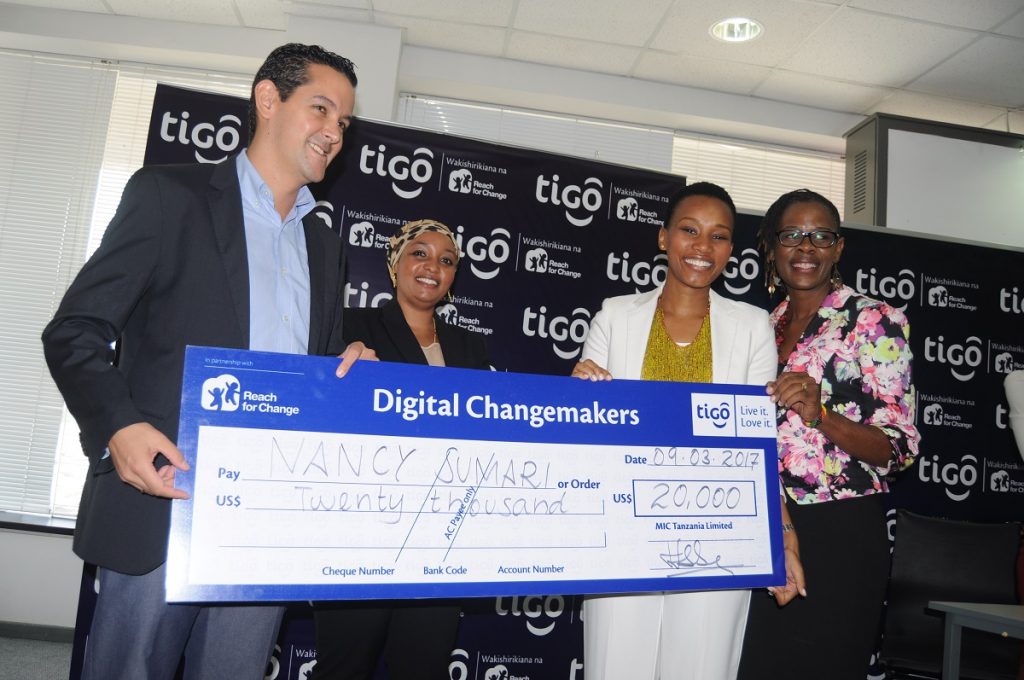 Diego further elaborated that as a digital lifestyle brand, Tigo encourages technology-driven ideas and projects that bring sustainable change.
"Digital technology is not only changing the way we do business in Africa but also revolutionizing the way we perceive and solve social development challenges. It is therefore with great honor that we will once again create an opportunity for such ideas to be recognized, supported and transformed to maximize social and economic impact," he said.[related-posts]
Not only did Diego praise the two lucky winners Sophia Mbega and Nancy Sumari, he also did praise the previous winners encouraging others social entrepreneurs to share their ideas.
"Our portfolio of social entrepreneurs is very impressive. To date, we have supported a total of 8 Digital Changemakers in Tanzania and we look forward to supporting more social entrepreneurs every year to propel this movement forward," he said.
source: TIGO Tanzania