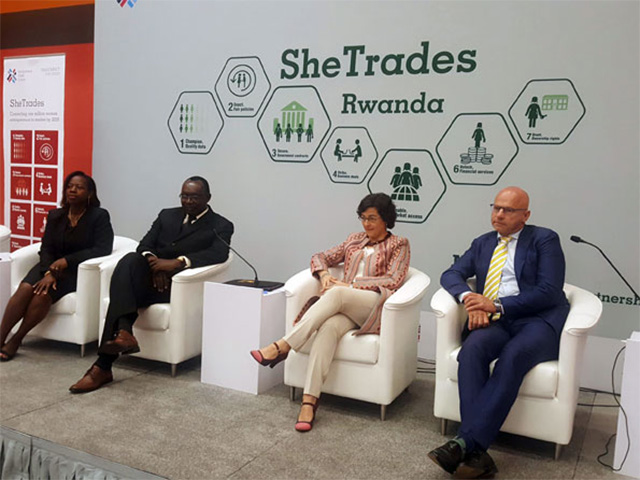 A new networking App, "SheTrades" has been launched in Rwanda to empower women entrepreneurs in the small East African country.
SheTrades which is an initiative of the International Trade Center provides women entrepreneurs around the world with a unique network and platform to connect to markets.
Through the app, women entrepreneurs are able to share information about their companies, increase visibility, expand networks, connect and internationalize their businesses.
Speaking during the launch, Rwanda's first lady Jeanette Kagame called for more support in breaking barriers that continue to block women from fully realizing their entrepreneurial abilities.
She highlighted that policy, lack of access to finance and information and cultural inhibitions were some of the reasons why women globally continue to be held back from participating in international trade.
"In other words, if women – who constitute over half of the world's working age population do not fully utilize their potential to generate wealth, the global economy will suffer. This is how much we lose," she reportedly said.
She added that equality remains the foundation of the Rwandan government's policy orientation and development action with more women playing an increasingly active role in the socio-economic fabric of the country.
On her part, the Executive Director of the International Trade Centre; Arancha González pointed out the need to provide education and skills building which she said are both going to be essential for a woman to also be part of the fourth industrial revolution.
"It's also about addressing the very high concentration of women in the informal sector working, self-employed or being owners of small and medium enterprises. When these women move into higher and more value added activities, they earn a better wage and through that, you make their economies more inclusive and stronger," she said.
SheTrades App which aims to connect one million women entrepreneurs to market by 2020, also helps corporations to include more women entrepreneurs in their supply chains.