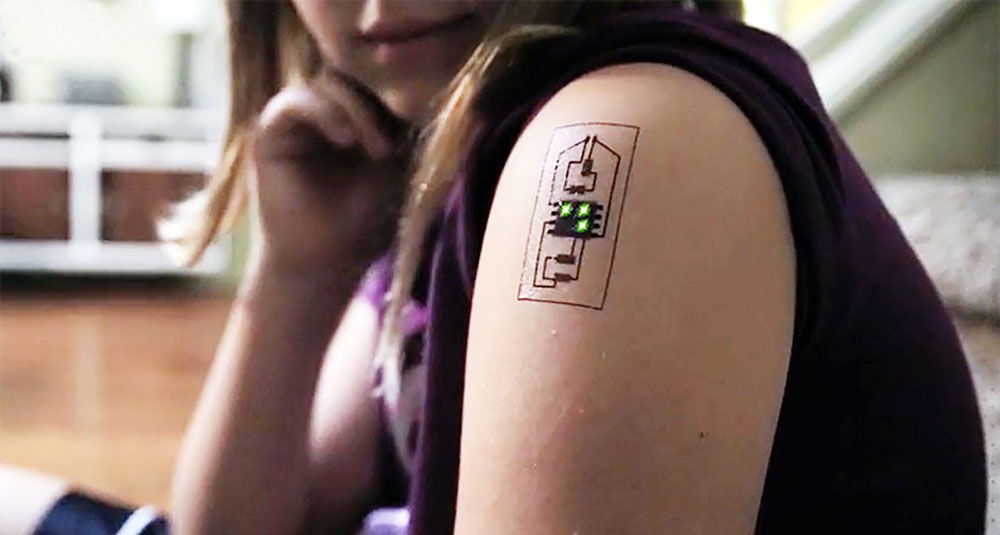 Chaotic Moon Studios, a development firm in Austin, Texas has come up with a new concept of wearable technology. The start up firm has started working on "tech tattoos" integrating sensors and conductive paint applied on any part of the body. This will allow seamless tracking health and other biometric data from the body.
These biometric wearables dubbed as 'Tech Tats' are skin-mounted components inked with conductive paint to create and lay a circuit board onto the body. A collection of bio-sensors reside on the body the form of a tattoo.
Instead of expensive devices, the technology uses the skin of the human body as an interface. Being are directly attached to the skin increases the possibility of providing more accurate information.  It is not a permanent implant. The paint can be easily washed off from the skin.[related-posts]
The electro-conductive paint applied to lay the tattoo, helps in acquiring data from temperature sensors. The tattoo can detect early signs of fever (see video) as well as track the user's heart rate and location.
Eric Schneider, the creative technologist behind 'Tech Tats' confirmed that the device can be used once a year for routine health check-up. The tattoo will collect all the relevant data from the users' body and directly send it to the clinic. This is cheaper alternative to other health monitoring devices available in the market.
CEO Ben Lamm told Tech Crunch, the Tech Tats can also be used for military purposes. It can detect poison levels in the air, stresses based on sweat, heart rate and hydration level of a soldier. Moreover, it can also be used to authorise payments like other digital payment systems like Apple Pay.
The wearable fitness tracking market is still dominated by Fitbit. To date it remains the world's biggest vendor of wearable devices by shipments followed by Apple and Xiaomi.
[
INTERNATIONAL BUSINESS INSIDE
]