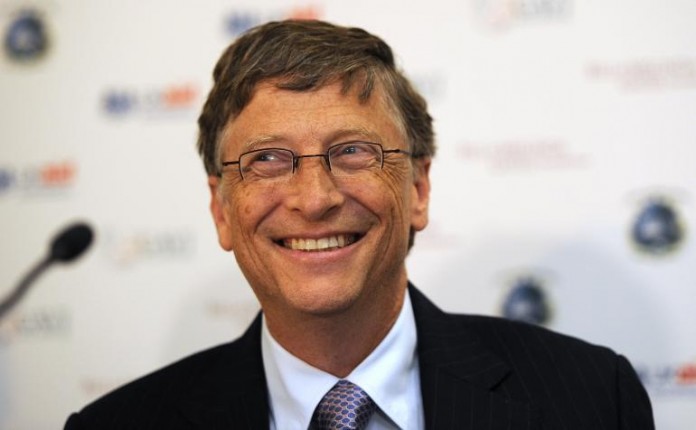 Hot on the heels of a major announcement that Bill Gates and 27 other astronomically wealthy individuals – including Mark Zukerberg and Richard Branson – have banded together to find ways to create technologies that can solve the energy crisis, Gates has released an essay.
The eight-page piece is called 'Energy innovation: Why we need it and how to get it', and is available here to download [PDF].
It's a stark reminder that energy demands are growing, yet fossil fuels continue to supply more than 80 per cent of our power – producing greenhouse gases and driving climate change.
In 30 years the world will consume much more energy than it does today. This should be good news. Wherever access to reliable, affordable energy goes up, so does the quality of life. But today more than 1 billion people lack access to the most basic energy… Of course, the world's growing appetite for energy is not unalloyed good news.
But it's not all doom and gloom – in the essay, Gates specifically notes three key promising areas of research, describing technologies that "show how ingenious researchers… are developing ideas that could solve the energy problem."
1. Solar chemical
The sun's incredible energy bathes the globe, keeps us all alive, and is harnessed by most plants and animals. Humans are getting better at using the sun to generate electricity.
Solar power via photo voltaic technology has really leapt forward, with many buildings and houses across developed countries now sporting solar panels on rooftops.
There's also solar thermal technology, which puts together a large number of mirrors to direct heat from the sun to a single point, and using that heat to generate steam to turn turbines.
But Gates is pointing towards solar chemical, a different approach where solar energy is used to create fuel, in a traditional sense. The key difference is that it's a renewable source of energy.
It works the way that plants convert sunlight into energy via photosynthesis. Scientists have attempted to replicate what Mother Nature does so well, using a careful sandwich of cells to create a kind of artificial photosynthesis – a Holy Grail of sorts.
The major approach now is researching artificial photosynthesis to split water into its elements of hydrogen and oxygen, which can be used in numerous ways:
"Solar chemical would put us on a path to decarbonising both the electricity and transportation sectors," writes Gates.
The issue, Gates notes, is that the technology remains in its first generation. The unresolved challenge is that the sandwich of cells is not equal, with some parts working under different heat, light, and atmospheric conditions to others.
The Holy Grail remains elusive.
2. Flow battery: The better battery
A significant portion of the world's R&D is going into batteries – from universities to major corporations like General Electric (GE), Panasonic, LG, Samsung, and many, many more. That's not just for having an iPhone that can last a few weeks without a charge either. The challenge is storing the world's energy needs – a single windy day should be able to power a city for a month, but it goes wasted.
Gates is keenly aware of this, and has pinpointed the flow battery as something that could change the world of energy storage.
They'd last decades, be hugely useful for capturing generated, renewable energy needed by large industries, reduce peak power demands and black-outs, and on the scale of the entire grid, could reshape the way power is generated and utilised.
That's big promise, and while a perfect flow battery wouldn't affect consumers generally – given that the smallest they can be, Gates says, is about the size of a fish tank – it could be a major winner around us all.
They're called 'flow' batteries because a charged electrolyte runs back and forth between holding tanks, releasing energy:
While the battery is being charged, the liquid flows from the receiving tanks to the holding tanks, through a radiator-like set of fins that charge the liquid with energy. Energy is released when the liquid flows out of the receiving tanks, back through the fins and into the holding tanks.
So what's stopping flow batteries? Gates writes that the challenge with working prototypes is that they use vanadium, a rare
element, as the active electrolyte in the liquid. To be commercially feasible at large scales, a more available electrolyte element or molecule will be needed. Currently, 93 per cent of vanadium is mined in South Africa, north-western China, and eastern Russia.
A team from the University of New South Wales, Sydney, has been at the forefront of vanadium redox flow battery technology since the invention of the first all-vanadium redox flow cell by Professor Skyllas-Kazacos and co-workers back in 1985, while teams across the world are attempting to build off that work to find more environmentally friendly solutions.
3. Solar paint
Imagine being able to coat your roof in paint that conducts electricity. Solar paint would transform almost any surface into a cheap solar panel without the need to install large, heavy panels – it could work on rooftops, walls, cars, and much more.
The cost of installing and maintaining solar panels is a big one, while solar paint is far easier.
It's something that Dr Paul Dastoor (one of the finest lecturers you could come across) and a team of some 30 researchers at the University of Newcastle's Centre of Organic Electronics, are working on every day.
[Techly]