Microsoft
Microsoft Edge does not want you to download Chrome or Firefox
Microsoft is trying to persuade users to keep Edge, the company's new browser that replaces Internet Explorer, when they search for 'Chrome' or 'Firefox' on Bing.
When you use Bing search on Edge in Windows 10 to search for other browsers get a small message that says: "Microsoft recommends Microsoft Edge for Windows 10" with a link to a page explaining why.
"Microsoft Edge was designed exclusively for Windows 10 with features and functionality that enhance the browsing experience such as Cortana, Web Note, and Quick answers," a Microsoft spokesperson told VentureBeat who first discovered this.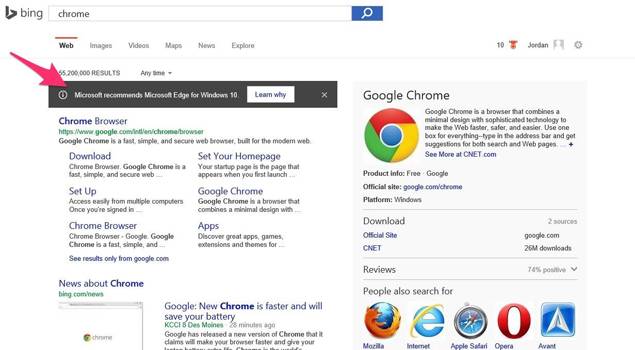 The message from Microsoft is clearly aimed at users who are swapping browsers, and comes after reports that new Windows 10 users were dropping Edge after initially trying it.