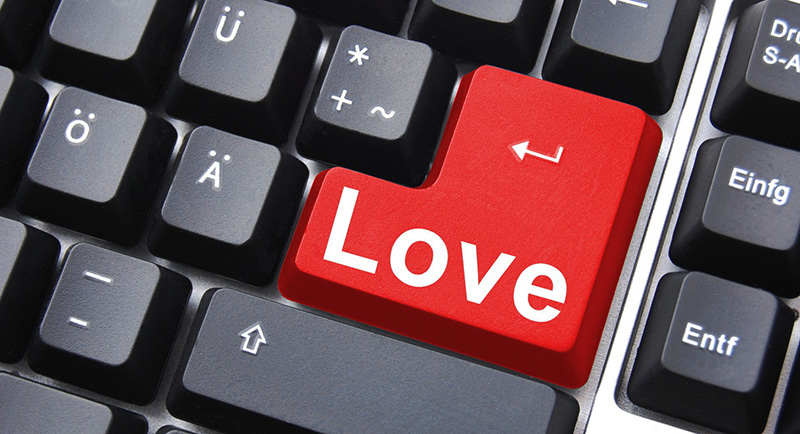 Smartphones have become very popular in recent years. Really this should come as no surprise given how useful they are. There seems to be an app for pretty much everything nowadays. There are even dating apps to help out a guy or girl in need. Just take out your iPhone or Android phone and download these top social networking dating apps. Before you know it, you would be hooking up!
POF – Free Dating Site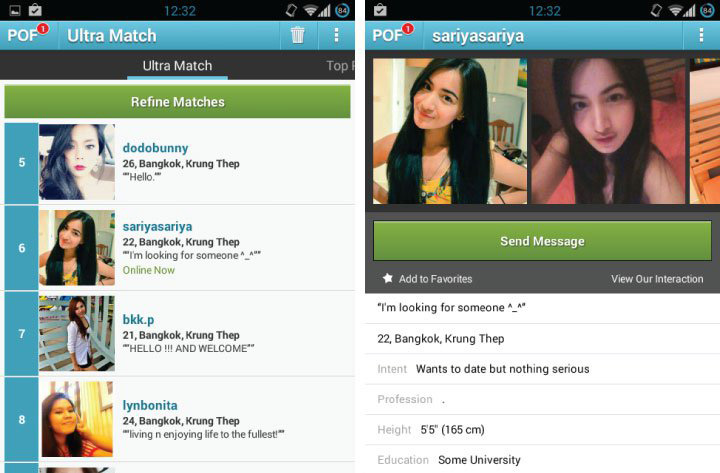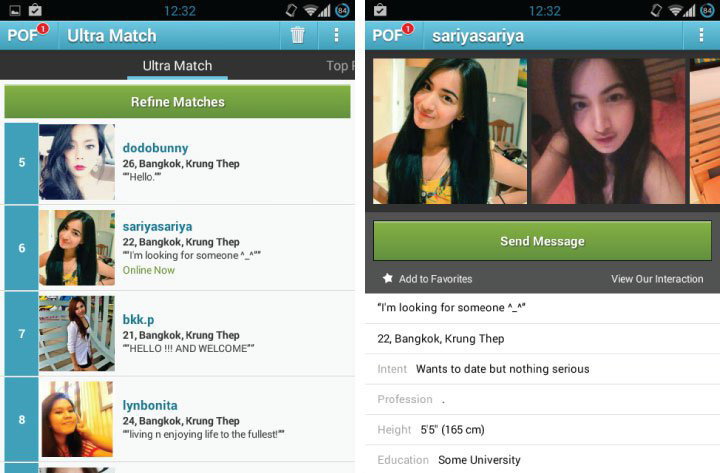 With over 200 million messages exchanged each week, POF is considered to be the highest rated mobile dating app. The advantage of POF is that the registration process does not link up with any social sites making it a non-phishing app.
Best of all, since the launch of the dating site in 2003 till now with the dating app, registration is free. Users gain instant access to all the features including sending and receiving messages on the go with the mobile app, match with other singles and see who wants to meet you, as well as discover who viewed your profile and review your matches.
MeetMe – Chat & Meet New People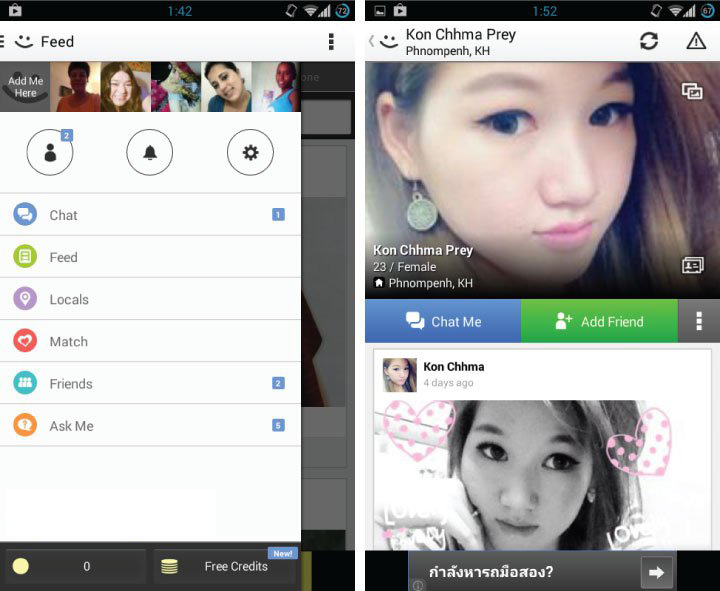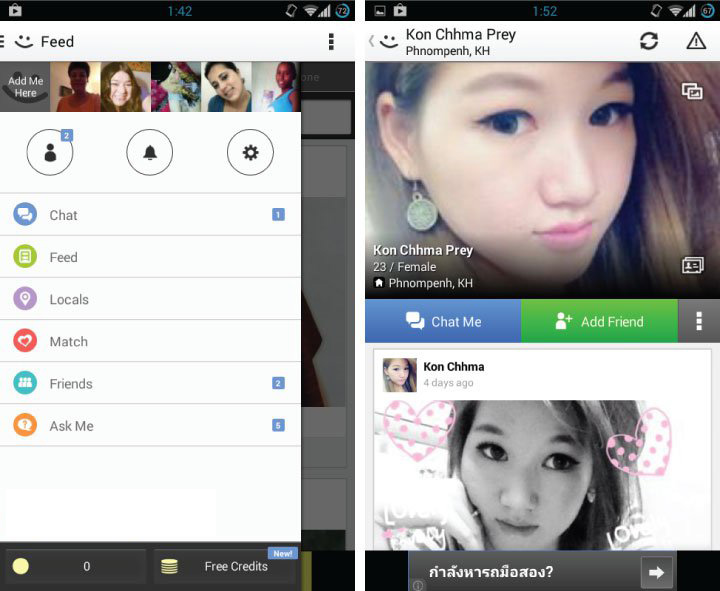 MeetMe is a simple app to show you who is nearby, ready to chat and meet. More than 90 million users are hanging out, making new friends and chatting at MeetMe.
Once the app suggests a match, users can choose to be a secret admirer, and if the profiles admire each other, they will be informed for chatting. The Ask Me function lets user ask and answer about anything. Be careful when using the app though, as there are ads in the app which might actually lead to unusual content.
Tinder (Android, iOS) (Free)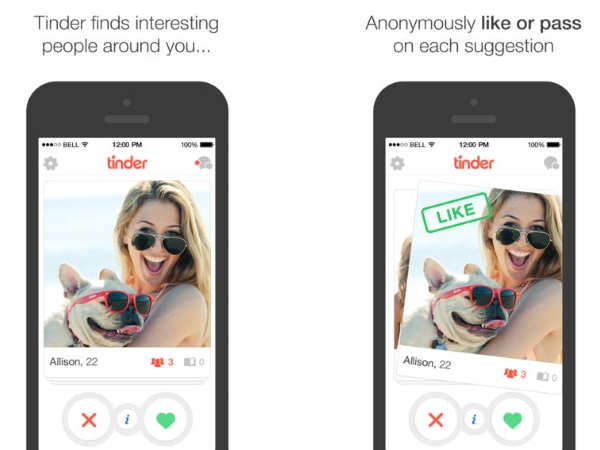 Tinder has attracted a lot of attention thanks to how easy it is to set-up and use. All you need to do is log-in with your Facebook account, and Tinder will upload your first name your photos, your interests, and your age from your profile to create a Tinder profile. You can then anonymously browse potential matches near you, swiping right if you're interested in the person you're currently seeing, or swiping left if you reject them. You can also tap on their profile picture to see any other photos they have, if mutual friends, or common interests you have. If you both swiped right, Tinder will let you know that it's a mutual thing, and offers to let you send a message, and maybe set-up a date. Tinder's received positive reviews thanks to its emphasis on privacy and minimal initial emotional investment, since you only find out about the interested ones without the pain of rejection.
OkCupid (Android, iOS) (Free)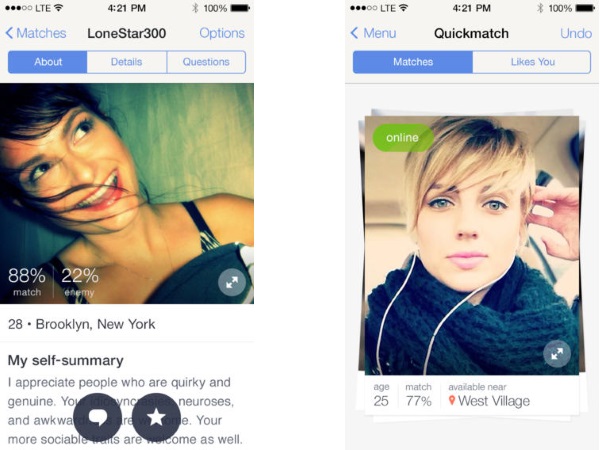 OKCupid has a reputation as being the most popular data driven dating site, and they have the stats to prove it. The app has, basically, all the functions of their website in mobile form, including building your profile, checking out and rating other profiles, answering quizzes and chatting up potential dates. A welcome feature is the ability to upload photos from your phone directly to your profile, which means that fantastic photo you took with the tiger from the zoo can be immediately set as your profile picture. Just don't end up on Fedoras of OKCupid, please.
How About We (Android, iOS) (Free)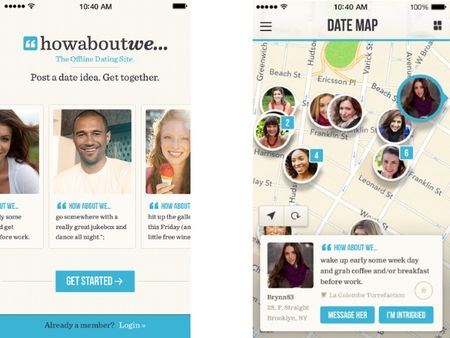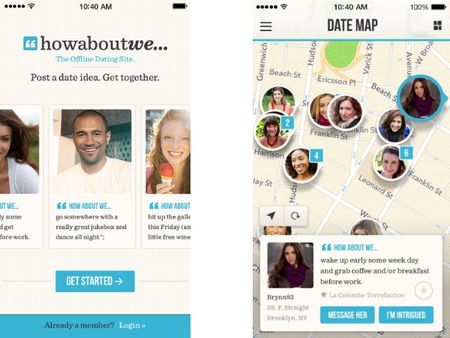 If you're looking for the ideal first date, why not give How About We a try? Rather than flicking through profiles, this dating app has you describing the kind of date you want to go out on, whether it's early morning coffee, jogging, pub crawling or karaoke. Users can then check out other people's date ideas, profiles and messages, and then head off to meet them offline. Users can set up a profile and date ideas for free, with a subscription tier adding extra features.
Sources: Tom's Guide, Rumours' City