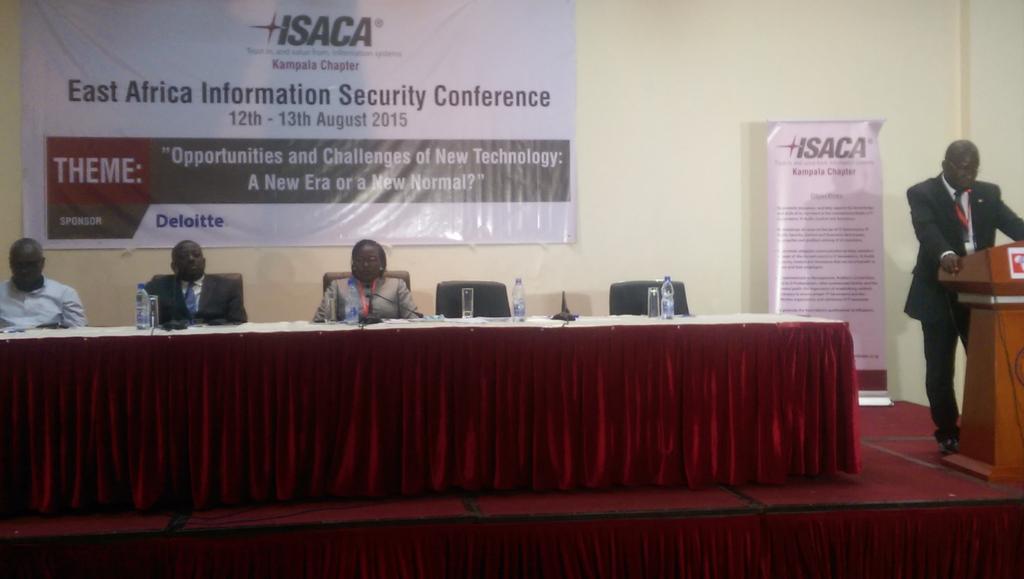 The 2015 East Africa Information Security Conference organized annually by ISACA kicked off this morning at the Africana Hotel in Kampala, under the theme "Opportunities and Challenges of New Technology: A New Era Or A New Normal?"
The premier event is organized for professionals in IT risk, security and governance, annually and is organized by the ISACA Kampala Chapter in partnership with NITA-U. The event will run for 2 days from the 12th to the 13th of August 2015.
This year's conference focuses on the opportunities that are being created by innovations and the new breed of technology & new market scenario with it. As well as challenges and threats on how organizations protect their business and data.
Hussein K Isingoma the President of the ISACA Kampala Chapter welcomed attendees and invited guests to the 2015 East Africa Info Sec Conference, after a moving keynote speech by Robert Kabushenga, the CEO of Vision Group on "transforming an underperforming organization to business excellence".
"It is no secret that government and business leaders now recognize that technology is core to driving enterprise value, but they don't always know how to integrate IT with business or how to effectively manage emerging trends such as cybersecurity, mobile devices, social media and cloud initiatives among others." Remarked Hussein.
The ISACA Kampala Chapter president, Hussein K Isingoma also pointed out the key business drivers for Information Technology as; product development, process improvement, stakeholder integration, cost efficiencies, competitive advantage and globalization.
"With the coming into use of broadband internet, there is a tremendous use of mobile and cloud technologies. Our connectivity to the internet brings extraordinary benefits to our lives, but also with it substantial risks. The EA Information Security Conference provides the opportunity for IT audit, security and governance professionals to come together for a wealth of current industry information, knowledge sharing and networking opportunities." – Hussein said in his opening remarks.
Practitioners, professionals and experts will discuss some of the current issues and solutions in the rapidly evolving IT profession and will arm participants with knowledge and advice to benefit their organizations.