Telecoms
Africell's Racism Allegations Shine Spotlight on Uganda's Online Journalism
There is a $7.99 poster selling on Amazon.com that, in a very humorous way, makes an important point about how and when we should use social media today. "In Case of Fire – Exit Building Before Tweeting About It," it reads.
I first stumbled upon that poster a few years ago when it was used by mashable.com to illustrate the need to exercise caution – and keep safety in mind – while using Twitter. Twitter wasn't as popular as it is now; and the Ugandan Twitter community was so small that members knew and called each other by their handles.
As such, there was an implicit need to exercise caution and think twice before posting anything as one's remarks would directly impact on their reputation. Some people thrived on that fact, actually. Knowing that making a string of sensible tweets would enhance their reputation and grow their Twitter following made it necessary to actually think about all tweets more than once.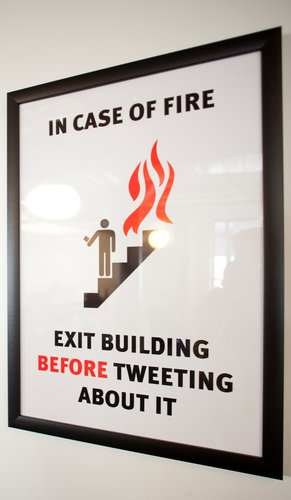 Things have since changed. Twitter is now a household tool. Just like Facebook. And people use it for all sorts of reasons.
It's not only the usage of Social Media that has gone up since. So, too, is the amount of online publishing. Numerous news/gossip/satirical websites have been launched in Uganda. And more come up every now and then. They have one thing in common: they're all trying to reach a part of the eight million internet users, and portion of the growing online advertising budget from Uganda's largest advertisers.
"When you run an Internet startup, you become a sucker for statistics. Impressions, views, Clicks, comments, follows, likes, search terms, referrals, subscriptions, geography, conversion become the terms you digest daily. Growth hacking becomes your specialty," wrote Dignited's Onyait Odeke on Facebook.
But being able to get the said impressions and clicks that advertisers so badly crave often comes with doing something competition isn't doing. With your content, you literally bid for social media users' clicks, Likes, Shares, RTs and whatnot. You have to work towards giving users what they want. That's why the world's leading news websites publish football transfer rumors.
So last week, one website decided to deliver a scandal. Africell, a telecoms company that only entered the market last year had fired 59 of its staff. And an email address allegedly created by 'disgruntled' staff communicated that the Lebanese owners had called Ugandans monkeys.
"Racism and discrimination towards African employees," the email reportedly read, "…is exhibited in defamatory, degrading insults verbally and through emails sent to Ugandan senior, junior and casual employees. For example, the Commercial Director has personally referred to some employees as monkeys and black African idiots which Ugandan employees deem disrespectful."
Especially in the wake of the xenophobic attacked in South Africa, any form of discrimination can't be tolerated.
But the company has insisted they haven't been racist towards any employees. "The recent allegations about Africell are ridiculous and preposterous," read part of the statement released Monday through the company's Facebook page.
By then, almost everyone on Social Media in Uganda knew that Africell's Lebanese owners called Ugandans monkeys, with the story on Insider.ug itself getting over 2000 shares on Facebook and being tweeted a few hundred times. But did they? As Simon Kaheru, the now-famous mafia from Media Analyst who is famously helping Africell cover this up, put it, "the tactic of calling out "Racism!" during these company restructuring processes is effective for raising publicity and anger, but weak in achieving much else."
"In the case of Africell, right from when the twitter campaign #ExposeAfricell was started, by the twitter handle @GeeksUg, I have asked everyone – anyone – to please share the evidence of Racism. So far, none has been shared," he wrote on his blog.
Kaheru is a PR consultant with Media Analyst. He and his company got caught in the Africell Racism storm when an email he sent to Africell's HR Director got leaked to and was published by Insider.ug. The website, which referred to him and/or his company as "social media analyst", said he had been hired to cover up the company's racism.
Kaheru challenges his critics to be more analytical before/while offering commentary.
"How come the accusations of racism are coming out now, after people are being fired? And if it's because they are finally free to speak, why are they not doing so (yet – in case the evidence is sent while I am posting this), instead of this anonymous, non-presentation of the facts and evidence?" He asked.
He, however, confirmed that he has been hired to provide consultancy services to Africell. "I am providing consultancy services re: the restructuring and communicating the positives of the move, not Racism."
Africell's approach to business operations has raised eyebrows since taking over late 2014. It started with an 'unsuccessful' attempt to rebrand from Orange before last Christmas.
Then there was a reported delay in supplying airtime scratch-cards of various denominations, in addition to various other unverifiable claims by some former employees.
Then, the website to which a text message sent to all Orange subscribers at the time directed users, www.africell.ug, is still "under construction" four months later.
But the company says all this is in an effort to stop the company from making any further losses.
"Africell acquired the Orange Uganda operation in November 2014. As was previously announced, the company had been making losses since inception in 2007, and as such the viability of the company was critically at risk," read the statement posted on Facebook.
"Africell had to plan and undergo a complete restructuring process involving the different aspects of the business, among which was staff restructuring. This latter part involved the termination of 59 employees – 15% of the workforce. This has been painful, but necessary as one of the steps to save the company and the 85% that constitute the remaining workforce."
In a meeting before the racism allegations arose, I attended a meeting in which I was asked why PC Tech hadn't covered the laying off of the 59 staff.
"People get fired all the time!" I said, without giving it much thought. In hindsight, though, I was right.
This story might not have got that many inches of newspaper columns in traditional news reporting. But online media houses needed to gain impressions and clicks. Some times at the expense of basic principles of journalism. And well, who knows what other factors may be at play?
So how about next time we see a storm, we first determine the direction in which it's sweeping before posting about it?