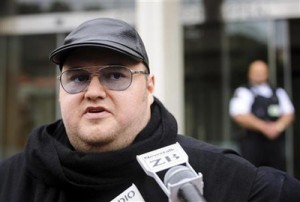 The FBI and authorities in New Zealand police have been ordered by  a New Zealand court to return Kim Dotcom's personal data from the service that was seized during raids last year.
The court also ordered that they must specify exactly what information is at the core of their case against the file-sharing service.
High Court Justice Helen Winkelmann ruled that the raid on Dotcom's mansion in January 2012 was illegal due to incorrect warrants.
Justice Winkelmann ordered the FBI to destroy any clones of Megaupload hard drives that contain personal information or other information that are not part of the case. Dotcom and his fellow defendants must be given copies of the hard drives that the US will use to support its case, she ruled.
It's not clear at this point whether that means regular Megaupload users will be reunited with their data
The raid on the mansion — footage of which surfaced in August – caused much controversy. Authorities were accused of acting heavy-handedly and, to that point, a helicopter packed with members of New Zealand's 'Elite Special Tactics Group' was used for the raid. Seconds after the helicopter touched down, ground forces arrived in numbers.
Iit took 13 minutes for the police to find Dotcom in the 'Red Room' of his mansion. Dotcom testified that he was punched, kicked, kneed and otherwise treated unfairly during his arrest, while an unnamed elite police officer reportedly testified that "deliberate force" was applied to Dotcom.
The raid aside, the investigation has suffered a number of high profile issues over the last year or so. Notably, in June 2012, a New Zealand high court ruled that search warrants for the raid were invalid.
Dotcom is busy running his new business, cloud storage service Mega.co.nz. Dotcom has plans to branch out into email, chat, voice, video and mobile services in the future.
Credit: TNW