Features
The New Facebook Notification Options For Pages.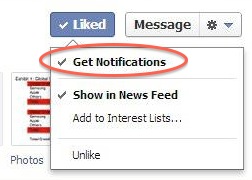 It looks like we will have  new notifications option for pages on Facebook.  If you have not visited Facebook for along time you will find a new world there, everything as we know it is sharing fast and furiously…
Now these new notifications allow fans to select whether or not they would  like to receive updates from the pages and whether or not they would  like to see them in their news feed.
This feature has been available on personal pages for some time but this is the first time it's been rolled out for brand pages. This looks almost identical to the way it does on a personal profile.
Notifications setting for personal profiles have been available for some time though not all pages have this feature yet, and it has been rolled out to several as earlier last week.
This new development is important because its  a nice way to combat Facebook's constant news feed delivery tweaks from the past few weeks. Though the burden of adding the page to a notifications list rests on the fans, pages can create unique images and instructions to show fans how to receive more of their updates.
When users click to receive notifications from a brand page, they will receive both a desktop notification (if on Facebook) and a mobile alert. This will be incredibly useful for calls-to-action and advocacy campaigns.
The irony in this of course as always is one; is that because of Facebook's delivery algorithm, the folks who are likely to see this post detailing how to be added to their news feeds were already seeing your content in their newsfeeds.
Even though many folks have not been seeing it, at least some level of control is given in the hands of brands for content delivery so it will certainly be helpful.
For more information; insidefacebook