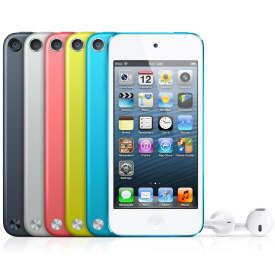 Apple EarPods
Let's dispense with those first, because they're significant and affect most of the new iPod product line. Apple's venerable trademark white earbuds have always sounded poor and have been long overdue for an upgrade.
Apple refreshed the design exactly once in the past 11 years, and it was a very minor update at the time.
Now, audiophiles may finally have something to look forward to with the new EarPods, a $29 set that, while not expected to unseat Shure or Klipsch in the aftermarket, should at least provide some additional bass punch and more detailed imaging than before, thanks to what appears to be an innovative driver design.
All new iPods starting today (except for the iPod classic—see below) will come with EarPods instead of the old earbuds.
Apple iTunes
Apple has also completely redesigned iTunes, its flagship desktop media player software for the PC and Mac. It will now feature an edge-to-edge window design, expanding album art, simultaneous song list view and playlist view, and additional options for organizing songs.
It also gets improved search and a new mini player view. Apple said the new version of iTunes will be available in October.Now, let's look at the actual new iPod lineup:
iPod touch
The star of the show is the new, larger iPod touch. It takes on the iPhone 5's taller form factor, with a 4-inch, 1,136-by-640-pixel Retina display, but it's even thinner and lighter than the already svelte new iPhone, at 4.86 by 2.31 by 0.24 inches (HWD) and just 3.1 ounces.
The iPod touch also features the iPhone 4S's A5 processor, making it the first dual-core iPod touch ever, and Lightning, Apple's new 8-pin dock connector.
It also gets a revised 5-megapixel camera with backside illumination, the new panorama feature, a hybrid IR filter, f/2.4 aperture, a five-element lens, auto-focus, and a new sapphire crystal lens cover that should prove more durable than before.
The bad news: The new model starts at $299 for 32GB, and $399 for 64GB. There's no less-expensive 8GB or 16GB version.
As a consolation prize, Apple is keeping the older iPod touch around, and is now selling it at $199 for 16GB and $249 for 32GB.
The new model will be available for pre-order beginning Sept. 14, in a choice of black, silver, pink, green, or blue.
It comes with the new EarPods.Who it's for: Gamers, streaming radio fans, movie watchers on the go, or anyone who wants to run iOS apps without signing up for an expensive iPhone contract.
iPod nano
Next up is a completely revamped iPod nano ($149, pictured above). We weren't huge fans of the existing model, which seemed too small and awkward for a touch-based device.
The new one makes a lot more sense, as it returns to a rectangular form factor with a 2.5-inch, 240-by-432-pixel touch screen. The iPod nano measures 3.01 by 1.56 by 0.21 inches (HWD) and weighs just 1.1 ounces.
It comes in white, black, purple, green, blue, yellow, and red, but not silver or gray. This version contains Bluetooth for the first time, it regains video playback, and it features an FM tuner and pedometer.
All iPod nanos now come with 16GB of storage and come with the new EarPods.Who it's for: Anyone who likes having their iPod separate from their phone, or who needs to upgrade an old, broken iPod that no longer holds a charge.
iPod shuffle
The iPod shuffle carries on largely unchanged except for colors and pricing. The 2GB iPod shuffle costs $49, also comes with the new EarPods, and is available in pink, yellow, blue, purple, green, and silver.
As before, the iPod shuffle measures 1.14 by 1.24 by 0.34 inches (HWD) and weighs 0.44 ounces.Who it's for: The iPod shuffle has a legion of fans who like to exercise, set up a playlist at home, and don't need to look at a display while they're on the treadmill or running at the park.
iPod classic
The venerable iPod classic complete with 1.8-inch spinning hard disk and Apple's Click Wheel soldiers on unchanged. To recap: The iPod classic costs $249, features 160GB of storage, and comes in silver or black.
It measures 4.1 by 2.4 by 0.41 inches (HWD) and weighs 4.9 ounces. The 2.5-inch color LCD has an LED backlight but doesn't support touch; it offers 320-by-240-pixel resolution. Note that the iPod classic still comes with Apple's older earbuds instead of the brand new EarPods.
Who it's for: Audiophiles and component home stereo enthusiasts looking for a lot of storage for not a lot of money, including those with large Apple Lossless collections for the best sound quality.That's it for now; stay tuned for full reviews of each of the new iPods.
Source: PC MAG