News Archive
Google's Android Developer Challenge winner, Afrinolly in a copyright battle over Nigerian films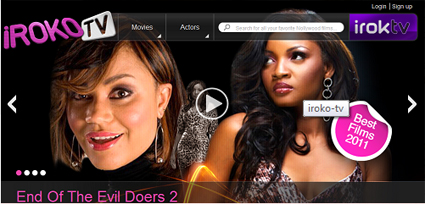 iROKO is taking legal action against Afrinolly, a self-styled mobile phone app focused on Nigeria's entertainment industry, Nollywood. The app has built its business model on showing Nollywood feature films and trailers.
iROKO, whose entertainment library is in excess of 5,000 Nollywood movies, say they have never been contacted by Afrinolly or even granted them permission to stream the said movies.
In April 2012 Tiger Global, a New York-based private equity and hedge fund run by an early investor in Facebook and Zynga, led two $4 million rounds of investment into iROKO Partners, in one of the largest ever fundraisings into a West African tech firm.
Afrinolly, a Nigerian company based in Lagos, has been streaming Nollywood movies and trailers, exclusive to iROKO Partners, and others, allegedly without any authorisation or consent from the content owners.
Jason Njoku CEO of iROKO Partners says: "In an industry that is rife with misrepresentation, piracy and copyright infringement, we are left with no option but to begin legal action against Afrinolly, who have been illegally building their business on our content.
"We spend millions of dollars legally buying and organizing Nigerian content and hundreds of thousands of dollars every year in combating piracy and ensuring movie producers are remunerated properly for their content. It is simply unacceptable for Afrinolly to steal their work and profit from it. It has caused great harm to our Nigerian-based content providers and has placed great strain on the delicate balance and ecosystem that exists. Afrinolly, since its inception, has never bothered to even discuss with us or other content owners and has definitely not remunerated anyone to date.
"We have been approached by a number of Nollywood producers, who have expressed dismay that their movies are being exploited. As part of our commitment to the lifeblood of the industry, the producers, we see no other means than to seriously consider our options, look at how we can manage the damage done to our reputation and bring this extraordinary mass copyright infringement to a swift conclusion."
iROKO Partners is believed to have formally asked the owners of Afrinolly to remove all illegally sourced content from iROKO Partners' platform- YouTube channel – (NollywoodLove) and other owned and operated channels.
The news comes just hours after Afrinolly was celebrating a combined 500,000 app downloads their four mobile platforms.
iROKO Partners will be seeking N100Mn compensation.