News Archive
Tanzania gets the 7th place in African Telecoms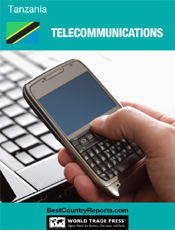 According to recently released World Bank statistics, 10 countries, including Tanzania, received telecoms financing capital amounting to $42.3 trillion (about Sh67, 680 trillion at the current exchange rate) between 1998 and 2008.
According to the Citizen, the investments have surged tremendously as subscribers relentlessly pursue feature-ridden, high-quality, and low delay services from mostly mobile operators.According to consultancy firm Frost & Sullivan, the sub-Saharan Africa mobile network backhaul infrastructure market spent $355 million in 2009, a figure expected to go up to $1.45 billion in 2015.
"The explosion of tablets and smartphones on the scene makes more demands and operators are struggling to cope with demands for increasing bandwidth across a limited spectrum. Landing of undersea cables and deployment of 3G and 4G technologies in various African countries is only going to exacerbate the increasing demand for data services," reads part of the recently-released Africa Mobile Report 2011.
For its part, Facebook statistics tracker Socialbakers, notes there were around 10.5 million Facebook users in Africa in 2010. Mobile broadband subscribers in Africa — users of data cards and USB devices via cellular 3G networks – crossed three million in September 2009 and were expected to break the four million milestone in the first quarter of 2010.
Industry estimates show that there are currently more than 500 million mobile phone subscribers in Africa, up from 246 million in 2008. By March this year, slightly over 21 million of these were in Tanzania.
In 2000, the number of mobile phones in Africa first exceeded that of fixed telephones. In Tanzania, that happened the following year when the number of mobile phone users reached 275,557 from the 2000 level of 110,518 against the fixed line figures of 177,802 and 173,591, respectively.
The four biggest mobile phone markets in the continent are Nigeria, South Africa, Kenya, and Ghana. Strategic investors in Africa's mobile industry include South Africa's MTN, India's Bharti Airtel, France Telecom (via its Orange brand), Britain's Vodafone and Luxembourg's Millicom, which trades as Tigo.
The World Bank figures in the Africa Infrastructure Country Diagnostic document rank Tanzania seventh in attracting telecoms investments with $1.4 trillion (about Sh2, 240 trillion) injected mostly in the mobile telephony subsector between 1998 and 2008. The pack is led by South Africa, which attracted $18.1 trillion, followed by Nigeria and Kenya with $12.7 trillion and $2.9 trillion respectively.
The other African markets, which have attracted huge telecoms investments are Sudan ($1.8-trillion), Uganda ($1.6-trillion), Senegal ($1.5-trillion), DR Congo ($1.2-trillion), Ghana ($1.1-trillion), and Angola ($1-trillion).
"Information and communication technologies (ICTs) have been a remarkable success in Africa. Across the continent, the availability and quality of service have gone up and the cost has gone down. In just 10 years—dating from the end of the 1990s—mobile network coverage rose from 16 per cent to 90 per cent of the urban population," the World Bank states.
According to it, most of the investments come from Chinese companies, although a number of European companies are also involved. Experts argue that although mobile prices in Sub-Saharan Africa have fallen considerably, scope can be found for further price reductions, which will benefit customers and bring mobile services within reach of more people.
They also note that although most mobile customers seem to be satisfied with the overall quality of service, dissatisfaction has grown as the number of subscribers has grown and the networks have become more congested.
Tanzania's mobile phone subscribers have increased by over 20 million in nine years and rose by 20 per cent last year alone, but low tariffs due to a vicious price war are said to be deterring new investments in the sector.
The sector is currently dominated by seven operators whose fierce fighting for the share of the lucrative market has forced them to lower tariffs to the benefit of the consumers. That, with the cheapening of handsets largely due to technology advancement, has led to the country's subscriber base ballooning to 21.2 million users at the end of March from less than 3,000 in 1995.
It was recently reported that mobile phone companies invested more than Sh2 trillion (about $1.23 billion) in cellular networks and other fixed assets between 2004 and 2009 in one of the fastest-growing sectors in Tanzania. According to statistics of sectoral regulator Tanzania Communications Regulatory Authority (TCRA), that level of investment declined to Sh511 billion in 2009 from Sh682 billion shillings a year earlier.
Top 10 African countries that have invested hugely in the Telecommunication infrastructure order
South Africa ($18.1-trillion)
Nigeria ($12.7-trillion)
Kenya ($2.9-trillion)
Sudan ($1.8-trillion)
Uganda ($1.6-trillion)
Senegal ($1.5-trillion)
Tanzania ($1.4-trillion)
Democratic Republic of the Congo ($1.2-trillion)
Ghana ($1.1-trillion)
Angola ($1-trillion)
Source: itnewsafrica