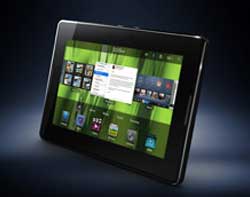 The hardware failure resulted in a backlog of BlackBerry messages and emails, which created a cascade effect that ultimately overloaded RIM's data centers elsewhere around the world.
Lazaridis said RIM would be auditing its infrastructure to determine the cause of the failure and working with its hardware vendors to fix the problem with the switch. He wouldn't say which company provided RIM with the switch—only commenting that several parts from different vendors comprise the system in question and that it'd be "premature" to name a particular vendor.
"We don't know why the switch failed in the particular way it did," said Lazaridis.
This week's BlackBerry outage is the largest in its 12-year history, a fact that was confirmed by both Lazaridis and Balsillie. As for questions about compensating customers for downtime, the co-CEOs mentioned that their focus was to get the system back online, and they'll now be focusing on how they'll make up for the outage with BlackBerry owners.
The question also arose about whether RIM was worried that some customers would defect to the iPhone or Android platforms. "We've worked 12 years since the launch of BlackBerry to win the trust of our users, and we're going to work hard to win that trust back," said Lazaridis.
BlackBerry services have been fully restored as of "early this morning," according to Lazaridis, who continued on to say that they're now "flushing through the queue" of backlogged messages. Any delays right now are purely the backlog of messages that have built up.
Certain BlackBerry devices may have lost synchronization with servers, which Lazaridis said can be remedied by pulling the battery out of your phone, placing it back in, and starting the device back up. At that point, your handset should synch back up with BlackBerry's servers.
Source: Tchland