News Archive
Warid Telecom recognises top performers in customer care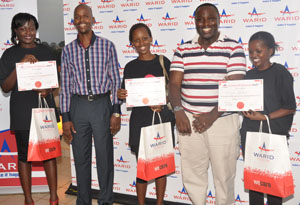 students were selected from MUBS, Aptech, Uganda Christian University, Kyambogo University, Makerere University, Kampala University and Nkumba University to participate in the training. We took on this initiative to train students mainly to give them a chance to have basic skills of customer care because dealing with people and their problems are part and parcel of any career endeavor".
Flavia Waighala and Racheal Nampala emerged the best performers under the training. All students who partook in this exercise will become brand ambassadors in their universities and home areas effective today.
Musoke Joseph, the Human Resource manager at Warid said, "This experience they have attained at Warid is going to boost their confidence in the way they communicate with various people and also open up job opportunities for them in future and we are proud to have given them this opportunity."
Students were rewarded with certificates of completion/achievement and Warid hampers for successfully completing the training.
Flavia waighala emerged the overall outstanding student and was awarded with Warid merchandise.
This training will continue to happen on a monthly basis.