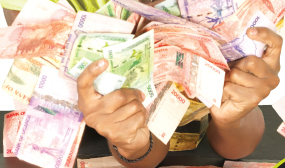 "We see UGX particularly vulnerable to Egypt contagion among East Africa (currencies) as we come into elections on Friday," said Standard Chartered Bank Uganda in a market briefing.
"It looks like we are seeing a repeat of December's move, unless Bank of Uganda comes in to sell the dollar, with 2,400 as a key initial resistance level."
Persistently high dollar demand from the energy sector, tight supply of the greenback and speculative trading by offshore players have piled pressure on the local currency since late December.
When the shilling tumbled to its fifth record low of the year on Jan 18, the Bank of Uganda promised an aggressive stance on the shilling's exchange rate. It has pumped tens of millions of dollars into the market to halt the downward spiral.
At 0840 GMT, commercial banks quoted the local currency at 2,363/2,368 against Friday's close of 2,367/2,372
Incumbent President Yoweri Museveni is running for a fourth term against arch-rival Kizza Besigye whom he has defeated at the last two polls.
Museveni is expected to win a closely contested vote though Besigye has upped the stakes saying that if the opposition loses it will be because of election-rigging.
"We expect the shilling to shed significant value in the week, reflecting the political dynamics. But the rate will self-correct after the election," said Faisal Bukenya, head of market making at Barclays Bank Uganda.
Source: Reuters