News Archive
Acer Launches Next-Gen Education Technology in Uganda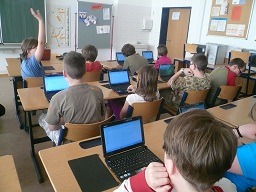 "As a global leader in personal computing solutions, Acer wants to play an active role in developing and cultivating the school of the future, providing innovative and extremely affordable solutions to the global education community," reads a statement from Acer.
Speaking at the launch at Sheraton Hotel in Kampala, Makerere University Vice Chancellor, Prof. Venacius Baryamureeba urged education institutions to embrace the new technology and sensitize users on its benefits.
"In reality, Acer is bridging the digital divide that has been a problem for Africa," he noted.
"I would like to challenge education institutions to enbrace new technology, and carry out sensitization," he continued.
"Because sometimes people have the tools but fail to use them. You find someone with a smartphone, like Blackberry, carrying a laptop to check mail," Prof. Baryamureeba jokingly.
Partner Certification
Acer also introduced the new "Acer Education Centre" partner certification in line with its drive to ensure that Africa's education sector benefits from the latest technologies.
The Acer Education Center channel programme will see Acer strive to recruit a newtwork of regional dealers able to sell, implement and support complete solutions in the education market. Programme partners will offer schools and other learning institutions access to products and solutions tailored to their needs, as well as specific expertise around technology in the educational sector.
"Acer's partner programme takes into account that we can't take a one-size-fits-all approach to the market and that we need tailored solutions for verticals such as education," said Eric Blom, the Education Sector BU Manager at Acer.
"With this new certification, we want to create a set of partners who have a deep understanding of the specific technology needs of the education market and how Acer's products can address these requirements. ITech Solutions in Uganda has demonstrated the abilities and qualities we seek in an Education partner, and we will be addressing the Uganda market alongside Acer."
The range of Acer products include notebooks, traditional desktops models, projectors, and all-in-ones with inbuilt monitor, many of which are perfectly priced and specked for classroom settings. The entire education solution made complete with Acer Interactive Whiteboards and Acer Classroom Manager, a classroom management software from Netsupport.
"Our strong portfolio of solutions for the education market are now available, establishing Acer as the only complete solution vender to-date," Blom adds.
Free software
Users of Acer products are able to download and use Acer Classroom Manager (ACM) for free from the Acer Education website.
Orange Uganda will offer discounted equipment (Acer Netbook, and a USB modem with 6 months internet subscription) to all university students with valid identification.
A review of the software will be published in PC Tech's February Issue.