Africa
Entrepreneurs
Featured
News
Startups
Two Ugandan Startups Emerged Victorious at the Global Startup Awards Africa
At a spectacular Global Startup Awards ceremony held in Addis Ababa, Ethiopia, Ugandan startups topped two categories, namely, Best Co-working Space and Best Commerce Tech.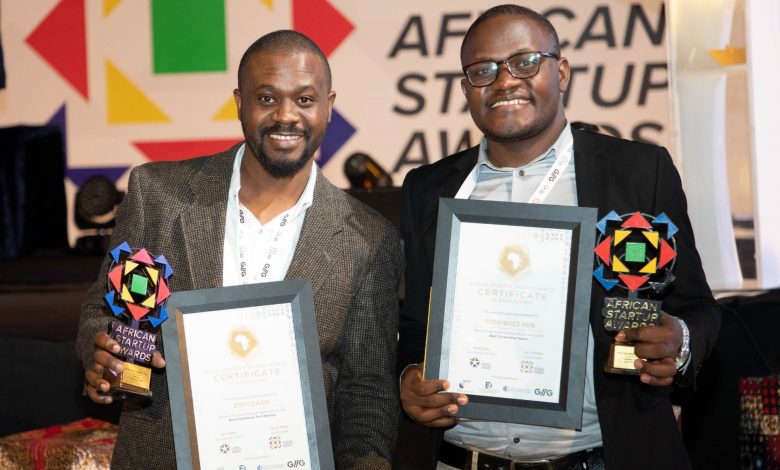 Following the success of the global award in 2022 won by Ugandan startup Emata, this year saw yet other Ugandan startups claim two of the top awards at the recently concluded Global Startup Awards (GSA) Africa Summit that was held in Addis Ababa, Ethiopia.
The GSA Africa in collaboration with the Global Innovation Initiative Group (GIIG), the Ethiopian Ministry of Labour and Skills (MOLS), the Ethiopian Ministry of Innovation and Technology (MInT) with the support of the Entrepreneurship Development Institute (EDI) Ethiopia, revealed the names of 16 overall African category winners — in which two Ugandan startups were among.
At a spectacular awards ceremony, Ugandan startups topped two categories, namely, Best Co-working Space and Best Commerce Tech.
The Best Commerce Tech award went to Zofi Cash, a startup that is revolutionizing how salaried individuals access their wages, and take top honors.
"This is not just an accolade for us but a testimony to our bold ideas and daring innovations that distinguish Zofi Cash," said Paul Kirungi, founder and CEO of Zofi Cash. He added, "This isn't simply an award but a mandate that echoes our commitment to disrupting the antiquated monthly pay system, a system that promotes inequality and inhibits progress."
Kirungi remarked that their journey has just begun. "This victory increases our responsibility to challenge and dismantle the archaic pay cycle. We intend to carry this torch, fuelled by the belief that we can and will reform the status quo together."
Kirungi further said the award is validation for them — "means it's not just us seeing the opportunity, but everyone else is seeing it."
Tech Buzz Hub on the other hand took the Best Co-working Space award. The company is a hub dedicated to creating inclusive workspaces, with a mission to help young entrepreneurs fulfill their enterprise dreams and vision through coworking spaces and providing facilities and infrastructure.
Keneth Twesigye, CEO of Tech Buzz Hub said the award is their first and the first award they have ever entered. "This being a continental award that will take us closer to a global award, I can't feel any better," he remarked while he failed to control his emotions. "With the big dreams that we have, we believe we are going to move this continent and amplify our growth."
ZofiCash and TechBuzz Hub competed against 2,682 entrants across Africa and were among more than 8,200 GSA Africa entrants overall.
The year-long competition saw entrants compete at a national level before vying for their spot as regional finalists. Winners were then decided by an independent panel of judges, offering a holistic view of the African tech ecosystem.
This year's winners will also have the exclusive opportunity to engage with the GIIG Africa Fund, the competition's dedicated investment partner. Through its GIIG Africa Fund and the GIIG Africa Foundation, the organization aims to find, fund, and grow African solutions to globally relevant challenges.
Jo Griffiths, co-founder of the GSA Africa and GIIG emphasized that the Global Startup Awards Africa aims to raise the visibility of African innovation as a unifying mechanism that transcends borders, cultures, and nationalities as well as the diverse maturity levels of the various startup ecosystems.
"It provides a common language for us all, fostering understanding and connection, and providing a platform to implement a shared vision of scaled impact," said Griffiths.
Caitlin Nash, co-founder of GSA Africa and GIIG in her remarks said the GSA Africa Summit is an enabler of collaborative transformation of Africa's emerging startup nations, founders, and communities leveraging and amplifying Africa's growing influence in the global community.
"It is our mission to find and support these operators and innovators of Africa — these are the young leaders with the ideas, energy, local knowledge, commitment, and experience that will build Africa." "We have an always-on call out for organizations that share this vision to partner with us on our GIIG Fund and Foundation work that delivers this support especially ahead of the new program starting in January 2024."
Her Excellency Muferihat Kamil, Minister of Labour and Skills said "Africa will assume its rightful place in the world — ceasing to be a synonym for poverty, social malaise, and hopelessness — and becoming the new frontier for innovation and economic vitality."
His Excellency Dr. Belete Molla Getahun, Ethiopian Minister of Innovation and Technology, said, "If African countries are to truly reap the benefits of the demographic dividends from their sizeable young population, it is extremely necessary to support entrepreneurship and startups with a sense of urgency and purpose."