Airtel
Business
Featured
News
Partnerships
Smartphones
Telecoms
Airtel Uganda, EasyBuy Partner to Empower Digital Dreams
Airtel Uganda and EASYBUY partnership is a significant step towards ensuring that every Uganda, regardless of their financial situation, can enjoy the benefits of owning a smartphone.
Airtel Uganda today announced a partnership with EASYBUY in a significant step to scale up smartphone penetration in the country.
EASYBUY, a renowned brand for making devices easily accessible through the Buy Now, Pay Later method — started its operations in Uganda in July this year, and has been dedicated to helping Ugandans acquire smartphones on an installment payment plan.
Airtel Uganda's Head of Retail, Ms. Carol Asio expressed her gratitude to EASYBUY for choosing Airtel Uganda as a partner in their mission. While addressing the press at a media brief held at Kingdom Kampala, she said with this partnership they are setting in motion a product that will make smartphone ownership more accessible than ever.
"This means we are not just a telecommunications company, but a force dedicated to breaking down the barriers that limit the opportunities for Ugandans to connect, learn, and thrive in the digital age," Asio remarked.
EASYBUY Business Director Mr. Oscar Talon Mbabazi was also thrilled to join hands with Airtel Uganda to expand the reach of their services and make high-quality smartphones available to Ugandans across the country.
He remarked, "Since joining the Ugandan market in July, we have partnered with over 100 retail partners across the country and already sold over 3000 devices." Mbabazi added, "With Airtel Uganda's extensive clientele, this partnership is a significant step towards ensuring that everyone, regardless of their financial situation, can enjoy the benefits of owning a smartphone."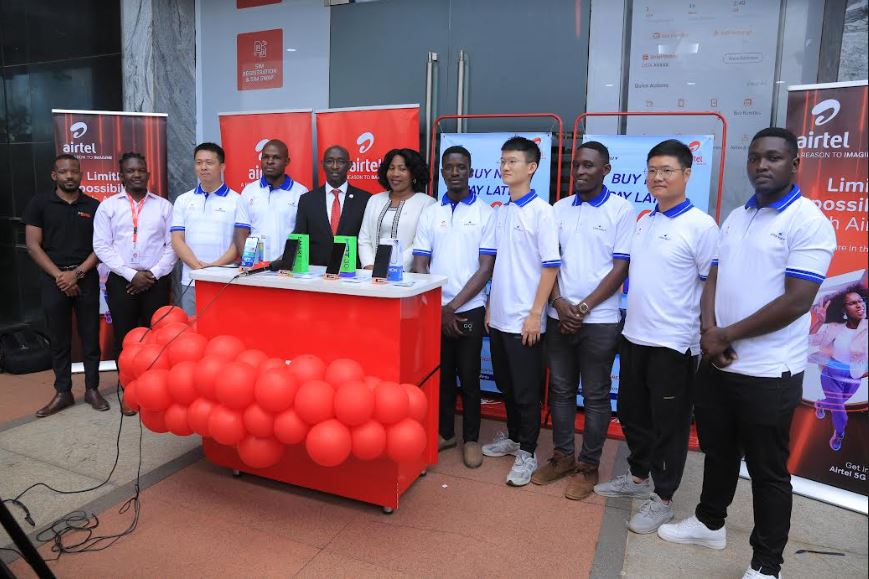 According to the Uganda Communication Commission (UCC) Q3 Market Performance Report FY 2022/2023, internet subscriptions experienced significant growth, adding 1.2 million new internet subscriptions and reaching a total of 27 million which marked the second consecutive quarter of positive growth.
These statistics indicate the need to create accessible means of smartphone access to meet the ever-growing demand from users.
The Airtel Uganda and EASYBUY partnership marks a significant stride towards bridging the digital divide in Uganda, ensuring that even those with limited financial resources can enjoy the opportunities that come with a smartphone.
EASYBUY is now available at Airtel Uganda outlets with offers only available on Itel, Tecno, and Infinix smartphones. Customers in dire need of a smartphone can purchase one through the company and pay in installments.
To get started, customers need only to make an initial 30% deposit of the total phone price and settle the remaining balance over the course of 12 months.
In her concluding remarks, Asio said, "We are excited to embark on this journey together, and we are confident that our collaboration will create a positive impact on the lives of Ugandans and give them a Reason to Imagine."