Prime Video
Video
October: Amazon Prime Video New Releases
There's a lot to watch on Amazon Prime Video this month — from action, adventures, romance, sci-fi, and rom-com. Don't miss out on Amazon Originals.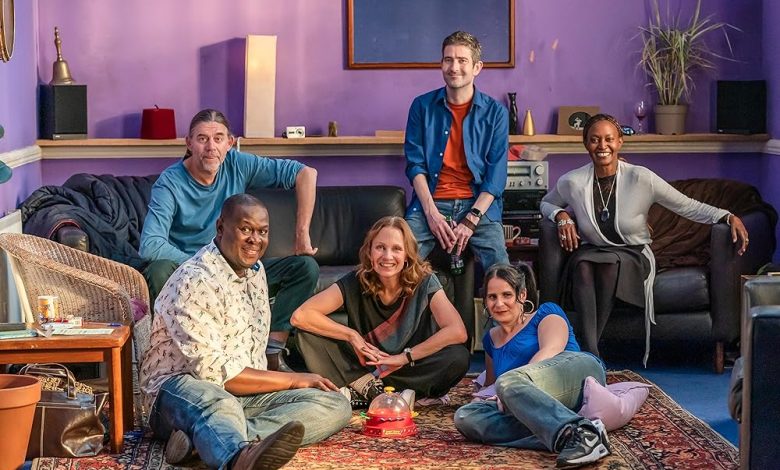 There's a lot to watch on Amazon Prime Video this month — from action, adventures, romance, sci-fi, and rom-com, and if you are a Kdrama fan, watch The Tale of the Nine-Tailed (on Oct. 7th), a fantasy series about an over 1000-year-old mythical nine-tailed fox, or gumiho and the former guardian mountain spirit of Baekdu-daegan working to eradicate supernatural beings that threaten the mortal world. However, his real aim is to find the reincarnation of his lost first love.
In the movie Totally Killer, Chilling Adventures of Sabrina star Kiernan Shipka travels back in time to the 1980s to stop a serial killer. Then there's Make Me Scream, a Halloween special that challenges celebrities to "a gruesome game of terror." Renfield will also be streaming on the service for anyone who's been dying (muahahaha!) to catch the Nic Cage Dracula film.
Outside of Prime Video's more creepy fare, Shazam! Fury Of The Gods will debut, Upload will be back for a third season, and new film Awareness should scratch your sci-fi itch. Watch Gal Gadot (as Diana Prince) in Wonder Woman and Wonder Woman 1984 and if you love animations, there's Tom and Jerry; Kayla is responsible for organizing a high-profile wedding in a fancy hotel. But when Jerry, a mischievous mouse, wreaks havoc in the hotel, she enlists his arch-rival (Tom, the Cat) help to get rid of him.
Here's everything coming to Amazon Prime Video.
October 1
Frasier S1-11.
Hit S3.
A Fish Called Wanda.
A Guy Thing.
A View To A Kill.
A Star Is Born.
Abduction.
Arsenal.
Beethoven.
Beethoven's Christmas Adventure.
Body of Evidence.
Bolero.
Bowling for Columbine.
Bubba Ho-Tep.
Casino Royale.
Charlotte's Web.
Crawl.
Daybreakers.
Detroit.
Diamonds Are Forever.
Die Another Day.
Dirty Work.
Disturbing Behavior.
Doom.
Dr. No.
Eight Men Out.
Jonah Hex.
Judas and the Black Messiah.
Justice League.
King Richard.
Shazam!.
Steel.
Those Who Wish Me Dead.
Tom & Jerry.
V for Vendetta.
Watchmen.
Wonder Woman.
Wonder Woman 1984.
Flesh & Blood.
For The Love Of The Game.
For Your Eyes Only.
From Russia With Love.
Godzilla vs. Kong.
Going My Way.
Goldeneye.
Goldfinger.
Green Lantern.
Hall Pass.
High-Rise.
Holiday In Handcuffs.
Holiday Inn.
Hotel Rwanda.
It's Complicated.
Jesse Stone: Benefit Of The Doubt.
Jesse Stone: Innocents Lost.
Jesse Stone: Lost In Paradise.
Jesse Stone: No Remorse.
Jesse Stone: Thin Ice.
John Tucker Must Die.
King Solomon's Mines.
Lawless.
Legally Blonde.
License To Kill.
Live And Let Die.
Mac and Me.
Mariah Carey's All I Want For.
Christmas Is You.
Mars Attacks!.
Masters Of The Universe.
Mean Creek.
Moby Dick.
Moneyball.
Moonraker.
Much Ado About Nothing.
Mulholland Falls.
My Adventures With Santa.
Nanny McPhee.
Nanny McPhee Returns.
Navy Seals.
Nerve.
Never Say Never Again.
No Sleep 'Til Christmas.
Nowitzki The Perfect Shot.
Nutcracker: The Motion Picture.
Octopussy.
On Her Majesty's Secret Service.
Original Sin.
Rain Man.
Red Corner.
Righteous Kill.
Scary Stories to Tell in the Dark.
Scooby-Doo.
Scooby-Doo 2: Monsters Unleashed.
Sicario.
Spectre.
Spirit: Stallion of Cimarron.
Suicide Squad.
That's Entertainment.
The Apartment.
The Birdcage.
The Intouchables.
The Mistle-Tones.
The Sugarland Express.
The Day After Tomorrow.
The Defiant Ones.
The Firm.
The Golden Compass.
The Greatest Story Ever Told.
The Little Things.
The Living Daylights.
The Love Guru.
The Man with the Golden Gun.
The Party.
The Shop Around the Corner.
The Spy Who Loved Me.
The Untouchables.
The Wedding Singer.
The World is Not Enough.
Thunderball.
Tomorrow Never Dies.
UHF.
Universal Soldier.
You Only Live Twice.
October 3
Billions S5.
Make Me Scream (Amazon Originals).
October 6
Desperately Seeking Soulmate: Escaping Twin Flames Universe (Amazon Originals).
Totally Killer (Amazon Originals).
October 7
October 9
Missing Link.
Teen Titans Go! To the Movies.
October 10
Copshop.
Mr. Dressup: The Magic of Make-Believe (Amazon Originals).
Renfield.
October 11
The Greatest Show Never Made (Amazon Originals).
Awareness (Amazon Originals).
October 12
October 13
Everybody Loves Diamonds (Amazon Originals).
The Burial (Amazon Originals).
October 15
Half + Half S1-S4.
One On One S1-S5.
October 16
October 17
October 20
Upload S3 (Amazon Originals).
Sayen: La Ruta Seca (Amazon Originals).
Surrounded.
October 23
Shazam! Fury Of The Gods.
October 24
Zainab Johnson: Hijabs Off (Amazon Originals).
Hot Potato: The Story of The Wiggles (Amazon Originals).
October 25
October 26
Sebastian Fitzek's Therapy (Amazon Originals).
October 27
The Girl Who Killed Her Parents – The Confession (Amazon Originals).
October 31
Book Club: The Next Chapter.