Entertainment
Netflix
Video
Everything You Can Watch on Netflix in October
Netflix and chill this October with titles like The Fall of the House of Usher a brand-new series from Mike Flanagan among other titles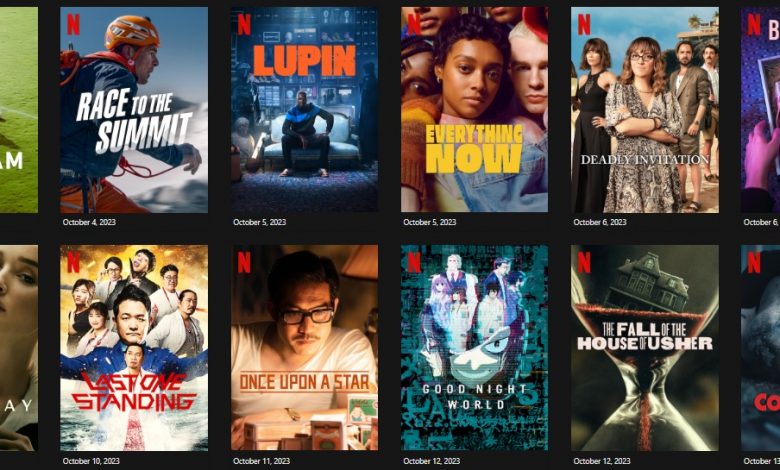 Like it does every month, Netflix has once more released the list of all the TV shows and movies coming to the platform in this month of October 2023. Among the most anticipated titles to be added to the streaming giant's library this October is Life on Our Planet (Oct. 25) which is bringing some of Earth's long-lost creatures back to life.
"Using the latest technology and science, the docuseries will take viewers back into time as they witness life's epic battle to conquer and survive." Netflix wrote on Tudum.
Other titles to look forward to are The Fall of the House of Usher (Oct. 12) a brand-new series from Mike Flanagan the creator of The Haunting of Hill House and Midnight Mass. The series is loosely based on the short story of the same name by Edgar Allan Poe and tells the story of a crumbling family dynasty. Additionally, Disco Inferno (Oct. 20) is a horror shot that follows a young couple as they get ready to disco—but a sinister presence has other plans for them and their unborn child.
Here's Every Title Coming to Netflix this October:
October 1
60 Days In: Season 4
A Beautiful Mind
American Beauty
Backdraft
Casper
Catch Me If You Can
Cinderella Man
Colombiana
Drake & Josh: Seasons 1-3
Dune (2021)
Elysium
Forgetting Sarah Marshall
Gladiator
Hot Tub Time Machine
Kung Fu Panda
Love Actually
Margot at the Wedding
Miss Juneteenth
Mission: Impossible
Mission: Impossible – Ghost Protocol
Mission: Impossible II
Mission: Impossible III
My Best Friend's Wedding
Role Models
Runaway Bride
Saving Private Ryan
Scarface
Sex and the City 2
Sex and the City: The Movie
The Adventures of Tintin
The Amazing Spider-Man
The Amazing Spider-Man 2
The Firm
The House Bunny
The Little Rascals (1994)
War of the Worlds
October 2
Strawberry Shortcake and the Beast of Berry Bog
October 3
Beth Stelling: If You Didn't Want Me Then — NETFLIX COMEDY
October 4
Beckham (UK) — NETFLIX DOCUMENTARY
Keys to the Heart (PH) — NETFLIX FILM
Race to the Summit (DE) — NETFLIX DOCUMENTARY
Super Pumped: The Battle for Uber: Season 1
October 5
Everything Now (UK) — NETFLIX SERIES
Khufiya (IN) — NETFLIX FILM
Lupin: Part 3 (FR) — NETFLIX SERIES
October 6
A Deadly Invitation (MX) — NETFLIX FILM
Ballerina (KR) — NETFLIX FILM
Fair Play — NETFLIX FILM
October 7
Strong Girl Nam-soon (KR) — NETFLIX SERIES
October 9
After
Blippi's Big Dino Adventure
Stranded with my Mother-in-Law (BR) — NETFLIX SERIES
October 10
DI4RIES: Season 2 Part 1 (IT) — NETFLIX SERIES
Last One Standing: Season 2 (JP) — NETFLIX SERIES
October 11
Big Vape: The Rise and Fall of Juul — NETFLIX DOCUMENTARY
It Follows
Once Upon a Star (TH) — NETFLIX FILM
Pact of Silence (MX) — NETFLIX SERIES
October 12
Deliver Us from Evil
The Fall of the House of Usher — NETFLIX SERIES
GOOD NIGHT WORLD (JP) — NETFLIX ANIME
LEGO Ninjago: Dragons Rising: Season 1: Part 2 — NETFLIX FAMILY
October 13
The Conference (SE) — NETFLIX FILM
Ijogbon (NG) — NETFLIX FILM
Spy Kids
Spy Kids 2: The Island of Lost Dreams
Spy Kids 3: Game Over
October 15
Camp Courage — NETFLIX DOCUMENTARY
October 16
Oggy Oggy: Season 3 (FR) — NETFLIX FAMILY
October 17
The Devil on Trial (UK) — NETFLIX DOCUMENTARY
Heather McMahan: Son I Never Had — NETFLIX COMEDY
I Woke Up A Vampire — NETFLIX SERIES
Silver Linings Playbook
October 18
Kaala Paani (IN) — NETFLIX SERIES
October 19
American Ninja Warrior Seasons 12-13
Bebefinn: Season 2
Bodies (UK) — NETFLIX SERIES
Captain Laserhawk: A Blood Dragon Remix — NETFLIX ANIME
Crashing Eid (SA) — NETFLIX SERIES
Crypto Boy (NL) — NETFLIX FILM
Ghost Hunters: Seasons 8-9
Neon — NETFLIX SERIES
October 20
Big Mouth: Season 7 — NETFLIX SERIES
Creature (TR)– NETFLIX SERIES
Disco Inferno — NETFLIX FILM
Doona! (KR) — NETFLIX SERIES
Elite: Season 7 (ES) — NETFLIX SERIES
Flashback — NETFLIX FILM
Kandasamys: The Baby (ZA) — NETFLIX FILM
Old Dads — NETFLIX FILM
Surviving Paradise (UK) — NETFLIX SERIES
Vjeran Tomic: The Spider-Man of Paris (UK) — NETFLIX DOCUMENTARY
October 23
Princess Power: Season 2 — NETFLIX FAMILY
October 24
The Family Business: Seasons 1-4
Get Gotti — NETFLIX DOCUMENTARY
Minions
Pete Holmes: I Am Not For Everyone — NETFLIX COMEDY
October 25
Absolute Beginners (PL) — NETFLIX SERIES
Burning Betrayal (BR) — NETFLIX FILM
Life on Our Planet — NETFLIX DOCUMENTARY
The UnXplained with William Shatner: Season 3
October 26
PLUTO (JP) — NETFLIX ANIME
October 27
Pain Hustlers — NETFLIX FILM
Sister Death (ES)– NETFLIX FILM
Tore (SE) — NETFLIX SERIES
Yellow Door: '90s Lo-fi Film Club (KR) — NETFLIX DOCUMENTARY
October 28
Castaway Diva (KR) — NETFLIX SERIES
October 29
October 31
Ralph Barbosa: Cowabunga — NETFLIX COMEDY