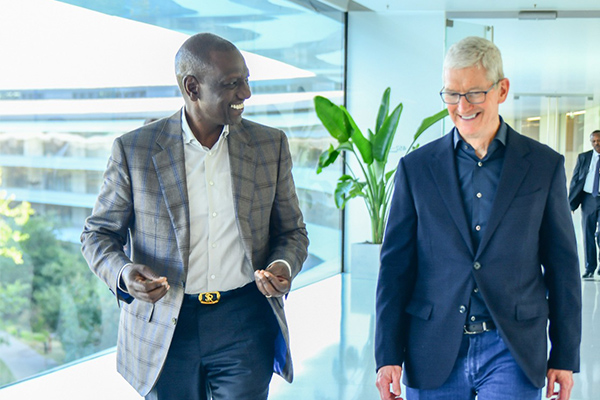 Kenya's President, William Ruto's recent visit to the United States is not just a diplomatic move but a strategic step for the African tech ecosystem.
Africa aims to become a major hub for tech innovation and entrepreneurship as the world experiences a technological revolution. President Ruto's trip to the US aims to strengthen economic relations and attract tech investments to Kenya.
We explore the various benefits that this visit brings to African tech startups, with a focus on technology collaborations, investment opportunities, and the enhancement of bilateral economic ties.
Technology Collaborations
During his visit, President Ruto engaged with major tech companies in Silicon Valley, such as Microsoft, Intel, Google, and Apple.
These interactions open doors for potential collaborations, providing African startups with valuable opportunities for learning, skill development, and access to cutting-edge technologies.
By partnering with these tech giants, African startups can benefit from mentorship programs, joint research projects, and other initiatives that foster innovation and growth in the African tech landscape.
Investment Opportunities
President Ruto's discussions with tech investors and corporations in Silicon Valley highlight the significant investment potential that African tech startups offer.
The event organized by the US Government's Prosper Africa initiative and the US Embassy in Kenya showcased Kenya's thriving tech sector, positioning it as an attractive destination for tech investments in Africa.
With a 33% increase in investments in Kenya, surpassing global rates, it is clear that the region is ripe for venture capital firms, angel investors, and corporations seeking opportunities in emerging markets. These investments can provide the necessary capital for startups to scale their operations and explore new markets.
Bilateral Economic Relations
Strengthening economic ties with the US was a key focus of President Ruto's visit. By fostering improved trade relations and creating a favorable environment for economic collaboration, African tech startups can expect better access to global markets, expanded export opportunities, and an influx of foreign direct investments.
These strengthened bilateral relations can pave the way for international partnerships, driving economic growth in the tech sector.
Knowledge Transfer and Capacity Building
President Ruto's interactions with US tech leaders and investors, including his dialogue with Secretary of State Antony J. Blinken, offer African tech startups a valuable gateway for knowledge transfer and capacity building.
Engaging with industry experts and leaders from the US provides startups with insights, expertise, and best practices that can contribute to their growth and success.
President Ruto's visit to the United States holds immense potential for African tech startups. Through technology collaborations, investment opportunities, bilateral economic relations, and knowledge transfer, African startups can harness new possibilities for growth, innovation, and access to global markets.
This visit signifies Africa's commitment to becoming a major player in the global tech landscape.