Africa
Digital Impulse
Featured
News
Opportunities
Rowena Turinawe, Cente-Tech Digital Gru Crowned ICT Young Professional of the Year
Rowena Turinawe crowned ICT Young Professional of the Year at the TICON Africa Awards 2023 is a beacon of excellence in digital transformation across Africa.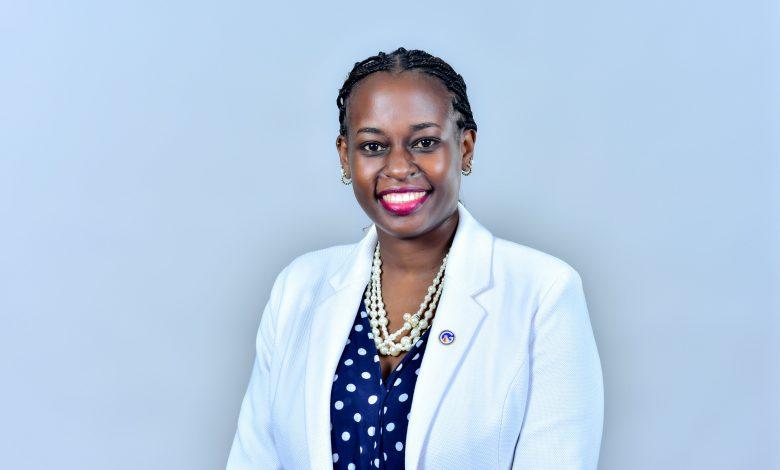 In a recent feat that has undoubtedly put her on the continental pedestal, Rowena Turinawe, the Head of Innovation and Digital Service at Centenary Technology Services, clinched the coveted award for 'ICT Young Professional of the Year' at the grand finale of the inaugural TICON Africa Conference, a prominent three-day event that has held at Imperial Botanical Beach Hotel, Entebbe bringing together the crème de la crème of the tech industry.
The Inaugural TICON Africa conference hosted by the ICT Association of Uganda (ICTAU) in Kampala, sought to power Africa into the future with the latest technological innovations. The event set out to unify ICT talent and pave the way for a brighter future for the entire continent.
At the grand finale of the conference, the winners of the TICON Africa Awards 2023 were announced. The TICON Africa Awards represented a momentous occasion, celebrating and acknowledging the remarkable efforts of technology professionals who have played a pivotal role in propelling Africa's information technology landscape to new heights.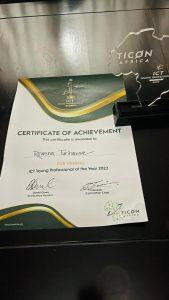 Commenting after the win, Turinawe told PC Tech Magazine, "Innovation is more than just ushering in new technologies; it is about fostering a culture that embraces change, encourages inclusivity, and diligently works towards crafting a future where technology serves as a bridge to boundless opportunities." "As we traverse this digital evolution, my mission remains steadfast: to empower, uplift, and inspire the next generation of tech enthusiasts to build a digitally proficient Uganda and a connected Africa."
Rowena Turinawe's journey, decorated with dedication and relentless pursuit of excellence, has taken her through the twists and turns of the ICT sector. Serving as one of the curators in crafting Uganda's maiden Digital Transformation Roadmap, alongside digital transformation experts from the Ministry of ICT and National Guidance.
The Digital Transformation Roadmap that was launched by the Vice President of Uganda, H.E Jessica Alupo on August 17th, 2023 supported by the United Nations Development Program (UNDP) seeks to harness the power of technology to bridge digital gaps, empower youth, and uplift marginalized communities.
Turinawe's collaborative endeavors have led her to join hands with giants like MTN Uganda through which she has played an instrumental role in rolling out a national digital skilling program. Such initiatives have not only put her in the limelight but have also presented a robust response to the pressing challenge of youth unemployment in Uganda.
Her experience is vast, encapsulating both national and regional territories, spanning five countries in East Africa & Southern Africa. With proficiency that ranges across various fields including Business Transformation, Enterprise Architecture Development, ICT Strategy, and IT Service Management, she has showcased her prowess at both mid-management and senior management levels.
Throughout her 10-year illustrious career across both public and private sectors, Turinawe has been at the helm of several digital transformation initiatives. Having previously served at the National Information Technology Authority Uganda, MTN Uganda, Huawei Technologies, Mantrac Uganda Ltd, and Roke Telecom, she has maneuvered through the multifaceted organizational dynamics that frequently threaten to stymie transformation.
Turinawe's recent win is just the tip of the iceberg. She had earlier been named among Africa's 35 Most Influential Women in Tech by CIO Africa and also secured a spot in New Vision's 'Top 40 under 40' in Uganda.
Turinawe serves on Uganda's first Business Process Outsourcing & Innovation Council and mentors at several technology-based communities.
Turinawe's journey, which has been marked by her visionary approach, impeccable leadership, and an uncanny ability to turn challenges into opportunities, serves as an inspiration to many. As Turinawe continues to trailblaze her path in the ICT sector, the industry waits with bated breath to witness her next monumental achievement.
ALSO READ: VP, JESSICA ALUPO LAUNCHES AMBITIOUS DIGITAL TRANSFORMATION ROADMAP