Entrepreneurs
Featured
MTN
News
Trainings
185 Youths Who Formed the First Cohort of the MTN ACE Program, Graduate
MTN ACE Program equip youths with practical skills in digital technologies to enable them to provide innovative ICT solutions to solve community problems.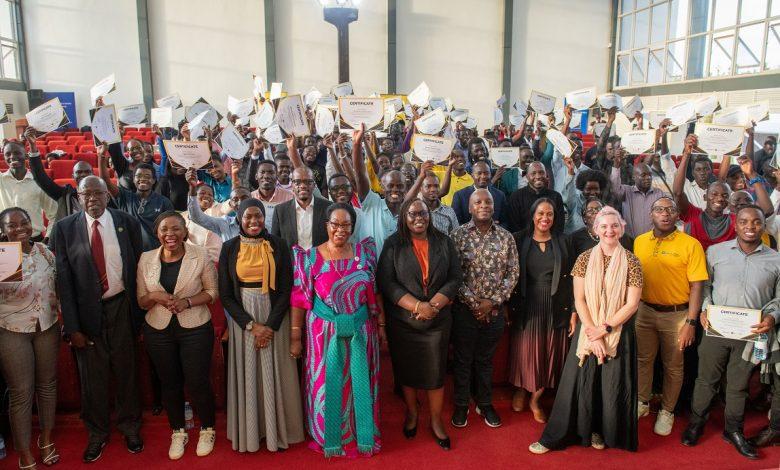 MTN Uganda's Corporate Social Responsibility arm, MTN Foundation, has graduated 185 youths who formed the first cohort of the MTN ACE Program, which aims to equip youth with practical skills in digital technologies to enable them to provide innovative ICT solutions to solve community problems.
To break down the 185 youths, 51 youths graduated from the MTN ACE Tech, 47 graduated from the MTN ACE Career, and 87 graduated from the MTN ACE Skilling. Notably, 20 enterprises were selected for ACE Tech acceleration and 15 enterprises for incubation.
The MTN ACE Tech program focuses on upskilling the youth interested in tech-related innovations.
MTN ACE Career program seeks to empower fresh graduates with workplace skills and internship placement.
MTN ACE Skills program is tailor-made for the youths who are in or out of school to equip them with entrepreneurial skills.
MTN Uganda Chief Executive Officer, Ms. Sylvia Mulinge said the graduation is a special day for the telco considering it is the first graduation of the MTN Ace Programme. She went on to add "We at MTN Uganda believe that every Ugandan believes in the benefits of a modern connected life and we are very glad that we're moving towards that direction."
Mulinge emphasized that the MTN ACE Programme aligns perfectly well with national development goals by providing skills that enhance employability and self-reliance among the youth. "Equipping the youth with digital skills positions them to contribute effectively to Uganda's digital transformation journey," she notes.
Dr. Amina Zawedde, the Permanent Secretary for the Ministry of ICT and National Guidance, congratulated the graduates for their achievements and encouraged them to explore entrepreneurial opportunities. She highlighted the importance of creating employment opportunities rather than solely relying on job applications.
Similarly, Hon. Joyce Ssebugwawo, the State Minister for ICT and National Guidance, commended MTN for the initiative, reaffirming the government's commitment to the youth's skill development — and urged the graduates to actively use their newfound skills to address societal challenges.
Ms. Nompilo Morafo, MTN Group's Chief Sustainability and Corporate Affairs Officer, expressed pride in the positive impact of initiatives like MTN ACE on the youth, emphasizing the need for more such programs.
"The large number of youths graduating from this program is a testament that our youth are yearning for new skills that will help drive the country's economic growth, social transformation, and job creation," said Morafo.
The MTN ACE Program was launched in December 2022, in partnership with the Ministry of ICT & National Guidance, The National ICT Innovation Hub, Centenary Technology Services, Refactory, MUBS Entrepreneurship Innovation & Incubation Centre, and MTN MoMo Uganda Limited.
Over 230 youths were selected in February this year to participate in the inaugural cohort of the MTN ACE Program to sharpen the skills of fresh graduates, those in and out of school, innovators, entrepreneurs, and tech-driven startups to become self-reliant and contribute to the national economy.