In a world where technology is revolutionizing industries, KaCyber Technologies has emerged as a trailblazer in the transportation tech sector in Africa.
Founded in 2016, KaCyber has been at the forefront of providing digital ticketing and payment systems to public transport operators across the continent. With over seven years of unwavering dedication and a mission to catch up with global technology trends, KaCyber has made significant strides in transforming the transportation landscape in Africa.
Having processed a staggering 11 million tickets since 2019, equating to transactions worth UGX200 billion, KaCyber's impact on the industry cannot be overstated. The company's digital ticketing and payment solutions have not only enhanced efficiency and convenience for both operators and passengers but have also catapulted KaCyber into the spotlight as a key player in Africa's tech scene.
In light of these remarkable accomplishments, we had the privilege to sit down with the visionary leader himself, Innocent Orikiiriza, the Founder and CEO of KaCyber Technologies. In this interview, we delve into the journey of KaCyber over the past seven years, the challenges encountered along the way, the impact of the COVID-19 pandemic, and the opportunities that lie ahead.
Congratulations on the success of KaCyber Technologies! It's impressive to see how your company has grown and become a prominent player in the transportation tech industry in Africa. Could you share with us a brief overview of KaCyber's journey over the past seven years, including the major milestones you've achieved along the way?
Our company, KaCyber Technologies, provides digital ticketing and payment solutions to the public transportation sector in Africa. Since our product launch in 2019, we have experienced remarkable growth and emerged as a prominent player in the public transportation tech industry in Uganda. With the Kampala commuter trains and over 100 coaches currently listed and running on our e-ticketing platform, we have processed more than 11 million tickets, amounting to a transaction value exceeding USD$54 million (approx. UGX199.5 billion).
Our journey has been marked by significant milestones, which include valuable local and international partnerships with Uganda Railways Corporation, Kiira Motors Corporation, the Ministry of ICT and National Guidance, Interswitch, and the Science, Technology, and Innovation Secretariat — Office of the President of Uganda (STI-OP).
As we continue to expand our business, I am excited to announce the upcoming launch of contactless transport payment cards for public transport in Kampala, as well as the introduction of online bus ticket services through our website www.kacyber.com, and the KaCyber Go App.
These achievements reflect our full commitment to innovation, strategic collaborations, and our vision of revolutionizing the public transportation sector in Uganda and across Africa.
The COVID-19 pandemic has had a significant impact on various industries worldwide. How did it affect KaCyber's operations, and what adjustments did you make to navigate through these challenging times?
The pandemic presented unprecedented challenges for KaCyber's business operations. The grounding of buses and public transport in general, coupled with reduced demand for public transportation services, significantly impacted us. However, we swiftly adapted to the situation by establishing partnerships in the international Business Process Outsourcing (BPO) space, which helped us maintain stability during those challenging times. Simultaneously, we took the opportunity to revamp our e-ticketing platform, incorporating delivery, luggage, and cargo handling and tracking abilities to cater to the evolving market needs of our bus operators and passengers.
This paradigm shift not only made us more resilient but also allowed us to enhance our product, making it more innovative and beneficial for transport operators and their clients.
Today, our e-ticketing solution stands as a pioneer in the industry, offering passenger and cargo ticketing capabilities along with real-time notifications, setting us apart from the competition. These adjustments, driven by our visionary leadership and the dedication of our core team, have enabled us to navigate the pandemic and emerge stronger than before.
KaCyber has processed over 11 million tickets across buses and trains in Uganda, amounting to transactions worth UGX200 billion. That's an incredible accomplishment! How has your digital ticketing and payment system improved the efficiency and convenience of public transportation for both operators and passengers?
For operators, our system facilitates access to credit from debt financiers, enabling them to acquire buses and expand their services. This, in turn, leads to increased profitability and sustainability. Passengers, on the other hand, experience improved convenience through streamlined ticketing processes, eliminating paper tickets and reducing wait times. Additionally, our system enhances cargo safety with efficient tracking and management.
By combining financial inclusivity, operational efficiency, and enhanced passenger experiences, our digital ticketing system has reshaped the public transportation landscape. As we look ahead, we continue to seek investment to realize our grand vision, including expanding our market coverage and further empowering transport operators. The benefits of our solution are immense, and we are committed to driving positive change in the industry.
Participating in events like HiPipo's 40 Days 40 Fintechs, the GITEX Africa Summit, and the Open Innovation Program hosted by Housing Finance Bank are remarkable achievements. How have these opportunities helped KaCyber increase its visibility and attract new partnerships or clients?
Participating in renowned events like HiPipo's 40 Days 40 Fintechs Initiative, the GITEX Africa summit, and the Open Innovation Program have been pivotal moments for KaCyber. These opportunities have immensely contributed to our increased visibility and opened doors to exciting partnerships and new clients, allowing us to reach a global audience, as well as positioning KaCyber as a leading player in the transportation tech industry across Africa.
Additionally, our participation in recent high-profile events like GITEX Africa summit has provided us with invaluable networking opportunities and exposure to key industry stakeholders and decision-makers at global level. These experiences have strengthened our brand reputation and credibility, making KaCyber an attractive choice for potential strategic partnerships and clients seeking innovative and sustainable mobility solutions.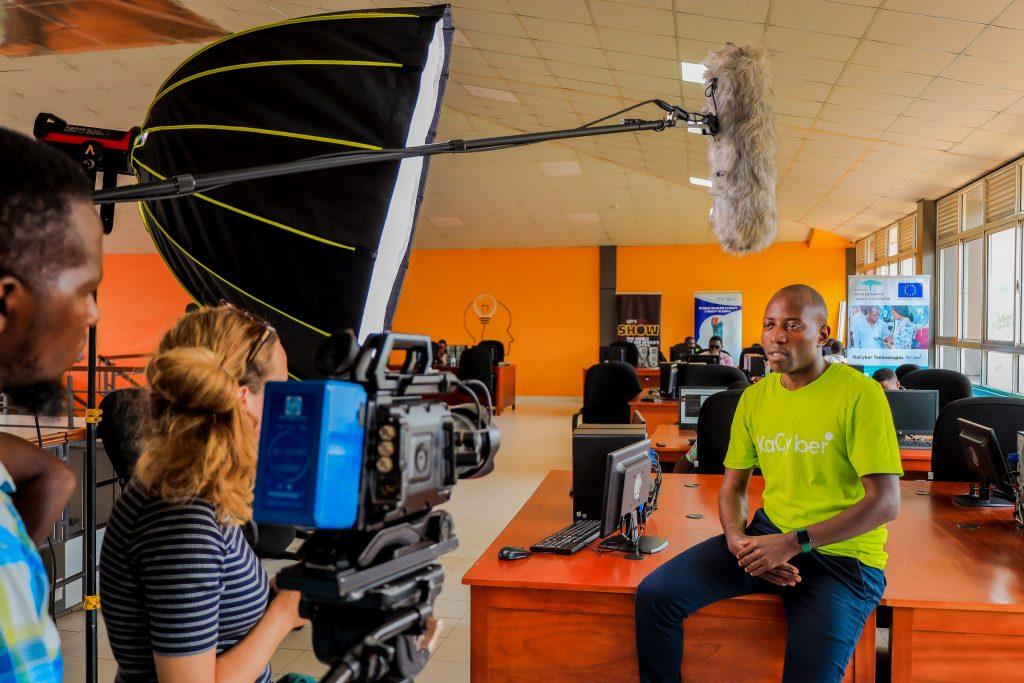 ALSO READ: KACYBER TECHNOLOGIES SHINED AT GITEX SUMMIT PUTTING UGANDA ON A GLOBAL TECH MAP
As a startup founder, you have experienced the rapidly evolving landscape of technology, including the effects of government regulations on internet-operating startups. What are some of the biggest challenges you've faced in navigating these regulations, and how have you managed to adapt to them while continuing to grow KaCyber?
Ultimately, our ability to navigate government regulations and maintain steady growth stems from our unwavering dedication, a collaborative approach with government partners, and a commitment to continuous learning and adaptation. We view government regulations not as obstacles, but as opportunities to foster innovation and ensure the long-term sustainability of our operations.
By actively engaging with regulatory authorities, participating in policy discussions, and staying abreast of industry developments, we proactively shape the regulatory landscape to foster an environment conducive to technological advancements. This approach has not only allowed us to comply with regulations but also enabled us to influence policies and drive positive change.
Our success in navigating regulations reflects our resilience, agility, and strong alignment with government objectives, propelling KaCyber toward greater heights.
Looking ahead, what opportunities do you see for KaCyber Technologies in the transportation tech industry in Africa? Are there any specific markets or expansion plans you're considering to further scale your operations?
In the dynamic landscape of the African transportation tech industry, KaCyber Technologies has an exciting roadmap for expansion. Our immediate focus is on launching in Malawi and South Africa, solidifying our presence in these key markets.
By the end of 2023, we aim to establish strong partnerships with operators in Burundi, paving the way for enhanced transportation solutions in the region. Looking further ahead, we have ambitious plans to enter the Congolese market by 2025, followed by expanding into West Africa, with Senegal as a strategic entry point.
These strategic expansions will enable us to scale our operations, foster innovation, and create a lasting impact across Africa's transportation landscape.
Many startup founders eventually contemplate an exit strategy as their companies mature. Have you ever thought about a potential exit for KaCyber? If so, what factors would influence your decision to consider such a move?
At KaCyber Technologies, our mission extends far beyond short-term gains or exit strategies. We're on a thrilling journey to make seamless mobility sustainable across Africa. Picture this: public commuting that's so effortless and appealing, it'll make you want to high-five your bus driver! But we're not stopping there. We're teaming up with industry players to turn green mobility into a reality in the public sector. We're not just here for a quick ride; we're in it for the long haul.
So, when it comes to potential exits, [here's a secret Nathan], we've hidden the exit sign behind our ambition. It's nowhere to be found! Our commitment to revolutionizing transportation is lifelong, and we're steering full speed ahead toward a future where transportation is seamless, appealing, and green. So buckle up, because with KaCyber, it's a journey you won't want to miss!
Given KaCyber's impressive growth and achievements, there might be a possibility of acquisition interest from global players in the transportation or technology sector. Has the company received any acquisition offers or engaged in discussions with potential acquirers? How do you evaluate the potential benefits and challenges of being acquired by a larger entity?
As a company with ambitious dreams and grand aspirations, we actively seek additional investments to propel us toward our vision. Our market coverage in Uganda alone represents a mere 10% of the vast potential that awaits us, and the benefits we bring are immense. Operators are experiencing higher revenues, passengers are enjoying enhanced experiences, and governments are benefiting from improved monitoring capabilities.
While we cannot disclose specific acquisition offers or ongoing discussions, we carefully evaluate the potential benefits and challenges that come with partnering with a larger entity. We assess factors such as strategic alignment, accelerated growth opportunities, access to additional resources, and the preservation of our core values and mission. Our aim is to ensure that any decision ultimately advances our ability to create a sustainable and transformative impact in the transportation industry.
Looking ahead, we are actively seeking to raise over USD$15 million (approx. UGX55.4 billion) by of 2025 through strategic collaborations and investments. These endeavors will fuel our relentless pursuit of innovation and solidify our position as a driving force in revolutionizing transportation experiences. The future holds tremendous promise, and we eagerly embrace the possibilities that lie ahead.
Share thoughts on being the sole representative from Uganda in the Acceli City Resilience Challenge.
I was absolutely blown away by our digital ticketing solution being selected into the #AcceliCITY Top 100 Resilience Solutions providers in the world! The selection was from over 650 applications from across 80 countries. Being the sole representative from Uganda both reflects our potential as KaCyber and the potential of Uganda's startup ecosystem and showcases the innovative ideas and entrepreneurial spirit that exist within Uganda and positions KaCyber as a frontrunner in the pursuit of innovation and technological advancement in Uganda's mobility sector.
This recognition highlights the fact that Uganda has talented individuals and promising startups that can compete on a global scale, showcasing the innovative ideas and entrepreneurial spirit within Uganda's startup ecosystem. It reflects our potential as KaCyber and positions us as a frontrunner in the pursuit of innovation and technological advancement in Uganda's mobility sector, bringing attention to Uganda's emerging tech scene and demonstrating that it is a viable destination for investment and partnership opportunities.
For KaCyber, being the sole representative from Uganda has positively impacted our reputation and recognition. It has put our company on the global map and increased its visibility within the smart cities and tech community worldwide. This recognition validates KaCyber's potential and positions us as a leading player in the Ugandan transportation tech ecosystem.
This global recognition has opened up numerous opportunities for KaCyber in terms of partnerships and investments. It has provided a platform for KaCyber to connect with other startups and organizations from around the world, fostering future collaboration and knowledge exchange. Additionally, the opportunity has given KaCyber a unique advantage in terms of networking and building relationships with influential stakeholders in smart cities globally. I believe this will lead to strategic partnerships and collaborations that can further enhance our company's growth and impact now and in the future.
Having had this conversation with Innocent, we have some hope that he and his team will revolutionize transportation in Africa. Their immediate focus, for now, is on launching in Malawi and South Africa, and by the end of 2023, established strong partnerships with operators in Burundi, paving the way for enhanced transportation solutions in the region. Looking further ahead, they have ambitious plans to enter the Congolese market by 2025, followed by expanding into West Africa, with Senegal as a strategic entry point.