Company News
MTN
News
Trending
MTN, Chenosis Launch 'API as a Service' to Accelerate Digital Transformation
Developers and programmers can access MTN's software platform and create new innovations to enhance their offerings and add value to their platforms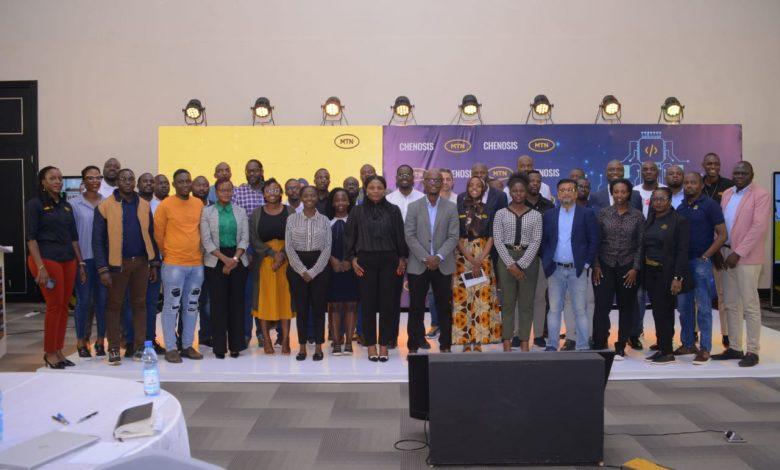 MTN Uganda in collaboration with Chenosis launched MTN 'API as a Service', a solution that provides third parties access to its proprietary software platform.
Chenosis-a Pan-African developer accelerator platform that enables the creation of more efficient and affordable code is a brand of MTN Group that builds communities of aspiring developers who have not been exposed to coding, providing them with tools like APIs, low-code and no-code platform solutions.
At the launch in Kampala on Friday, MTN Chief Financial Officer Andrew Bugembe, in the CEO acting capacity said 'API as a Service' enables businesses to create innovative services that will accelerate digital transformation and innovation.
"This is a new innovative solution that will help the business community to unlock new opportunities. APIs are used globally to facilitate payments moving towards a cashless economy by using digital wallets," remarks Bugembe.
With the launch of the API service, MTN Uganda positions itself as a digital transformation enabler and partner for businesses in both local and international markets, in line with MTN's Ambition 2025.
The telco's Chief Marketing Officer, Somdev Sen said "The commercialization of MTN APIs, will provide developers access to MTN's software platform, allowing them to create new innovations and better ways to satisfy customers faster."
Somdev emphasized that the service presents a significant opportunity for businesses to enhance their offering and add value to their platforms with MTN services.
MTN Uganda's Chief Technology and Information Officer, Ali Monzer highlighted that the API as a Service offers additional security controls to customer management processes.
He said MTN APIs as a Service is going to be one of the biggest API shops on the African continent, opening a lot of possibilities, and driving lots of innovations, helping organizations to boost revenues and ignite their growth through adopting new revenue streams or new lines of growth.
"It will help students in universities and anyone who will onboard themselves on the API marketplace and use the wide range of API to innovate and launch their new products and services. The API marketplace is going to drive and accelerate the digital transformation in Uganda," Ali said. Adding that "The user of the APIs will not only have access to a local API in Uganda but will have access to the global list of APIs such as telecom, health, agriculture, payment, authentication, KYC, verification and the list is endless".
How the MTN APIs work
API – Application Programming Interface that helps two different applications to talk together. Take an instance of two or multiple applications in a silo, and each application is delivering part of a solution to your problem, the API will help integrate those applications together to deliver one solution end-to-end.
For instance, the MTN Sim Swap API verification of SIM swaps can be done before a transaction is successfully processed, reducing the risk of fraud and identity theft, and protecting customers' finances from theft by unknown third parties.
MTN's API platform also helps businesses optimize their costs through the reduction of payment errors due to the wrong identity. For example, MTN KYC APIs enable customers to verify the identity of a user before the money is paid out.
Additionally, businesses can use smart innovation through better customer profiling and solution mapping, such as the credit scoring API and device type API, to optimize customer engagement and service delivery based on additional knowledge of the customer.
The MTN API platform will initially go live with four different APIs, with the promise of more to come.
The MTN Sim Swap API, MTN KYC Lite API, MTN Airtime API, and MTN Subscription API will all add value to digital platforms by enabling customers to conveniently purchase MTN airtime and bundles to reward their customers, as part of loyalty programs or promotions.