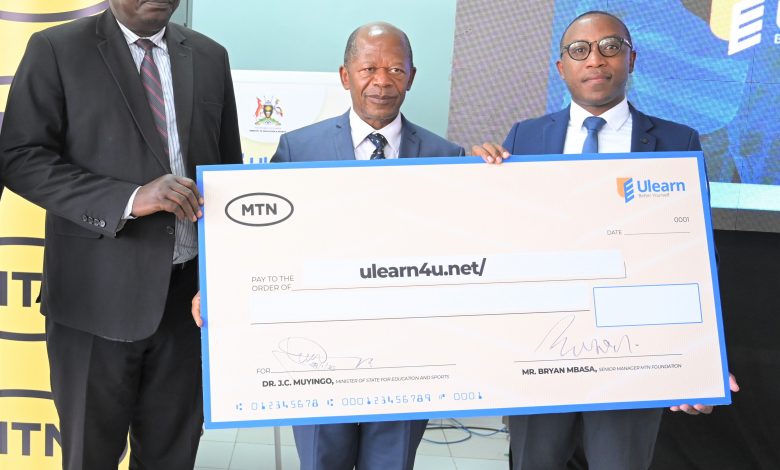 MTN Uganda in partnership with the Ministry of Education & Sports, and Continuum Financial Group launch an e-learning platform called ULEARN, a self-paced platform that seeks to digitalize access to teacher education so as to boost access to quality education.
Launched by the State Minister for Higher Education, Dr. John C. Muyingo, users shall onwards be able to access ULEARN and all its resources without incurring any data charges as long as they are using the MTN network for an internet connection.
The platform is offering a wide range of educational resources, including interactive lessons, quizzes, and videos to support the education system in delivering remote and blended learning. In addition, the platform has a range of features to facilitate collaboration and communication, such as discussion boards and chat functionality.
While launching the platform at the National Innovation Hub at the Uganda Institute of Information and Communication Technology in Nakawa, MTN Foundation's Senior Manager, Bryan Mbassa said they are proud at telco to partner with the Ministry of Education & Sports, and Continuum Financial Group to enable teachers to get the relevant knowledge and skills required to be passed on to the learners.
"Teachers play a critical role in the preparation of learners for their work life but most often require continuous capability development so as to prepare learners for the ever-evolving work ecosystem," Mbassa said — hence, proud that the telco decided to have the partnership.
Mbassa also noted that the high cost of the internet has also hindered teachers interested in sharpening their skills and knowledge from acquiring the much-needed education — thus, zero-rating the ULEARN platform would help them [teachers] acquire more knowledge as well improve their skills.
So far, more than 1,200 teachers and teacher educators across the country have been on-boarded and trained to study and achieve the Certificate in Teacher Education Proficiency (CTEP), a course under Teacher Education Training & Development Department that is designed to enhance their career skill set to be competitive and work more efficiently in an evolving world, through the platform.
"Our aspiration as MTN Uganda is to deliver the benefits of a modern connected world to all the population and sectors across Uganda. We believe in creating leading digital solutions for Africa's progress and accelerating the achievement of this vision needs strategic partnerships like the one we are having now," Mbassa said.
Dr. Muyingo applauded MTN Uganda for their continuous effort to support the teachers and learners as well playing a role in improving the education system in the country.