News
Social Media
What's New
Instagram Launches a New Tool to Help Users Focus Away From The App
Instagram is gradually rolling out a new feature called "Quiet Mode" to help users focus "and to encourage people to set boundaries with their friends and followers".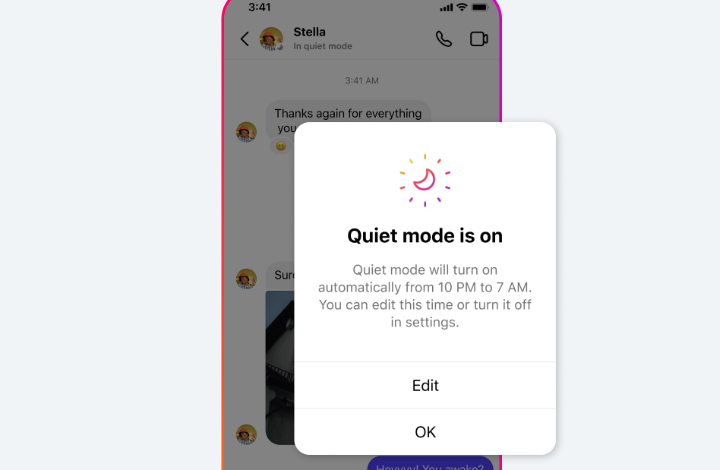 Instagram has today announced a new feature called "Quiet Mode" to help users focus "and to encourage people to set boundaries with their friends and followers", according to the company.
As per the company's blog post, when Quiet Mode is enabled, users won't receive any notifications, and their profile's activity status will change to let other Instagrammers know in addition to automatically forwarding an auto-reply when a user contacts you via DM. While everyone can use Quiet mode, the social networking platform says it will prompt teens to do so when they spend a specific amount of time on Instagram late at night.
"Teens have told us that they sometimes want to take time for themselves and might be looking for more ways to focus at night, while studying, and during school," wrote the meta-owned social site.
The company noted that you can easily customize your Quiet Mode hours to fit your schedule and once the feature is turned off, you will have a quick summary of notifications to catch up on what you missed.
The new update is currently limited to users in the US, UK, Ireland, Canada, Australia, and New Zealand effective today. The company noted that the feature will be gradually rolled out globally.
How To Turn On Quiet Mode
Open the Instagram app, then navigate to your profile.
Tap the triple line icon in the top right corner.
Tap "Settings."
Open "Notifications."
Select the Quiet Mode option, then toggle it on and set your hours by scrolling up or down.
In addition to this new tool, Instagram is also introducing a feature that will give users more control over what shows up in their Explore feed. By selecting "Not interested", Instagram promises not to show you similar content going forward in other places where the company make recommendations; Reels, Search, and more.
The company is also making it possible for users to hide recommended posts users see on the platform and this feature can be accessed in the Hidden Words section of Privacy settings.
"Add a word or list of words, emojis, or hashtags that you want to avoid — like "fitness" or "recipes" —  and we'll work to no longer recommend content with those words in the caption or the hashtag." said the company.
Furthermore, Instagram is also updating its parental supervision tools. The social platform added the ability for parents to see their teen's Instagram settings, including privacy and account settings. When a teen updates a setting, parents will receive a notification so they can talk to their teen about the change. Parents can now also view accounts their teen has blocked.
ALSO READ: INSTAGRAM INTRODUCES NEW FEATURE TO RECOVER HACKED ACCOUNTS