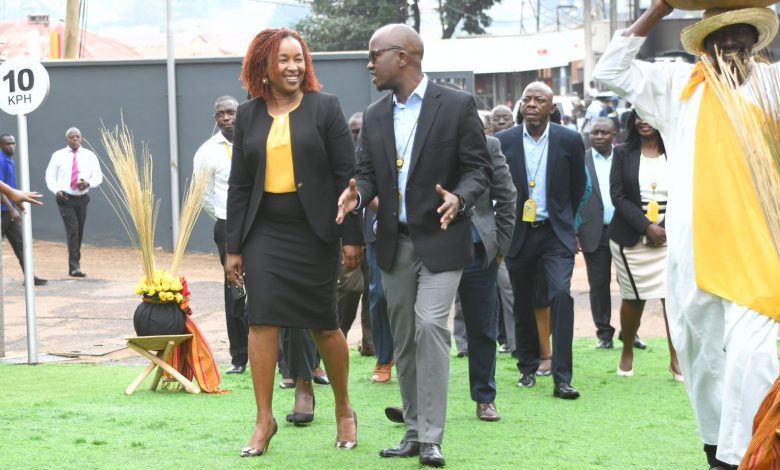 Sylvia Mulinge has arrived in Uganda to officially take over office as MTN Uganda's new Chief Executive Officer (CEO). Her appointment as the new CEO of the telco was announced on Friday, July 1st, 2022 by MTN Group succeeding Wim Vanhelleputte who was been promoted as the Operating Executive for West and Central Africa (WECA) Markets of Liberia, Guinea-Conakry, Guinea-Bissau, and Congo-Brazzaville within the MTN Group.
Mulinge joins MTN Uganda from Safaricom Plc where she served as the Chief Consumer Business Officer (CBO).
Mulinge was warmly welcomed by the MTN staff at MTN Uganda headquarters showcasing the diverse Ugandan cultures. MTN CFO Andrew Bugembe together with the General Manager of Human Resources, Michael Sekadde gave Mulinge a guided tour of the MTN Uganda headquarters where she had the opportunity to interact with her staff.
"It is a great pleasure to be at MTN Uganda. Thanks to MTN Staff for showcasing the beautiful pieces of Ugandan culture this morning. I am looking forward to being in Uganda. Asante Sana," Mulinge said.
The telco complimented her as a seasoned executive, bringing with her a passion for transforming customers' lives using technology. The telco further said Sylvia Wairimu Mulinge joins the company to support the accelerated execution of their Ambition 2025 strategy.
During her appointment, the Chairman of the Board of Directors, MTN Uganda, Mr. Charles Mbire said, "The Board is confident that Mulinge will continue the work of growing the company as a leading provider of telecommunications and digital solutions."
"I believe that her experience will be beneficial to MTN, particularly given her alignment with our strategic intent of leading digital solutions for Africa's progress," Mbire said.
Mulinge will on Tuesday, October 4th, 2022 officially assume office as the new MTN Uganda CEO. She becomes the first-ever female CEO of MTN Uganda.
Sylvia Mulinge holds a Bachelor of Science degree from the University of Nairobi, Kenya.
Since joining Safaricom PLC in 2006 Mulinge served in various roles including Prepay Product Manager, Head of retail, Head of Safaricom Business – Sales, General Manager, Enterprise Business, and Director, Consumer Business.