Featured
Innovation
MTN
News
Sponsored
Startups
MTN MoMo Uganda, Outbox Award Top Innovations in the 2022 MTN MoMo Hackathon
e-Wage, Mpa Mpe, and M-Pay emerge as top innovations in the 2022 MTN MoMo Hackathon and will share a cash prize of USD$10,000 (approx. UGX38.5 million) to invest in their solutions.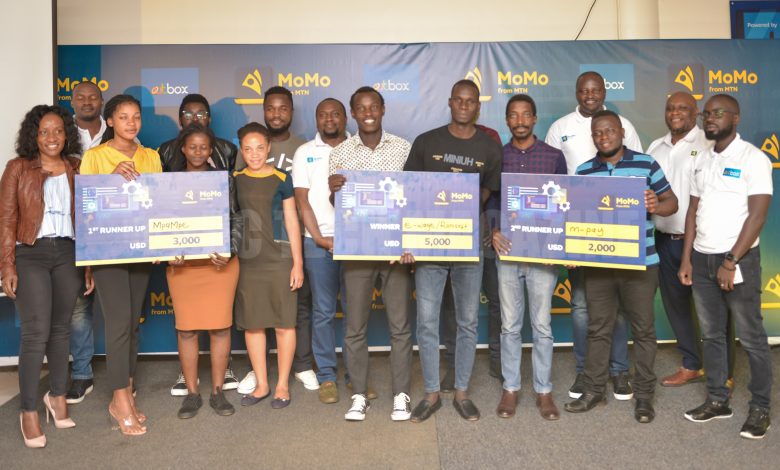 With the aim of innovating an API that accelerates financial inclusion and digitizes payments by use of MTN mobile money, MTN Mobile Money Uganda Limited together with Outbox Hub on Friday, September 23rd, 2022 rewarded three innovations with a grant of up to USD$10,000 (approx. UGX38.5 million) to invest in their solutions to accelerates financial inclusion.
The three innovations, e-Wage, Mpa Mpe, and M-Pay were among the 12 finalists out of a pool of 149 innovations that applied to participate in the 2022 MTN MoMo Hackathon. The 12 innovations each had seven (7) minutes to pitch and demonstrate their apps/systems to the judges and even though the solutions were all good according to the judges, they believed the e-Wage, Mpa Mpe, and M-Pay were the most promising solutions.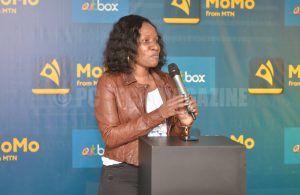 Selecting the top 3 innovations, the judges had quite a number of categories that they used to make the deliberation. According to Jamillah Mayombwe, the head judge, they looked at the code, presentations, the impact the products would have on the market, design & user interface of the systems/app, implementation & effective use of MoMo API, originality, and business opportunities among other criteria. "We took all these into consideration to make sure that our deliberations were unbiased," Mayombwe emphasized.
It is worth knowing that all the innovations that were presented aren't active (in the market) as yet.
e-Wage emerged as the overall winner and received a cash prize of USD$5,000 (approx. UGX19,235,770). e-Wage will be an online payroll system for casual workers that uses the mobile money API disbursement service to send wages to the mobile account of casual workers. The idea is to replace the long queues that these casual workers have to make to get their wages.
In addition, e-Wage will also keep records, process payments, and ease the work of processing weekly payrolls for casual workers.
In the second place, Mpa Mpe (locally means 'Give Me I Give Out') winning USD$3,000 (approx. UGX11,541,462) will be a hybrid crowdfunding application that seeks to bridge the gap between the needy/beneficiaries/campaigners and funders/sponsors/donors to support their ideas through a transparent model and accountability of funds.
MpaMpe is a financial and digital inclusion web app created to tackle local community needs in Uganda post-Covid-19 pandemic.
Finally, 2nd runner up M-Pay winning USD$2,000 (approx. UGX7,694,308) will be an online platform that enables users to create a wallet, deposit funds directly onto it, and then have the wallet balance paid out to a number of multiple subscribers with a single transaction.
Mayombwe asked for innovations that didn't win —not to halt working on their products. "Today is just one day, right? You can go ahead and develop your products and they become up to viable business opportunities," she said. "MTN and Outbox will provide all the finalists with resources to continue innovating."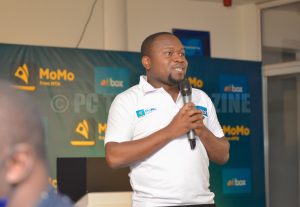 In his remarks, Richard Zulu, Founder and Team Lead at Outbox Hub emphasized the importance of hackathons for playing a role in creating interest and providing a foundation for software engineers and developers.
"Our mandate is to link developers and aspiring entrepreneurs to opportunities that expose them to learn about what other developers across MTN's footprint and beyond are doing to inspire innovations that will drive Africa's progress. I implore developers to utilize such opportunities to network as that is how learning and growth happens," Zulu said.
Richard Yego, the Managing Director at MTN Mobile Money Uganda Limited remarked that tech-based financial solutions and applications are becoming increasingly necessary as more people are beginning to appreciate the use of such life-changing innovations. "With more people appreciating digital financial services, such applications will further bridge the financial inclusion gap and deliver more seamless customer experiences," Yego said.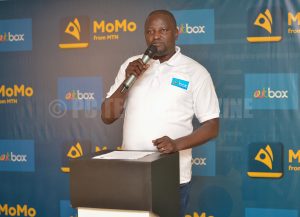 Yego went on to say "It is against this background that MTN decided to give third parties access to its mobile money programming Interface to enable them to develop vital solutions without facing the cost of building and maintaining new APIs."
The MTN MoMo Hackathon was held to enable developers based in Ghana, Uganda, Ivory Coast, Cameroon, Rwanda, eSwatini, Congo Brazzaville, Guinea Conakry, Zambia, and Benin to offer financial and transactional applications innovations using the MTN mobile money (MoMo) API platform.
ALSO READ: UGANDA'S HEALTH-TECH STARTUP, STREAMLINE WINS SWISS RE ENTREPRENEURS FOR RESILIENCE AWARD IN ZURICH