Interviews
One-on-One With Digital Marketing Expert Nafuna Grace
"My success as a fashion blogger inspired my transition into digital marketing and sales," Grace Nafuna, Digital Sales Strategist at Pulse Uganda.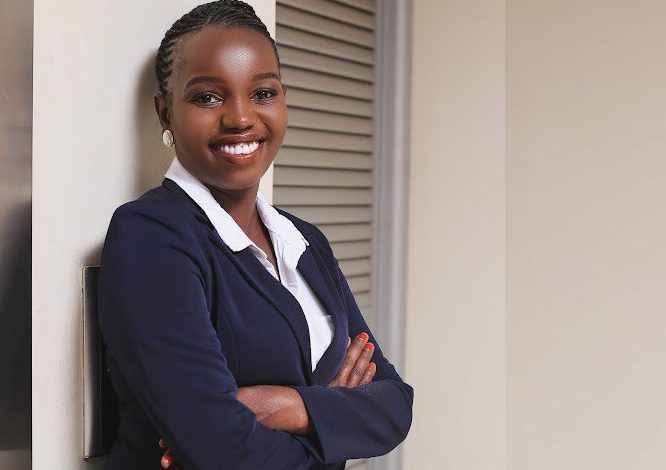 Digital marketing is a critical aspect of most businesses today — it is a component of marketing that uses the internet and online-based digital technologies such as computers, mobile phones, and other digital media and platforms to promote products and services. This type of marketing encompasses a wide range of activities, like creating & managing digital marketing campaigns, creating & managing digital content, developing & managing websites, influencer marketing, and search engine marketing (SEM), among others.
Digital marketing is handled by marketers with digital expertise that can ensure that a brand's products and services are visible online. In general terms, a digital marketer is responsible for using a variety of digital channels such as; the company's websites, social media networks, email marketing, online display ads, and blogs to mention a few to generate leads and build brand awareness.
As a digital marketer, in this role, you can be responsible for all aspects of a company's digital strategy or just focus on one. I managed to secure a brief one-on-one interview with Nafuna Grace, a digital marketer, and a business & corporate brand strategist with nine (9) years of experience in the digital, mainstream electronic, and print media.
Nafuna is currently the Digital Sales Strategist at Pulse Uganda and previously worked for Reach a Hand Uganda as the Head of Communications and Digital Media. I had a chance to ask her about digital marketing and her journey in this niche —this is what she had to say.
I first got to know you as a fashion blogger. What inspired the transition to digital marketing?
I would not look at it as a transition per se. I think I will always love fashion but I have an equal love for all things social media. Both industries are very nimble and require you to be extremely adaptive, innovative, creative, and have your ears to the ground. Looking back, my success as a fashion blogger inspired my transition into digital marketing and sales.
What excites you about digital marketing that's not with traditional marketing?
It's ever-evolving. I love to be challenged as I get bored easily. So the field of digital marketing appeals to my interests as well as strengths. Lately, I have been obsessed with Artificial Intelligence (A.I) and how companies are using it for the automation of jobs, unique client experiences, and customer service among others. Now, we have copywriting tools for example that will make copywriters obsolete in the near future. Many companies today are waking up to the advantages of online marketing. It is nice to see influencers for example being taken seriously and being the subject of serious boardroom discussions.
What are some of your favorite marketing tools and platforms?
Lately, I have been obsessed with LinkedIn where I have a following of over 20,000 people. Hubspot, I find is a great resource for sales and marketing tips. Slack is great for team communication, Zoho for automating business processes. Hootsuite, Brand24 for social media analytics, and Brand Mentions are great for tracking hashtags amongst others.
What are some of the digital marketing campaigns you worked on?
There are too many to count. Oktoberfest, Abryanz Style & Fashion Awards, Intergenerational Dialogue, I know Kati concert, and now the Pulse Influencer Awards, amongst others. I have also worked with clients such as Wild Crane, Kabojja International School, and Jumia among others.
Of the digital marketing campaigns you've mentioned, which one could you say was your biggest accomplishment and why?
The IknowKati campaign was a campaign to raise awareness about HIV/Aids during world Aids Month in December. We had a lot of offline activities such as roadshows, and boot camps — we had to live tweet about these in real-time as well as create the same momentum online as it was offline. I'm a big fan of video marketing, so we utilized video prior to and during the event to raise awareness about HIV prevention online.
Next in line would be the Intergenerational Dialogue, a meeting of minds from different generations to address the issues surrounding different issues. We used a lot of video marketing, twitter spaces as well as webinars prior to, during, and after the event to address SRHR issues especially teenage pregnancies in the Post-Covid19 era.
ALSO READ: HOW VIDEO MARKETING CAN IMPROVE YOUR WEBSITE CONVERSION RATES
Would you encourage brands to invest in digital marketing?
Yes, I would. From a business perspective, digital marketing is way cheaper than traditional media and yet promises a higher Return on Investment (ROI). Using the right online influencer for example will give you a higher ROI than a TV ad and comes at a much smaller cost. The only reason someone would invest in offline marketing is if they are targeting people in a particular demographic; i.e. people living in rural areas with little to zero access to mobile phones or technology.
Why does a brand need to focus on so many different digital marketing strategies?
Each digital marketing strategy offers different conversion rates. For instance, influencers do promise higher reach and conversion rates, content marketing promises higher reach, and email marketing has higher conversions especially for B2B marketing. It's also important to consider the Target Audience in question and what their behavioral patterns look like. Vertical media marketing is great for countries like Uganda where mobile phone penetration is much higher than desktop or laptop penetration.
Do you think hiring a digital marketing consultant is a must for a marketing campaign to be a success?
Yes, digital marketing consultants especially those with agency experience have their ears on the ground. They deal with several clients a day so they are best placed to advise you on what works or doesn't. They will help you manage your strategies within your budget, manpower, and external environment and also work out strategies that will give you a Return on Investment (ROI).
What is that one digital marketing mistake that you think has to be avoided at any cost?
A lack of clarity on who your target audience is.
With Facebook blocked, how is this affecting the industry?
It's a very sad and mindblowing situation especially since the majority of Uganda's population are young people who are tech savvy and tech curious. Many of these not only consumed affordable information on the platform but managed to grow their Small and Medium Enterprises (SMEs) on the same. I believe it's a setback for us as a country and has far-reaching social-economic implications that will be difficult to double back if they are not nipped in the bud.
What are some of your earliest memories from the world of digital marketing?
As a fashion blogger, I used to get a lot of backlashes because I would critique people's clothing. So imagine giving an important person a 1/10 rating based on their dressing. Some people would take it personally but it definitely grew my personal brand. As a writer and blogger, peoples' reputations lie in your hands and it's therefore easy for people to misunderstand or hate you. But it was exciting nonetheless.
What kind of team environment do you thrive in?
Agile, fast-paced, non-bureaucratic, innovative. A flat organizational structure where ideas are welcomed, not stifled.
How do you keep on top of industry news and trends, and how do you apply this to your work?
I am an avid reader. I read about everything: business strategy, personal branding, eCommerce, video marketing, reputational management, crisis management, you name it. Being informed keeps you relevant in this industry.
What is your advice to someone who is just starting out in the digital marketing industry?
Learn, learn, learn. Whether it is within a school setting or online. There are plenty of avenues such as EDX, the digital marketing institute, and HubSpot that will offer you learning content for free. I have a micro masters in digital marketing from Curtin University that I studied on EDX and am an Associate of the Chartered Institute of Marketing UK. There is no substitute for education; It will empower you to speak with confidence and become an authority in your industry.
AOB; outside of digital marketing, how do you like to spend your time?
I watch a lot of crime and drug lord series because as you know most criminals are excellent strategists (LoL). I am also currently writing a book on Personal Branding in a Digital World for African Millennials. Look out for it.
Well, we look forward to reading Grace's book…
ALSO READ: BUILDING YOURSELF AS AN INFLUENCER IS MORE OF A LONG GAME THAN A SPRINT – GAD ROGERS