Apple
News
Software
What's New
iPhone 6 & 7 Series Dropped Out of iOS 16 Upgrade
Not every iPhones supports Apple's newest software release, iOS 16. Some devices simply won't be able to install iOS 16, though these are typically older devices, the iPhone 6 and 7 series.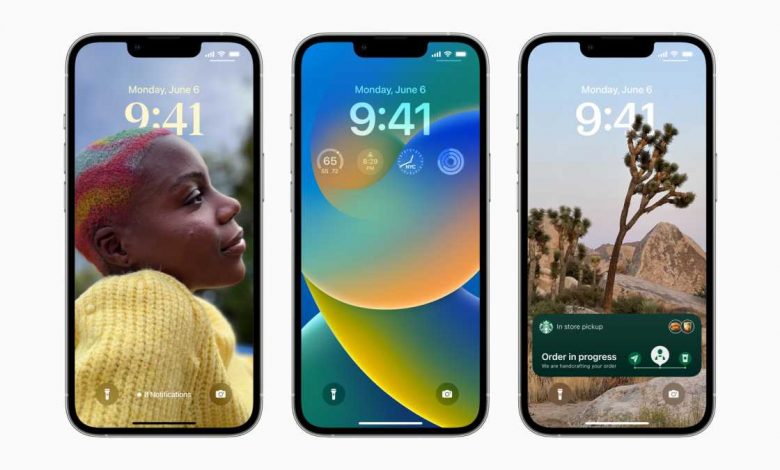 Apple recently released iOS 16 to the public, the new operating system comes with a plethora of new features, functionality, and important security fixes as well as streamlining things while making apps like Maps, Messages, and Mail more powerful. These aren't big changes, but they add up to a better iPhone experience. The release of the operating system comes a few days after Apple unveiled the new iPhones to the world.
The new operating system is available for iPhone owners, however, not every iPhone supports Apple's iOS 16 software. The iPhone 6 and iPhone 7 ranges have been dropped and all newer devices are supported including the iPhone 14 series that haven't been released yet.
The following iPhones are compatible with iOS 16:
iPhone 8, iPhone 8 Plus, iPhone X, iPhone XS, iPhone XS Max, iPhone XR, iPhone 11, iPhone 11 Pro, iPhone 11 Pro Max, iPhone 12, iPhone 12 Mini, iPhone 12 Pro, iPhone 12 Pro Max, iPhone 13, iPhone 13 Mini, iPhone 13 Pro, iPhone 13 Pro Max, and iPhone SE (second generation and later).
If you're not sure which iPhone you own? You can easily figure out the model from within your settings;
Launch the Settings app and go to General > About. Next to Model Name, you should see what type of iPhone you own. Having seen what type of iPhone you've will tell whether your device is compatible with iOS 16. If your device is compatible, to make the update, in Settings go to General > Software Update and follow the prompts.
What you get with iOS 16
1. Notifications
Notifications have been covering up your entire lock screen, and now with iOS 16 moves notifications to the bottom of your display, which Apple believes is a more logical way to present them. You can display your notifications in an expanded list view, stacked view, or count view.
2. Edit, Mark as unread, and 'unsend' messages and mails
iOS 16 will give users the ability to edit a message for up to 15 minutes after sending it and recipients see a record of edits. You'll also be able to recall any message for up to 2 minutes after sending it. Finally, you'll be able to mark any message thread as unread.
Apple in iO6 has improved mail search delivers more accurate, complete results, and provides suggestions as soon as you begin to type. Undo send allows you to cancel the delivery of a message within 10 seconds of hitting send. Scheduled send for sending an email at a specific day and time.
3. Lock Screen
Redesigned Lock Screen gives you all new ways to personalize your Lock Screen by showcasing favorite photos, customizing font styles, displaying widgets, and more.
4. Live Text and Visual Look Up
Live Text video support allows you to interact with text in a paused video frame so you can copy, translate, lookup, share, and more. Apple says Live Text is going to provide quicker access to translation and currency-conversion tools, too.
Visual Look Up adds recognition of birds, insects, spiders, and statues in your photos.
5. Apple Pay and Wallet
Apple Pay Order Tracking allows you to receive detailed receipt and order tracking information in your Wallet for Apple Pay purchases with participating merchants.
6. Health
A new medications feature will help you track and manage your medications, vitamins, and supplements by creating a list, custom schedules, and reminders, and then viewing logging over time.
You'll be able to add medications using your iPhone camera. Interaction alerts will inform you if there is a critical interaction when you add a new medication.
Cycle deviation notifications alert you if your logged menstrual cycles show a pattern of infrequent periods, irregular periods, prolonged periods, or persistent spotting.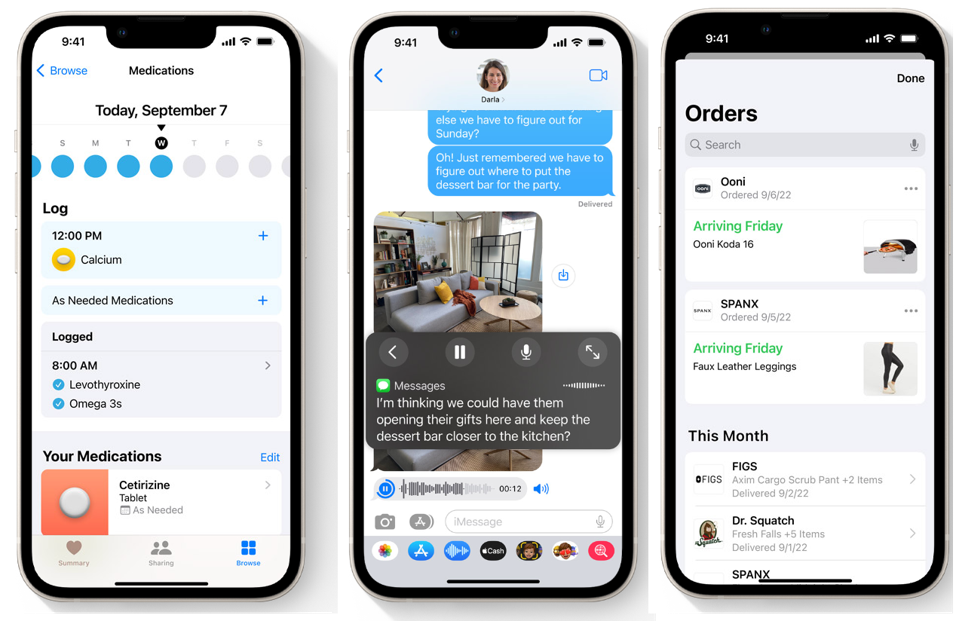 7. Home
The redesigned Home app makes it easier to navigate, organize, view, and control your smart home accessories.
The home tab now integrates all your accessories, rooms, and scenes into a single tab for a whole-house view, allowing you to see your entire home at a glance.
Categories for lights, climate, security, speakers and TVs, and water let you quickly access all the relevant accessories organized by room, and display more detailed status information.
The new camera view displays up to four cameras front and center in the Home tab, scroll to see any additional camera views in your home.
Redesigned accessory tiles feature more visually recognizable icons that are color-matched to their category and new behaviors for more precise accessory controls.
8. Safety Check
Safety Check is a new section in Settings to help people in domestic or intimate partner violence situations quickly reset the access they've granted to others.
Emergency reset lets you quickly take action to reset access across all people and apps, including disabling location sharing via Find My, resetting privacy permissions for apps, and more.
There are more new features and updates with iOS 16, check out Apple's iOS 16 release notes.