Editor's Pick
Features
How - To
Learn
A Comprehensive Look at Some Effective Real Estate Marketing Ideas
Regardless of the current state of the market, both newbies and experts can employ a wide range of strategies to advance themselves in the real estate business.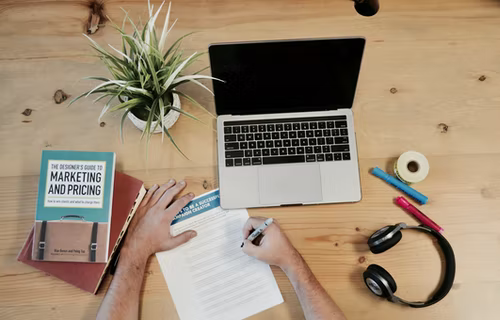 One of the most important aspects of the real estate market is interest rates, which can fluctuate based on various factors, including the economic employment rates, and overall fiscal growth. Regardless of the current state of the market, both newbies and experts can employ a wide range of strategies to advance themselves in the real estate business. This article looks at some of the most important strategies for growing your business.
Real Estate
Real estate is broadly defined as land and any significant improvement that can be built or mounted on it. A house or a road could be examples of improvements. It could also include something built on the property, such as a sewage system. If a plot of land has one or more of these structures, it is improved; it is unimproved if it appears to be devoid of them. Your house is real estate, as is any undeveloped land you own. Real estate can range from a newly constructed building to an undeveloped plot of barren land that cannot be developed.
Categories of Real Estate
Real estate is classified into several types, each with its own function and utility. The primary categories are as follows:
Land: Land serves as the foundation for all other types of properties. Vacant or empty land is known as an underdeveloped property. Developers buy land and complement it with some other assets to increase the price of the property.
Residential: A residential property can be occupied by an individual, a family, or a group of people. It is the most common type of real estate and is the asset type that the majority of people are familiar with. Residential housing options include single-family homes, duplexes, condos, penthouses, and other dwellings.
Commercial: Land or structures used by business owners to conduct their operations are referred to as commercial real estate. Examples include supermarkets, personal stores, office spaces, parking lots, health centers, and resorts.
Industrial: The term "industrial real estate" refers to land and building structures that are utilized by industrial businesses for operations such as processing plants, mechanical manufacturing, research and innovation, fabrication, haulage, warehouse management, and distribution centers.
The following are the important strategies you can employ to grow your real estate business.
1. Determine the Target Market
This involves researching and understanding your potential customer's wants and needs in order to focus your marketing efforts on the segment of the market that is most likely to seek out your services. It is, without a doubt, the most important strategy for becoming a successful real estate agent.
Most real estate agents and businesses specialize in a single market, becoming experts in that field. This is indicative of what is essentially driving the targeted audience, the risks, and where the industry is headed. A realtor, for example, who is aware of a new school development or expansion project may change his marketing strategies to accommodate the latest developments.
2. Encourage Referrals
The majority of successful real estate agents generate multiple transactions through the recommendations of previous clients. A referral from an existing customer is of immense value. For instance, new customers are more likely to select a real estate agent if they have been advised to do so by a friend, coworker, or relative they respect and whose judgment they value. You could make this tactic more effective by offering a bonus to the person who brings you, new potential customers.
3. Respond Quickly to Inquiries and Complaints
We now live in a universe that is constantly changing at a much faster rate than it was previously. Keeping up with customer inquiries is critical, or you risk losing new customers or deals. To handle customer requests as quickly and efficiently as possible, you must have email access on your mobile phone and tablet at all times. You should avoid delaying your responses because responding quickly improves the reputation of your company.
4. Create Your Own Brand
Your real estate business is no different from other businesses with well-known brands. You must strive to establish your own brand. It could be based on your name or the name of your business. This concept should be incorporated into any property sales strategy you employ.
People frequently ask how to consistently generate property sales and what they need to do to run a profitable business. The solution is to create a brand ahead of time and use it to promote the business for as long as you want it to last.
5. Have a Marketing Budget
Another critical aspect of successfully growing your real estate company is developing and sticking to a marketing budget. Websites and blogs, email campaigns, media advertising, and postal advertising are just a few of the marketing channels available. Your budget will be influenced by your particular target market.
Although social media and internet marketing are important, focusing all your efforts online can cause us to overlook offline direct promotions that can have a significant impact on your firm's progress. Customers in cities and metropolitan areas, for example, may require digital marketing, whereas those in rural areas may require a different strategy.
6. A Brilliant Website
A website is critical in the real estate industry. It is in fact a requirement if it is that you wish to be known in the industry at all. Customers nowadays expect brands to have websites, and a bad website is far worse than no website at all. You can do some research on top-rated real estate website templates online, but keep in mind that merely copying them is not the best approach. Instead, you should simply use the template as a guide as you work on customizing it to suit your particular business.
Related: 

10 Amazing webiste design portfolios that will spark your brain
Here are a few steps you can take to get your website ready to advertise your real estate business.
Have an Eye-Catching Homepage:
A significant number of people will form an opinion regarding the reliability of your company based on the appearance of your website. Your web pages, particularly the homepage, should have the ability to grab and hold attention, especially given the significance of initial impressions. This includes vibrant images, a clear call to action, as well as an easy-to-use menu.
Make Excellent Listings:
When it comes to major purchases, today's customers prefer to do their own research online, and this includes real estate investment. They will use Google maps and Street View to locate and understand the neighborhood, see which organizations are within a reasonable distance, look at property pictures and videos, and, ideally, take a sneak peek of the real estate while searching. Customers should be able to easily access all of this information from your website pages and listings, which should include a detailed description, beautiful photos and visuals, and quick access to Google Maps. Indicate the nearby hotspots and their respective walking distances. For example, the bus stop is only about a 10-minute walk away.
Listing your home on a reliable platform is a great way to boost your property and attract customers. The eXp Realty property search definition helps clients and customers find homes easily and can help you market your property well.
Invest in a Photographer:
It is critical that you have attractive pictures of your properties. The perfect hour of the day or the angle at which it was taken will make or break a photograph. Invest in a skilled photographer, preferably one with prior experience taking photos of homes and structures. Alternatively, if you have modern devices and you are convinced of your own abilities, you can try your luck at it yourself. Just keep in mind that this is one of those very situations where hiring professionals is better.
SEO Optimization:
SEO optimizes your digital content so that it appears on the main page of a major search engine, attracting people through the results pages. Make sure your content includes keywords relevant to your target audience's search queries in order to ensure that your website ranks highly in search results. By now you should realize that your website's design is just as important as its optimization. It's possible that combining these two tips will help you find the right audience for your business. This, however, may not be sufficient in the increasingly competitive world of brand awareness. You'll need to make sure your site meets a variety of factors, other than keywords, in order to rank on the main page of search engines like Google, which favors websites that provide an excellent customer experience and are mobile-optimized.
Create Excellent Content:
The primary purpose of SEO is to assist visitors in finding what they want. Therefore, creating great content must be your primary objective. Concentrate on posting articles that prospective customers will find helpful, clear up any reservations they may have, and include details they won't find anywhere else. Excellent content will improve your website's visibility and enable it to rank higher in internet searches, allowing more potential buyers to find your website, its details, and listings.
Pay Attention to the User Experience:
If your website is difficult to navigate, even if it contains some of the best real estate pages in the universe, it won't be of much use. People who visit your website should have a good experience overall while they are there. Therefore, you should put yourself in the position of the visitors to ensure that they will not have any difficulties navigating it.
7. Use Geo-Targeted Advertisements
Identifying specific locations where your services are required is one of the most effective real estate marketing strategies. Geo-targeted advertisements are an excellent way to achieve this because only people in a specific area will see your ads. This is the most effective method for gaining acceptance in a local market.
Concentrating on specific locations can significantly improve your results and lead to more business than concentrating on larger areas would. Realtors can choose to display different content in their campaigns based on a specific location in order to reach customers who are likely looking for properties in that region.
Instead of attempting to be the best agent in the whole city, why not focus on a particular area? When you zero in on a specific region, you will be able to send out advertisements that are tailored specifically to the people who live there as well as the traditions that are practiced there. This will demonstrate that you have an in-depth familiarity with the area.
8. Social Media
Real estate marketing on social media is critical for your business. Here are some ideas for using these platforms to promote your business.
Sign up Properly:
Instagram, LinkedIn, and Facebook are the three social media platforms that are best suited for real estate, and other related businesses. During the registration process, you should make every effort to carefully and accurately fill in the required fields without making any mistakes or omitting any details. This will ensure that your audience has an easy time viewing your page.
Make Use of the Correct Hashtags:
Because social media platforms like Instagram and Twitter use hashtags to show your page to prospective customers, you need to be very careful not to use the incorrect tags on your posts. You definitely don't want your audience to get confused.
Be Active:
Be active, consistent, and engage your followers all the time. If you feel the need to educate your audience on certain things that you feel they should know, do not hesitate. Videos and pictures of your properties might just be what you need to turn a potential customer into a returning one. Always post clear and beautiful pictures of the properties.
Use Ads:
Continuous branding on social media is beneficial for developing relationships with existing customers, but it won't get you very far if you're looking to attract new customers to your business. Even though it has the least amount of organic traffic of any platform, using paid promotion is known to yield remarkable results.
9. Email Listing
This is yet another straightforward method of marketing your business. This involves gathering contact information from current and prospective customers in order to email them later with new developments and the most recent offers. Because the majority of your clients will most likely contact you through your website's contact page or via email, all you need to do is collect and organize their email addresses. This includes not only current and previous clients but also those who were considering hiring you but decided not to.
Because of how fierce the competition is in this sector, you need every piece of advice, both online and offline, that you can get your hands on in order to determine which strategies will be most successful in the long run. However, it is strongly recommended that you begin with the fundamentals and then work on refining those skills until you can perform them routinely. When you have reached a point where you are very comfortable with those, you can add a couple more until you have mastered everything.
Hopefully, you will find these marketing tips helpful, and you will be able to sell more properties with less hassle as a result of implementing them.
ALSO READ: HOW TO USE YOUR PHONE FOR MARKETING PURPOSES IN THIS TECH ERA