Gadgets
Mobile
Smartphones
If You're Planning To Buy The Infinix HOT 12, Here Are Two Things You Should Know
If you plan on buying the Infinix HOT 12, there are two things we need you to look at, one, you can get it at credit, and two, you can increase its RAM.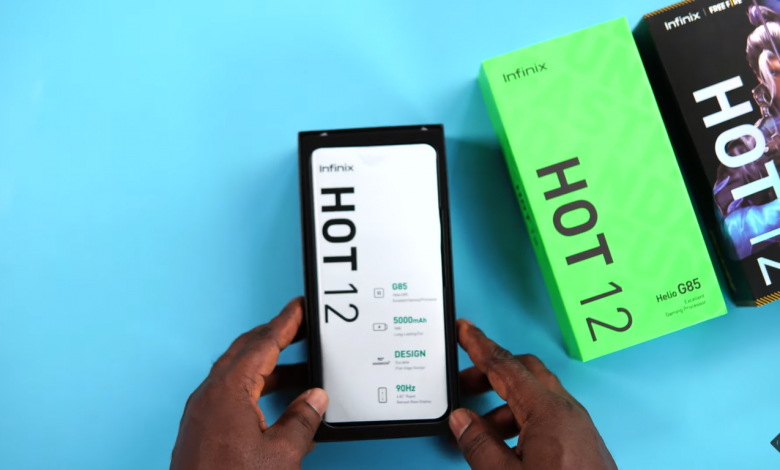 Infinix about two weeks ago launched the Infinix HOT 12 smartphones — a trio that includes; the HOT 12, HOT 12 Play, and HOT 12i. The phones are now available for purchase at all Infinix stores and authorized smartphone dealers starting from an RRP of UGX690,000 for the HOT 12 (4GB + 128GB), UGX642,000 for the HOT 12 Play (4GB + 128GB), and UGX590,000 for the HOT 12 Play (4GB + 64GB).
If you're thinking of getting a new phone or trying to make an upgrade or have a replacement, then we can recommend the Infinix HOT 12. It is a budget phone with good specs and the deliverance as well as performance are good for a phone in its category. We had a hands-on test of the phone and our verdict;
The price is fair enough considering the specs.
The build and design quality is good.
The processor is good. The MediaTek Helio G85 gaming processor is smooth, allows you to game, multitask, and handles general performance swiftly.
The 5,000mAh can last the entire day on a single charge if you're overusing the phone and charging to full is an hour and 45 mins so no need to wait for over 3 hours to have your phone fully charged.
The cameras will give your good photos and videos under conditions that are well lit
Android 12 is there which is a checkmark that you need.
So if you are planning on getting yourself an Infinix HOT 12, here are two things you should know;
Get the Infinix HOT 12 on Credit
The phone starts at a base price of UGX590,000 for the HOT 12 Play (4GB + 64GB) to UGX690,000 for the HOT 12 (4GB + 128GB). If you cannot pay the full price, Infinix has made it possible for its customers to get the phone at credit. Infinix is working with TakeNow, a company providing all Infinix phones on credit to customers. To get the phone
Go to any Infinix stores or any Infinix partnering store like the Banana store with your National ID and a Simcard that has been active for at least 6 months.
Upon selecting any Infinix phone you want [in this case the Infinix HOT 12] you will have to make a deposit of 30%.
Upon getting the phone, they will install the TakeNOW app where you will make payments via MTN or Airtel mobile money. You will need to clear the outstanding balance in a period of 6 months.
Increase RAM up to 7GB for better performance
New phone, New technology. The Infinix HOT 12 comes with the feature that allows users to increase their RAM up to 7GB for better performance. The "Memory Fusion Technology" is designed to make use of unused internal storage and channel them for RAM operations. With Memory Fusion, a user with 4GB RAM can enlarge onboard RAM by up to 7GB. This also enhances a device's multi-tasking capacity, allowing seamless switching between apps that are running concurrently in the background, and stabilizes the phone's systems for more sustainable performance and longer battery life.
How to:
Go to settings.
Select Special Function.
Select MemFusion [MemFusion stands for Memory Fusion].
Turn on MemFusion and also Set virtual RAM. Setting the virtual RAM will depend on how much internal storage space you have but the default is 3GB.
Your RAM will be increased from 4GB to 7GB [the addition of the 3GB virtual RAM].
Infinix HOT 12 is a good smartphone and the company describes it as a "fresh smartphone that integrates long endurance and fun".
Eric Zheng, Infinix's Product Manager says the company commits to designing intelligent smartphones with excellent performance and trendy aesthetics for young consumers. "We will constantly bring the latest, best, and most cost-effective products to users."