Featured
Gadgets
Mobile
News
Smartphones
Infinix Launches the HOT 12 Smartphones and can be got on Credit
Infinix has launched its HOT 12 series smartphones in Uganda — and the company describes it as a "fresh smartphone that integrates long endurance and fun".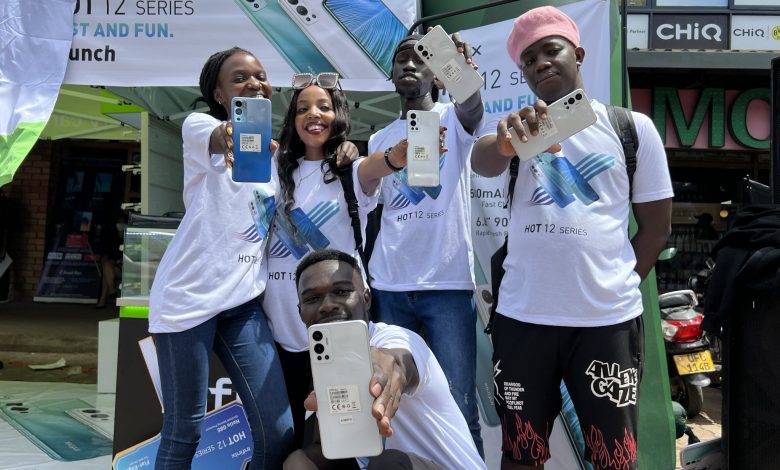 Infinix has launched its HOT 12 series smartphones in Uganda — and the company describes it as a "fresh smartphone that integrates long endurance and fun". The HOT 12s are the new phones in the HOT series after the HOT 11s. Infinix launched its HOT series back in 2015 starting with the HOT 4 and has since been able to keep the series alive and available for its customers globally.
While at the launch of the phones at Forest Mall in Kampala, Mr. Eric Zheng, Infinix's Product Manager said, "We are continuously committed to designing intelligent smartphones with excellent performance and trendy aesthetics for young consumers." Adds "We will constantly bring the latest, best, and most cost-effective products to users."
Zheng noted that the Infinix HOT 12s have achieved a breakthrough in improved performance, ultra-long endurance, and trendy aesthetics, which allows young people to express themselves through their smartphones.
The phones are now available for purchase starting at a recommended retail price (RRP) of UGX690,000 for the 4GB + 128GB variant. For customers that cannot pay up the price at once, Infinix is working with TakeNow, a company providing all Infinix phones on credit to customers. All that a customer needs is to move to an Infinix store outlet or a partnering store like Banana Shop and choose a phone that they would like for example the Hot 12. With them, they should move with their National ID, a sim card that has been active for at least 6 months, and a deposit of 30% and later clear the remaining balance in 6 months.
The major highlights the company looked at the Infinix HOT 12 are its processor, memory, the large 6.8-inch screen, the 5000mAh battery capacity, fast charging, and the eye-catching design.
A Blazing-Fast Chipset
The MediaTek G85 chipset on the Infinix HOT 12s will comfortably handle higher frame rates to run demanding games resulting in shorter response times and faster communication connections. This headline features combined make for a fantastic gaming smartphone enabling HOT 12 to run the top games in sublime quality for an immersive gaming experience.
Power All Day Long
The 5,000mAh battery coupled with fast-charging, and ultra power mode will ensure consistent performance alongside rapid juice ups for all day long battery life. The phone supports a Type-C interface 18W supercharge with a 50% power-up time of just 50 minutes allowing users to focus more on phone usage and less on their battery levels.
To further improve battery quality, The Infinix HOT 12 is equipped with Infinix self-developed battery lasting technology, which improves the longevity by approximately 25% in a single click. With just 5% power remaining, an additional 2.6 hours of usage can be unlocked using Ultra Power Mode.
Packed with Memory and RAM Fusion Technology
Coming stacked in three versions; 128GB+6GB, 128GB+4GB, and 64GB+4GB of onboard memory and RAM, the HOT 12 allows users to run multiple applications with ease and operate them smoothly with the ability to switch between apps without lag, and the storage to keep everything in one place. Gamers can enjoy fluid frame rates and blazing speed when playing the latest games giving them a considerable advantage over players with older devices.
The phones come with the rumored company's self-developed Memory (RAM) fusion technology that allows users to increase the RAM capacity of the HOT 12s for optimal efficiency and processing power. The phone will be able to support up to 7GB of extended RAM increasing the number of background cached applications by three to nine and improving the average launch time of TOP20 applications by 10%-50%.
Memory Fusion Technology is designed to make use of unused internal storage and channel them for RAM operations. With Memory Fusion, a HOT 12 user with 4GB RAM can enlarge onboard RAM by up to 7GB. This also enhances a device's multi-tasking capacity, allowing seamless switching between apps that are running concurrently in the background, and stabilizes the phone's systems for more sustainable performance and longer battery life.
Trendy Eye-catching Design
The Infinix HOT 12 features a superbly trendy flat-edge flagship smartphone design language for an eye-catching look. The straight-edge design gives the device a visibly thinner effect of a 3mm textured look with cleaner lines. The angular exterior is paired with a rich reflection of flowing light and shadow representing a strong and bold image.
The HOT 12s come with rich and vibrant color options; Racing Black, Legend White, Origin Blue, and a Special Edition giving young consumers a color option for every occasion.
The XOS 10 operating system redefines style with a brand-new design and artistic chromatic aberration through Smart Scene and integrates some applications designed for a smarter life.
The Cameras
The Infinix HOT 12 delivers a fantastic photographic experience for users with a clean user interface. Fully equipped with an 8MP AI front camera, a 13MP + 2MP + AI triple rear camera, and a powerful image algorithm, the HOT 12 is expected to provide good photos and videos —and provide an AI portrait that enhances the focus of every snapshot in the best way possible.
Rich Immersive Sound
The HOT 12 come fully upgraded with both dual upper and lower speakers for a truly immersive audio experience with deep lows, clear mids, and rich crisp highs. Users can enjoy a top-quality audio experience when listing to music, consuming online media, and playing fast-paced games where footsteps can be heard giving gamers an advantage when another player is on the hunt.
Summary of the specifications;
6.82 inches IPS LCD display with a 90Hz refresh rate, 720 x 1612 pixels, and 20:9 screen ratio.
Android 12 coupled with Infinix's XOS 10.6 UI.
MediaTek Helio G85 chipset, Octa-core processor, and a Mali-G52 MC2 GPU.
128GB + 6GB RAM, 128GB + 4GB RAM, and 64GB + 4GB RAM, and onboard storage can be expanded with a microSD card.
8MP front camera, 13MP + 2MP + QVGA rear camera and both can shoot videos in 1080p at 30fps.
5,000mAh non-removable battery supports fast charging (18W).