Featured
Innovation
News
Startups
Emata, Dutch Embassy Partner to Give Digital Loans to Ugandan Smallholder Farmers
Emata and the Dutch Embassy partnership includes a grant of up to UGX2.2 billion to fund digital loans smallholder dairy farmers across Uganda.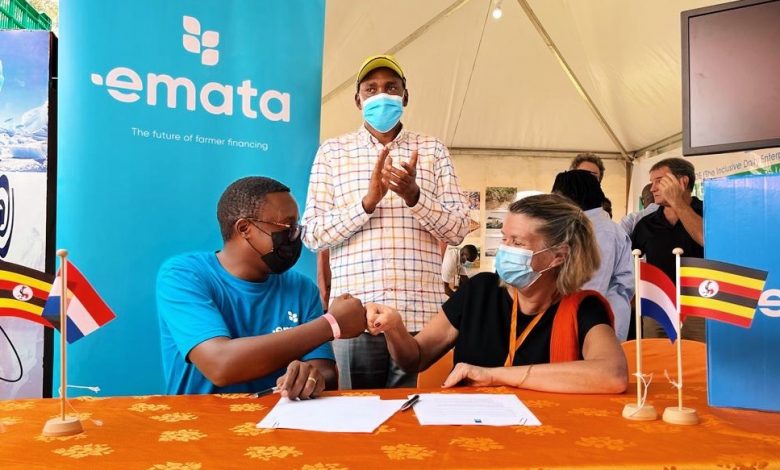 Award-winning Ugandan Fintech startup, Emata has partnered with the Netherlands Embassy in Uganda to accelerate the availability of affordable digital loans to smallholder farmers in Uganda. The partnership includes a grant of up to USD$590,000 (roughly UGX2.2 billion) to fund loans to thousands of smallholder dairy farmers across the country.
Bram van den Bosch the Chief Executive Officer of Emata at the announcement of the partnership, said, "We are very excited to partner with the Dutch Embassy to accelerate the availability of affordable digital loans to smallholder farmers across Uganda." "This partnership will provide much-needed capital to drive investments in Uganda's agricultural productivity and rural prosperity."
The Dutch Embassy said its government actively seeks innovative and potentially impact-full ways to grant smallholder farmers access to (affordable) finance. "Emata clearly fits in that picture and we are thrilled that the Fintech startup can now scale up the activities and we hope other investors will follow soon."
Emata who recently won the Best Newcomer in Africa Award at the Global Startup Awards —is an innovative financial inclusion company that uses technology to bring affordable digital loans to millions of farmers. The startup is the first agricultural lender in Uganda to automate the entire loan process: data collection and credit scoring to loan disbursement. This allows Emata to deliver loans to the smallest and most remote farmer (even without a smartphone) with lending amounts that start at UGX100,000.
This innovation is much needed as financial institutions across Africa are struggling to lend to smallholder farmers. Because of this farmers are often forced to resort to informal moneylenders that charge exorbitant interest rates that are too high for farmers to make productive investments in their farms. As a result, farmers struggle to achieve prosperity, and Uganda's vast agricultural potential remains underdeveloped.
Emata has been developed through continuous interaction with farmers and cooperatives —this has ensured that important functionalities such as offline capabilities are built into the platform. In addition to this, advanced financial technology, innovative credit scoring models and automation of most manual processes will give farmers easy access to affordable loans.
Emata is the result of Laboremus' experiences working with financial technology both in Europe and East Africa. Since starting up in Uganda in 2013, the company quickly realized that the opportunities technology offers were not being fully utilized, especially in rural areas. Laboremus believes that technology can do much more to solve pervasive problems in the region, especially when it comes to advancing financial inclusion.