Featured
Innovation
News
Startups
5 Innovators Selected To Represent Uganda at the Dubai Expo
The Ministry of ICT and National Guidance launches a new campaign dubbed "Discover Africa's Innovation Powerhouse" and flags off 5 innovators to represent Uganda at the Dubai Expo 2020.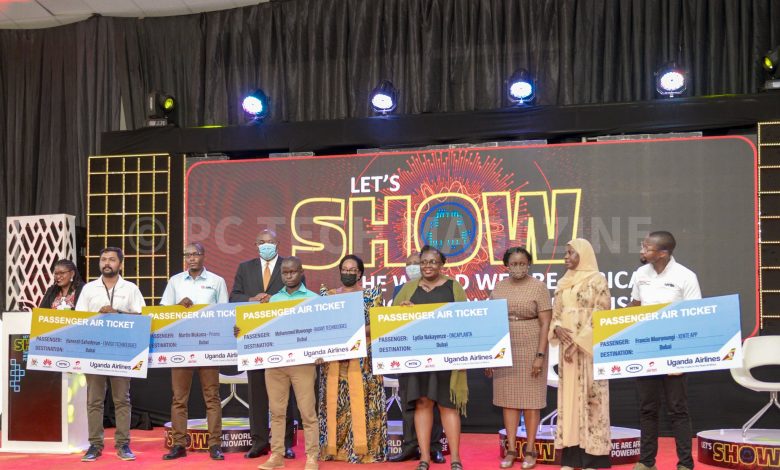 While launching a new campaign dubbed "Discover Africa's Innovation Powerhouse" —that is meant to brand Uganda as a Business Processing Outsourcing (BPO), Innovation and investment destination, the Ministry of ICT and National Guidance and partners Huawei, MTN Uganda, Airtel Uganda, Vision Group, NBS, UBC, unveiled and flagged off five (5) innovators that will represent Uganda at the Dubai 2020 Expo next month.
The 5 innovators are Martin Mukama (PRISMS), Hareesh Sahadevan (EMVIGO TECHNOLOGIES), Lydia Nakayenze (ONCAPLANTA), Mohammed Muwonge (BADAYE TECHNOLOGIES), and Francis Nkurunungi (XENTE APP) —were vetted [by the BPO & Innovation Council] from the 11 innovators that were shortlisted from the call of applications by the Ministry of ICT in January.
"By sending Ugandan Innovators to The Dubai Expo, we believe that they can experience breakthrough technologies and learn about disruptive innovations that we are confident, they will bring back home," Ps. Ministry of ICT and National Guidance, Dr. Aminah Zawedde said during her remarks at the launch. She noted that the Dubai Expo 2020 has given Uganda a chance to experience global innovations and most importantly a platform to showcase Uganda's BPO and Innovation ecosystem.
Zawedde also emphasized that Africa has Uganda as an Innovation Power House that the world can leverage to tap into the potential that we have [when it comes to innovation]. She called partners Huawei, MTN, Airtel, NBS, UBC, Vision Group, TBWA, and Centenary Technology Services, to continue showing the world that Uganda is indeed Africa's Innovation Power House.
In his remarks, the Minister of ICT and National Guidance, Hon. Chris Baryomunsi asked the qualified innovators that are going to represent Uganda at the Dubai Expo "to do a good job because they have become our ambassadors". He added that "Through this deliberate effort of BPO and Innovation promotion, the Ministry is working towards enabling market-oriented innovation, connecting the best of businesses, talent, and ideas, from around the world."
The Ministry of ICT introduced the BPO and Innovations Council to pave the way for the ultimate goal of creating jobs for the youth through ICT outsourcing and innovation —and prescribing regulatory frameworks/reforms and projects relevant to the growth of the BPO and Innovation ecosystem. The council is targeting to create 20,000 jobs in at least 18 months.
"The Government of Uganda has embarked in an incentive to develop the BPO and Innovation Sectors that will be considered as key areas that the Government can exploit as long term solution to address the issue of unemployment amongst the educated youth," Baryomunsi remarked.
While at the Dubai Expo, team Uganda will be part of the Opportunity Pavilion which reflects the necessity of financial capital as a resource to support growth, and partnerships as a primary driver of innovation and employment. The 5 innovators will get the opportunity to interact with investors looking to support innovation as a driver of employment.
PRISMS
Protecting Infants Remotely by SMS (PRISMS) is a health app that provides timely management plans (both treatment and investigations) to the healthcare provider by SMS so as to assess and treat an infant based on the symptoms they are currently exhibiting that can then be input into the app and a response received within seconds from expert pediatricians.
XENTE
Xente is a Financial Technology (Fintech) that allows customers to pay bills/utilities using Corporate Visa, Credit/Visa cards, virtual Visa cards, mobile money, bank transfers, and the Xente Wallet. The Xente platform has over 50,000+ customers with a 50% growth rate per month. The company claims that their products make African businesses efficient and empower them to grow.
BADAYE TECHNOLOGIES
Badaye is a research-based technological company that develops and improves innovative but scalable ideas to life in Africa. They carry out technological research and development in Computer Aided Designs, product development & manufacturing, automation & consultancy in the fields of agricultural engineering & food systems, intelligent & automated systems, energy systems, and the environment.
EMVIGO TECHNOLOGIES
Emvigo Technologies is a technology development firm with comprehensive, flexible, and innovative suites of solutions designed to be used individually or collectively, meeting the existing and future requirements of the global IT industry. Emvigo expertise in customized Contact Centre, BPO – Telecom solution design, eCommerce, Server Support, IT & Networking Infrastructure design, and Embedded System, etc.