Apps & Software
Featured
Mobile
10 Things You Can Do Right Now With The SafeBoda App
SafeBoda has changed a lot since 2014. Its developers have taken it upon themselves to turn the app into a super app, and now this is what you can use the app for.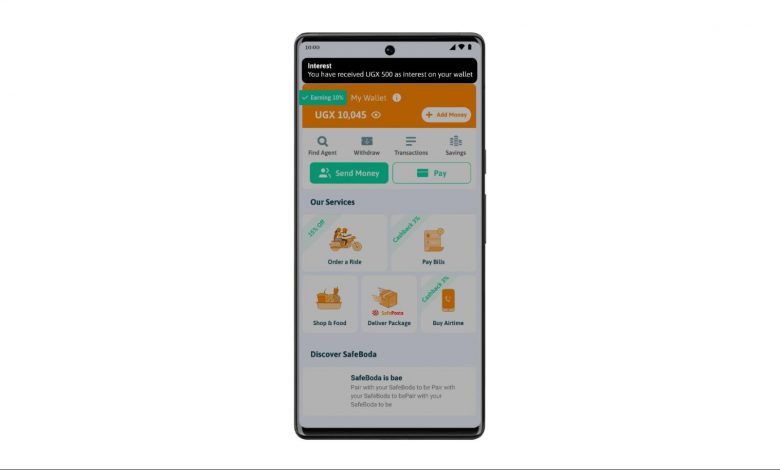 Right from day one, SafeBoda has been one of the safest options for affordable rides within the city. With innovation being one of its core values, and now with the Bank of Uganda license, the moto-hailing service company is creating a whole lot more value for its customers and drivers across the country.
Safeboda since its inception in 2014 has gradually developed from the app only allowing its customers to order riders, to now order food, make deliveries, buy airtime, and withdraw money [a similar concept to mobile money]. The company is accelerating its status to the Super App that will help Ugandans move forward, "a one-stop-shop for all your daily needs" with the help of investment secured from Google last year.
As we mentioned previously, SafeBoda has changed a lot since its inception. Its developers and software engineers have taken it upon themselves to turn the app into a super app. You can download the new SafeBoda app v4.0.0 or if you have the app, you could simply update it to the new version. Once downloaded or updated, you will get a whole new experience of the app.
So, what can you do with the app? Below are 10 things you can do:
Send Money
Sending money with the SafeBoda App is FREE at no cost. You can use the SafeBoda app to swiftly send money to your contacts and other app users at no extra cost.
To send money with the SafeBoda app:
Tap on the Send Money button.
Select the beneficiary from your contact list or enter the phone number.
Enter the amount and confirm the transaction with your SafeBoda Wallet PIN.
Withdraw Money
You can also receive money on the app and withdraw it from your nearest agent at the lowest rates on the market. Use the Find Agent button on the app home screen to find one in your location and quickly cash out. SafeBoda has over 200 agents across Kampala, with the new signage visible at most agent centers.
To withdraw at a SafeBoda Agent:
Tap on the Withdraw button at the top
Select the Agent near you or search based on your location
Enter the amount and confirm the transaction with your SafeBoda Wallet PIN.
Automatically earn 10% annual interest on your wallet
All You need to have a balance of more than UGX5,000 and you will automatically earn 10% annual interest on your SafeBoda Wallet. The option is similar to a saving app, so, you can gain ‌daily, without lifting a finger.
To check your interest earnings:
Open your SafeBoda App and click on Savings at the top screen.
A window will pop up confirming that you are earning interest and showing the total interest earned to date.
Buy Airtime and earn a 10% cashback
When you buy MTN or Airtel airtime for your mobile phone number or others, you instantly earn a 10% cashback. For instance, if you buy airtime worth UGX10,000, your cashback isUGX1,000.
To buy airtime and earn a 10% cashback:
Open your SafeBoda app and tap on the Buy Airtime button.
Type in the number to buy for or enter it from your contact list.
Select the amount to buy or tap Other to enter it manually.
Confirm the transaction with your SafeBoda Wallet PIN..
Buy Fuel at a discount
The SafeBoda app allows you to purchase fuel from selected Total Fuel Stations and it comes cheaper. Simply use the SafeBoda app, click Pay at a Total station with your SafeBoda Wallet and get a discount on what you pay. The fuel stations have SafeBoda Agents that can help you. To pay for fuel:
Tap on the Pay button.
It automatically shows you the nearest. Select the Total station to pay to from the available list or search by name.
Enter the amount and confirm the transaction with your SafeBoda Wallet PIN.
Pay
SafeBoda has partnered with key shops, bars, and restaurants to allow cashless payments. You simply pay in-store with the SafeBoda App. The app's onboarded some of your favorite brands and hangout places in Kampala; like Kenji's, YoKuku, Thrones,  Funz Video, Wild Coffee, among others.
With your SafeBoda app, you can easily make payments to SafeBoda-branded merchants for free.  It is very convenient.
To pay with your SafeBoda app:
Tap on the Pay button.
It shows the closest merchants (bars, restaurants, shops) to you geographically.
Select the merchant, or you can search by name
Finally, Enter the amount and confirm the transaction with your SafeBoda Wallet PIN.
Order for food or groceries
The SafeBoda app hosts many fast and local food restaurants which deliver food.  You can also shop for groceries, pharmaceuticals, drinks, and other home necessities right from the app.
To order food and shop online:
Tap on the Food & Shop button.
Select either Restaurants or Shops.
Tap an item you wish to order.
View the order, select a payment method, and place an order. It's easier with your SafeBoda wallet; no cash is required.
Package Delivery with SafePosta Express
SafeBoda is working with Posta Uganda to expand logistics in Uganda. You can use your SafeBoda app to deliver your packages. Your parcels are insured with the new premium service.
To deliver packages with SafePosta Express:
Tap on the Deliver Package button.
Add the delivery destination, recipient contact, and package delivery details.
Enter pickup details and instructions.
Make an order or pair with a SafeBoda for the delivery to be made..
Remember, we are INSURED.
Pay utilities and get 5% cashback
With the SafeBoda app, now you can pay for utilities such as power, water, Pay-TV service subscription for providers such as DSTV, GOTV, or Startimes, and upon payment, you get an instant 5% cashback.
Order a ride
Ordering rides was the first birth. SafeBoda has over 20,000+ trained drivers who have completed over 30 million rides. The trusted and trained community of drivers has been helping people move around the city from time to time since 2014. Getting to work, going for a meeting in rush hour, visiting a friend across town, leaving the bar late in the night, SafeBoda would be one of the best options to get to your destination safely.
You can order the ride or simply pair with a SafeBoda nearest to you.
Wrapping Up.
SafeBoda is one of the safest ways to travel whether day or night. The company is regulated by the Bank of Uganda to operate its payments and financial services and they guarantee that your money [and transcations] is safe on the app. All parcel deliveries are insured, and you can shop right from home or office without having to step into a restaurant, market, or supermarket.
ALSO READ: SAFEBODA TO INCREASE DRIVERS EARNING IN NEW CAMPAIGN