Well, technology isn't going backward, advancement in technology keeps improving every single day and it is just the new norm that we should incorporate into our lives. Tech is literally involved in our lives whether we like it or not. It has changed the way we live, work, communicate, study, to mention a few. And we want to touch a little bit on how it has changed how we live, to specify our homes. As much as we might love our old-school homes, you can't compare them to today's homes that provide ease and convenience.
Today, you can make your home a little more livable—and a lot more automated—by simply adding appliances and devices you can control from anywhere using a smartphone or a computer. In general, these products connect to the internet, and you can be able to control them from your smartphone via a companion app or using the web on your computer. One of the coolest things about smart devices most of them also work with various forms of voice control.
With Amazon Alexa or Google Assistant or Siri, you can adjust the lightings, air conditioning, control your doors, entertainment devices, and any other appliances with voice commands.
Enough with the chit-chat. Here is a 10-rundown of smart devices you can have at your home. There are so many products to turn your old-school home into a smart home, but these are some we can mention—and you can start with.
1. Wireless Door/Window Sensors and Smart Locks
For a smart home plan, you need these sensor devices that can monitor your doors and windows providing the perfect security and you can easily monitor them remotely with the help of an app. These sensors can send a text message/email when any intrusive activity is detected, alerting you on time. You can use them as well to verify your doors and windows are closed in case you doubt whether you locked them.
When the key to your house is on your phone or entered into a keypad, you don't need to worry as much about the possibility of untrustworthy people entering unnoticed. When you choose to go for a smart lock instead of a deadbolt, you get greater control over who enters your home and when. These locks can be controlled via an app and you can simply buzz someone in your house from anywhere.
2. Video doorbells
The video doorbell allows users to see and speak to visitors, delivery persons, or an unwanted solicitor knocking on your door even while you're away or unable to answer. These devices can serve as the first line of defense against property theft, or home invasions. They not only let you see and speak with the person outside, but they are also capable of streaming high-resolution video(s) with a 180-degree maximum field of view, including in the dark.
They are usually weatherproof devices and some have a built-in siren, as well as the ability to contact emergency services if necessary. They can automatically call your phone, or send you notifications if it detects motion.
3. Wireless or Smart light bulbs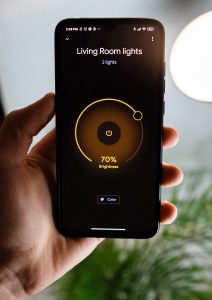 Lighting at home has become convenient with an intelligent lighting system—therefore you can say goodbye to the conventional on & off wall switch and experience the new-age smart lighting system that can be controlled using an app or voice commands. You can turn the lights on or off remotely, or schedule them to turn on or off with your phone.
Beyond offering greater convenience than traditional bulbs, smart lights use less energy and last longer, so they can save you money in the long run.
4. Indoor home security cameras
For any smart home, you seriously can't fail to have indoor security cameras. It's a good idea to invest in a Wi-Fi-connected indoor home security camera. They deliver vivid high-resolution video and are packed with features such as local and cloud storage, automatic motion tracking, and support for all the major voice assistance platforms.
5. Robotic vacuum cleaners
Floor cleaning and vacuuming can be made easier with a range of robotic vacuum cleaners. These robotic vacuum cleaners have smart technology with different modes for cleaning all types of flooring. They can detect and navigate obstacles and some have the capability to automatically empty their dust bin. Even when you are not at home, you can pre-set it to clean your floor(s) with its intelligent time scheduling feature. This smart device will ease your cleaning woes.
6. Air purifier
These gadgets purify the air and help maintain appropriate humidity and usually have an aroma diffusion function that removes bad odors from the room. They consume less power and are energy efficient. A removable tank makes refilling easy. It is a great lifestyle gadget for the home that regulates humidity and the circulation of high-quality air.
7. Connected thermostat
You can monitor and control your home's heating and cooling system by phone or voice. You can put them in different rooms to ensure a consistent temperature throughout the house. Some of these advanced or new models of thermostats learn your heating and cooling preferences throughout the day and night, then automatically sets up a personalized schedule.
8. Smart kitchen appliances
These can help you with every step of the cooking process. Some of the smartest countertops you can have for your kitchen can include but are not limited to a smart oven, smart microwave, smart refrigerators, smart coffee makers, air fryers, and Instant Pots, to mention a few.
Having a smart oven can let you bake, roast, slow cook, or steam food to perfection. Its companion app allows you to control and monitor the oven from your phone, load cooking presets onto the machine as well as offer step-by-step cooking instructions.
Smart coffee makers can be controlled by an app and voice commands to turn it on and off and set the brew strength. You can also program it to automatically brew your coffee at specific times.
9. Pet treat dispenser with cameras
If you have a pet at home, then this is a cool tech gadget for the pet owner. These automatic pet feeders deliver on both counts by managing mealtimes and portion sizes and allowing you to see, speak to, and record your pet from the device via an app. Ideal for busy or traveling pet owners, this gadget will make you and your four-legged friends equally happy.
10. Smart plug
With a smart plug, you can turn anything that plugs into the wall—be it a lamp, heater, humidifier—into a connected device that you can control from your phone. One of the most recommended is the ConnectSense Smart Outlet 2, it lets you independently control two outlets, tells you how much power each one is drawing, and has a handy USB charging port.
Honorable Mentions
Smart TV.
Smart soundbar speaker.
Virtual assistants; Amazon Alexa, Google Assistant, Apple HomePod.
Smart Wi-Fi Power Strip.
Smart baby monitor.
Smart bed.
Smart Sprinkler Controller.
Conclusion
Having a smart home does also comes with risks, such as security breaches, and device prices. But all in all, we can therefore gladly say that advancements in-home technology have provided for a wealth of time-saving, money-saving, and even life-saving tech gadgets.