Apps & Software
Best Free Android Spy App to Catch Cheating Spouse, Safespy
With Safespy, odds of getting cheated are bleak as will be able to have real-time details of your spouse's phone from miles away.
Getting cheated by your partner was never as easy as it is nowadays. It is shocking, but true that people are finding new partners in virtual worlds and breaking the hearts of real-world partners for them.
Being on social media is no longer a harmless job. Your spouse can be sexting with a social media junkie and can even ditch you for him/her. This is why one must not let their use phones without any monitoring.
But, will your spouse bear such a high sort of involvement? Won't a partner feel like having no space at all in a relationship when s/he is monitored all the time?
Yes, of course, this will happen. So, one needs a solution that can find out about a spouse's phone activities without any disturbance. If your spouse uses an Android phone and you need one such tool then this article is just the right thing for you.
Safespy – Knowing Every Hidden Secret of Your Spouse
Built with high-end technology and AI, the Safespy Android spy app is a blessing in disguise for all those who are having doubts about their spouse. Using its stealth and accurate phone spying technology, one can find out every hidden truth.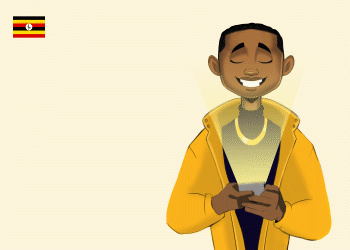 The best part is it is not like snatching someone's space or privacy. The other person will have no idea that they have been monitored.
This is why around one million people across 195 countries have already trusted Safespy and have used it for keeping an eye on Android phone's activities. Its performance is definitely far above average.
Many leading media houses have praised Safespy for its spectacular performance. Click here now for more details on Safespy.
What makes Safespy so amazing?
Safespy is not the only player in the market of Android spy apps. There are many others as well. However, the way Safespy has made this job risk-free and effortless is unique. No other Android spy app has managed to match the level of Safespy.
It is because of certain qualities of Safespy. Know them now.
Safespy has made Android spying a risk-free job
Before Safespy was made into this world, people were forced to take the help of faulty Android spy apps that work using rooting activity.
Now if you don't know what's wrong with this technology, understand that the use of this technology can lead to compromised phone security and reduce performance. These are the least of the faced hassles.
We won't be surprised if someone, taking the help of rooting, end-up in a serious mess like getting attacked by the virus or falling into the nippers of phishing.
The developers of Safespy have managed to keep its core technology free from rooting at every stage. So, none of the above-mentioned hassles or hazards will haunt you while you use it.
Also, it protects your data by all means as no data is saved on the server and never exposes it to the world of cyber vulnerabilities. In short, the risks of Android phone spying will be far away from you and you can find out the hidden truths easily.
It won't let you out, no matter what happens
Is there anything more embarrassing than getting caught by your spouse while you are spying on him/her? If this happens, things can do south in a more messy way. So, one must ensure that no one, not even the targeted spouse is able to find out that you are spying.
This will be done with full perfection by Safespy as it is filled with every single resource to make this work. Firstly, there is an in-built stealth mode. Activation of this mode will lead to the complete hiding of Safespy on the targeted phone.
The app icon will completely vanish away. Then we have a remote dashboard facility. The remote dashboard has the ability to fetch the details from miles away. This has kept the role of the targeted phone to a minimum and has made Android phones spying less suspicious.
Anyone can become a hacking expert
Just as you don't have to think twice to start using an Android phone, you don't have to think much to start spying on an Android phone as Safespy has made it super simple and easy.
For Android Spying, Safespy offers a very user-friendly app that is compact in size and effortless in operations. The app is less than 2MBs in size which means you will need 5 minutes to finish up the entire downloading and installation process.
As it shares great similarities with any regular Android app, no added expertise is required to finish off the installation.
You have a live demo to further assistance. All in all, no hurdles will be faced while you are using Safespy to find out what your spouse is going on Android phone.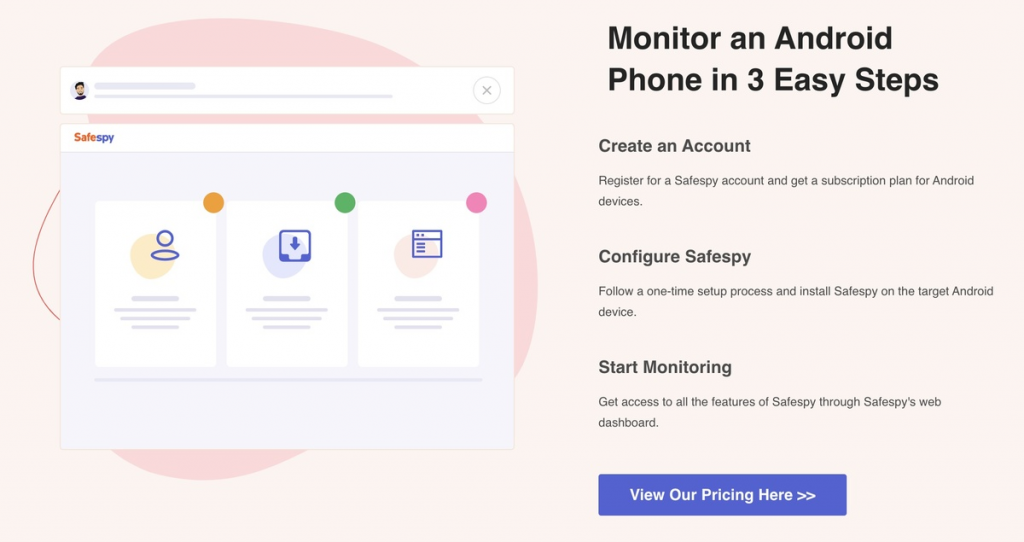 Nothing is left out  
One can use an Android phone in numerous ways. For instance, a dating app can be used on it and a social media account can be made to get in touch with others.
So, when you are thinking to spy on your spouse, try to keep an eye on every activity that can happen on a phone.
Safespy is a great help at this front. This one solution is capable of keeping tabs on 35 kinds of Android phone activities. You can find out which numbers are saved, to whom texts are sent, which all apps are there on the phone, and many more. So, nothing will be out of sight.
Best value of your money
Safespy ensures that your hard-earned money is not wasted. It delivers quality data at a mere cost. The data is captured in real-time and delivered with timestamps. The monthly expenses with Safespy are only USD$10 if its premium subscription is picked.
One subscription is able to keep tabs on multiple devices. You will get free updates and live customer support. In short, you will have the best value for your money.
Final Words
With Safespy, odds of getting cheated are bleak as will be able to have real-time details of your spouse's phone from miles away. Try it once and you will find out what wonders it can do for you.