The Innovation Village through its Edtech Lab in partnership with Mastercard Foundation's Young Africa Works and the Arizona State University, this morning unveiled three startups whose solutions made it to the top in the Future of Education accelerator program.
Samantha Namara, the Senior Associate at FutureLab, said, for the past four months they run a program which was highly selective and intensive for Uganda's most promising education entrepreneurs.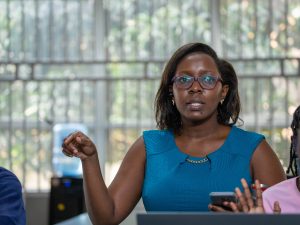 "We were impressed by the innovations out there and the commitment to improve these ideas among the startups. This is what The Innovation Village is about. Reimagining and reinventing solutions to challenges with the ability to transform ideas and turn them into assets. We believe the ideas selected stand a real chance to meet the sector's needs," Namara explained.
The Innovation Team Lead, CK Japheth commented, that; "After this accelerator program, we can gladly say we have potential and promising solutions if nurtured well."
The three startups, KAINOafrica, ThinkPlay, and Nimarungi, will receive exposure to investors and expert guidance on how to navigate the education landscape and scale their solutions via mentorship, peer learning, guidance from experts and implementing partners.
Uganda among many countries has been up in arms on the effects of the Covid-19 pandemic on the education sector due to distortion in the curriculum.
Rita Lulua, Lead Education and Skills at Mastercard Foundation noted that in the face of global closures of educational institutions and the halting of non-formal training, there has been remarkable innovation in response to support learning and teaching.
"The responses have also highlighted existing gaps and disparities, the digital one inclusive. Learning losses due to prolonged school closures means that many educational outcomes are at risk. For a number of reasons, we cannot return to the world as it was before, and stakeholders need to ensure that education systems are more flexible, equitable, and inclusive." said Lulua.
Japheth also noted that as The Innovation Village, they aim to fill the gap created by Covid-19 effects with ideas and innovations to lead to transformative change in the education sector.
The three startups;
KAINOafrica, is an easy-to-use tool that offers premium STEM blended curriculum-aligned early childhood education content to parents for homeschooling their children and teachers in ECD centers in form of lesson guides, which they can use to deliver daily curriculum-aligned lessons to their children using our web and mobile apps.
ThinkPlay, makes board games-for-rent to help children learn math and science through play sessions with peers and family. The board games are used as a cost-effective instructional material integrated into a set of game-based learning strategies to offer a conducive, safe, and fun learning environment that increases motivation and interest for learning.
Nimarungi, is solving the problem of education inequality caused by a lack of data leading to uninformed decisions and policies affecting the marginalized youths and children. This is solved through collecting data with the use of Open Data Kit which is a free open source, accurate, quick, offline, and at scale data collection tool. More still, use paper surveys in case of phone blackouts, peer, interviews, and other sources to collect data. This data is analyzed and expressed as a response to stakeholders.
The Future of Education is a business development program implemented by The Innovation Village through its Education Technology Lab supported by Mastercard Foundation and the Arizona State University to provide holistic support to innovative businesses rethinking and shaping the Future of Education.
The call attracted over 87 applications that were narrowed down to 10 startups who pitched to a panel of judges where only the top three (mentioned above) where selected as winners.