Gadgets
Mobile
Reviews
Smartphones
Infinix NOTE 8 Review: A Stylish Phone With a Comprehensive Strong And Smooth Performance
The Infinix Note 8 is one of the best Android mid-range smartphones released this year. This could be because of its six camera setup or performance or just its beauty.
The Infinix Note 8 is one of the best Android mid-range smartphones released this year. This could be because of its six camera setup or performance or just its beauty. It is good to say that Infinix once again has outdone themselves with an excellent all-round smartphone that is targeted at the mid-to-high end market segment.
Infinix Mobility is gradually becoming an increasingly popular premium smartphone brand —committed to bringing bold, stylish design and cutting-edge technologies. The exquisite craftmanship of the Infinix Note 8 is one of them. The phone is available in all Infinix shops & stores, dealers stores at a RRP of UGX782,000 and comes available in grey, blue and green color variants. Our review team got a blue and this is our review.
Design, Build and Display
Infinix Mobility didn't make much of changes in design when compare to the Note 7. The display in resolution is still the same; 720p so is the size at 6.95-Inches. The downer is the 720p resolution, and the size can remain to fully be used by users with small hands.
The display produces accurate colors, fair contrast, dip blacks & white, as well as the colors are saturated  — thus better viewing experience especially when it is entertainment. Under direct sunlight, the brightness is sufficient to comfortably read text. The display is also reflective, and we also found to be quite bright and interesting in outdoor conditions.
The company didn't make much of the changes on the build as well. However, the build quality is decent. The back and side frame are made of plastic and you get rounded edges on all sides. The blue color honestly looks good but It's also available in grey and green options. The shininess makes these colors pop out very well, and appear reflective. The design in the camera is change from circular from the predecessor to a rectangular design on the Note 8 and the quad still remains.
Before touch the phone might seem heavy which in this case isn't. It's light weight and comfortable in a grip. The whole build is plastic which glossy finish at the back giving the shiny finish that catches the consumers eye that draws them to buying one.
The power and volume buttons appear at side-right while on the left-side is a 2+1 card slot that houses two 4G Nano-SIMs and a microSD card simultaneously. There's a headphone jack as well as a USB Type-C port and a single speaker grill at the bottom. There is a fingerprint sensor on the power button to unlock the phone and you do get face recognition, which works perfectly in good light condition.
Software and Performance
The Infinix Note 8 provides a comprehensive strong and smooth performance. It uses the MediaTek Helio G80 and upgrade from the G70 chipset. A few lags were noticed especially when it comes to heavy gaming where some frames were skipped. On its power to offer good and stable performance, it comes with 6GB of RAM which plays a role of giving a relatively smooth smartphone experience. Like we mentioned before, there's an inherent lag in pretty from the UI animations to multitasking.
The phone runs on Cheetah XOS v7.1 an upgrade from v6.0 coupled with Android 10. The XOS gives swift performance, a fast & fluid experience and the apps & design appear cleaner. The XOS UI comes with default apps that can't be uninstalled. However, some apps can not be uninstalled and also ads and other promotional content still appear which is annoying. The unwanted apps consume space and yet they aren't used. XOS7.1 supports thunder back mode, app double open mode, Xclone, smart scanner-translator and more to adapt to your daily work and life needs.
Battery
One area the infinx phones excel is battery life. The Infinix Note 8 has a non-removable Li-Po 5,200mAh battery which lasted for around two full days on medium to light usage and a day on heavy usage. Even with a lot of gaming, social networking and web-browsing, you can't juice it down fast. With fast charge capability it takes about and hour and 45 minutes to fully charge. The battery capacity for this phone lets consumers spend more time on their smartphone without the need to charge all the time. This is one of Infinix's goal when producing their phones, "to let users spend more time on their phones on a single charge."
Infinix's intelligent Power Marathon mode means you can extend the battery life much longer so you're never lost without the juice you need.
Cameras
The Infinix Note 8 cameras are not the best but they are average and decent. The phone comes with six cameras in total, a quad setup on rear and a dual setup in front. The quad setup has 64MP (primary) + 2MP (wide) + 2MP (marco) + 2MP (depth) sensors. While for the selfies,16MP (primary) + 2MP (depth) sensors. The camera app has the usual basic shooting modes, Auto HDR, Beauty, Panarona, and AI scene recognition.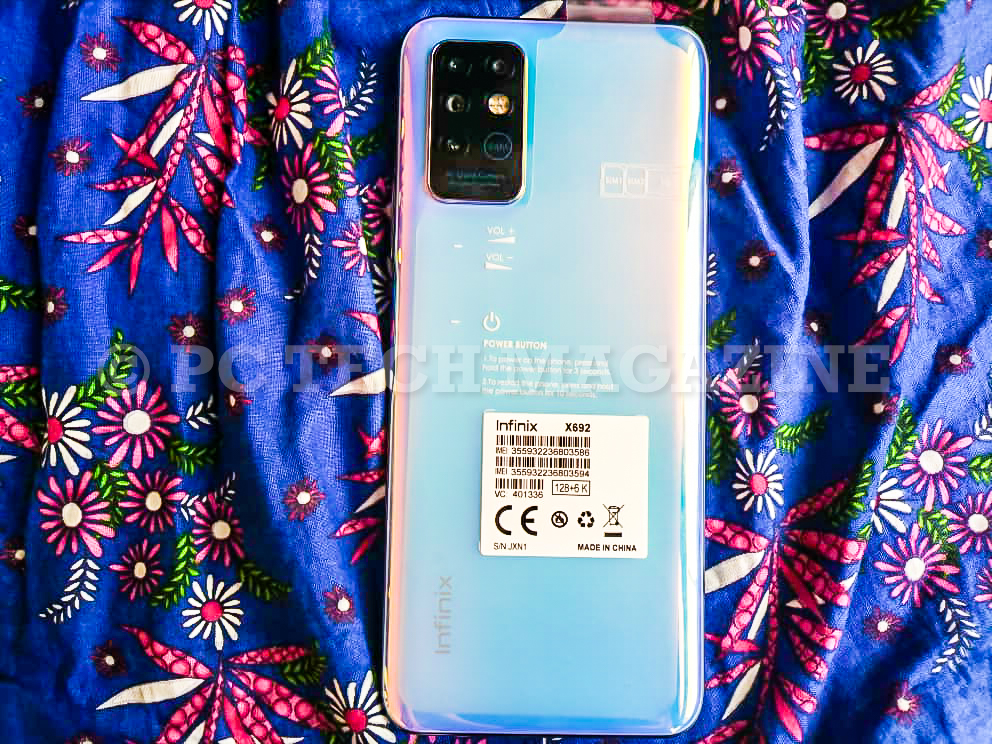 Shots taken are decent, with fairly good details, sharpness and colors. Close-ups had good details as long as there was ample light, but once again the highlights tended to get blown out when shooting under much light. Portrait mode does a decent job thanks for its blur capability.
Photos shot in low light had weak details and exposure was generally poor unless there was enough light around. Light is an essential subject for this.
When it comes to video mode, the phone can shoot video at up to 1080p at 30fps. Video shot during the day were good and in low light setting appeared fair with the LED-light on.