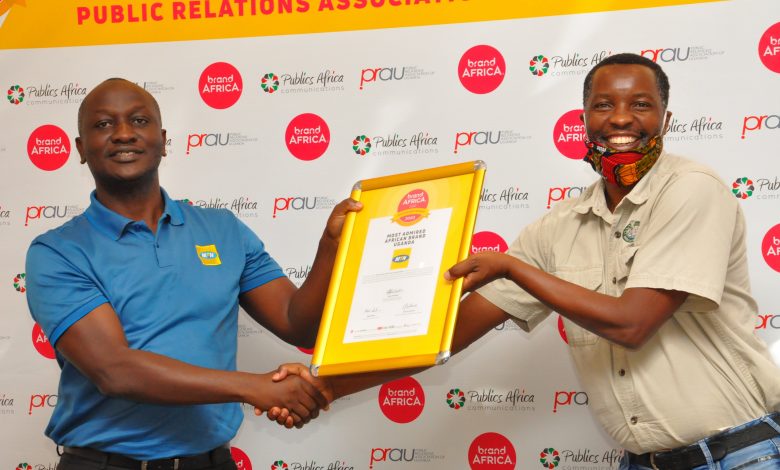 Telecommunication firm, MTN has been recognized by Brands Africa as the most admired African brand in Uganda based on spontaneous consumer responses in Africa's Best Brands 2020 survey carried out across 27 African countries.
Mr. Joseph Bogera; MTN Uganda General Manager Sales and Distribution received the award on behalf the telco at an event that was organized by Brand Africa in conjunction with Publics Africa and Public Relations Association Uganda (PRAU).
These awards seek to recognise brands that create a positive image for Africa, show case its diversity and drive its competitiveness.
"This award is an endorsement of our efforts towards keeping every Ugandan connected," Mr. Bogera said after receiving the award from Mr. Amos Wekesa.
Bogera added that, "I would like to thank all our customers and communities for the trust that they have shown in us. It encourages us to work harder every day to deliver on our belief that everyone deserves the benefits of a modern connected life."
The recognition came at the time the parent company, MTN Group announced a milestone of reaching 100 million active data users across it's 21 Africa markets as the company works towards bridging the digital divide in Africa hinged on the belief that access to internet has the power to change lives and bridge inequalities.
"We are delighted to have connected 100 million of our customers to the power of the internet as we have increased data coverage and reduced the cost to communicate across our markets," Mr. Rob Shuter; MTN Group CEO & President said in a press statement.
MTN has a total base of more than 257 million customers in 21 markets. In Uganda alone as of 31st December 2019 MTN recorded 12.6 million customers making it the largest telecom company in the country. Mr. Bogera yesterday revealed that the telco has now over 13 million customers using their services.
Growth through scaling data and digital services is central to its strategy. The telco is overcoming the barriers to greater mobile internet adoption by extending its 3G and 4G coverage, accelerating smartphone adoption.
The plan on rolling out the next generation of networks comes after the telco in partnership with Chinese-based technology firm ZTE launched the 5G a pilot public demonstration to showcase how the network will perform.
MTN Uganda has managed to push and expand its 4G coverage across the 135 districts countrywide as they plan on rolling-out 5G coverage in the next three to four years. The telco revealed introducing the next generation of networks in a pilot 5G demo that was held at their head offices in Nyonyi Gardens in Kampala.
Prime Minister; Rt. Hon. Ruhakana Rugunda while attending the pilot demo praised the telco on adopting the new technology. Adding to his remarks, Mr. Wim said 5G will not be about more customers using their network but rather IoT devices connected together. Emphasizing that their customers will have faster and better experience with services; from telemedicine, education, finance, among others.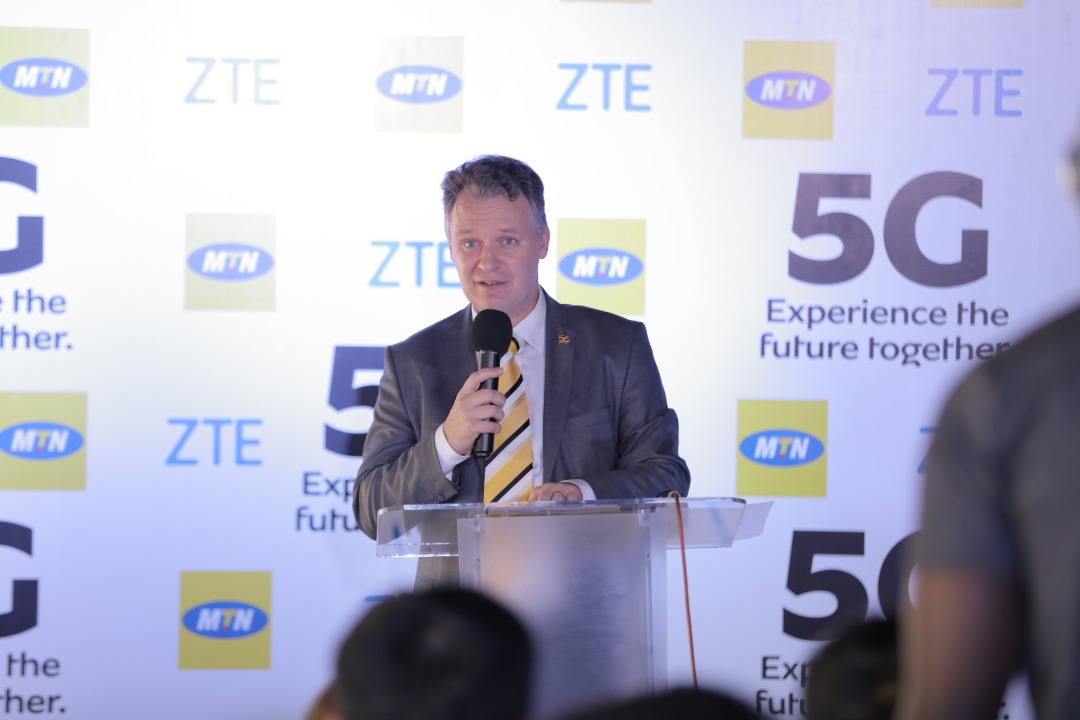 To support smartphone adoption, in 2019 MTN distributed 675,000 affordable data-enabled handsets across 12 markets. They also launched a digital literacy programme in nine markets, helping over three million people improve their understanding of the mobile internet and applications.
On the other hand, data affordability MTN has reduced the entry-level data rates across its footprint by 60%. In 2019 alone, it cut the effective data price per megabyte by 34%.