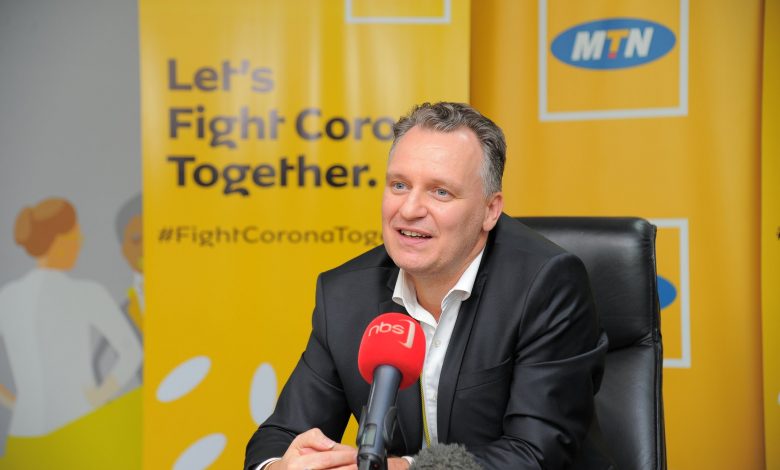 Telecommunication firm; MTN Uganda has taken the liberty to announce its plan of playing a role int fighting coronavirus, officially called Covid-19. The plan was addressed by the company's CEO; Mr. Wim Vanhelleputte at their head offices in Nyonyi Gardens, Kampala. He briefly highlighted out three things that the company has put in place to fight against the infection virus.
One, Mr. Wim said they have followed what their neighboring countries have done and removed charges on mobile money transactions from one person to another; P-2-P (MTN customers) on all transactions below UGX30,000 for a period of 30 days — starting effective today and the sender can only do this three times in day.
He added that there will be no charge on Wallet to Bank or Bank to Wallet transactions. Concluding that there will also be no charge on MoMoPay transactions as well on customers and merchants.
Mr. Wim says this decision was jointly made with the Central Bank of Uganda and escrow partner banks.
Secondly, the company has introduced a work from bundle this morning. The bundle, 1GB which costs UGX2,000 is used from 9AM to 5PM, according to Mr. Wim the time interval is the normal working hours. He called on employers to encourage their employees to work from home, only if the job(s) can be done from home.
To activate the work from bundles, dial *150*19# and you can buy for yourself or another person.
Thirdly, Mr. Wim emphaized that they are reaching out to the government for additional immediate support. The telco has put aside, and made available for immediate use, UGX500 million that Mr. Wim says the Ministry of Health will advise them on where the most urgent priority needs are and will thereby make the money immediate available to support the government in the fight of COVID-19.
MTN also begun broadcasting via their SMS channels messages from the Ministry of Health on the guidelines and prevention of COVID-19.
Notably, the company has taken safety measures at all its offices, equipped every station with sanitizers, as well as called the general public to buy and use santizers. Other recommend advises include; washing hands, avoid handshakes and hugs, among others to avoid getting the virus.