In Sep. 2019, DHL launched an e-commerce app called DHL Africa eShop which allows global retailers seamlessly sell directly to Africa consumers.
The platform brings more than 200 U.S. and U.K. retailers — Amazon, Macy, Neiman Marcus, Carters, Gap, among others — online in 34 African markets: Uganda inclusive.
DHL Africa eShop operates using MallforAfrica.com's white label service, Link Commerce. Payment methods will include Visa-Mastercard and PayPal. DHL Africa eShop leverages the shipping giant's existing delivery structure on the continent, through its DHL Express courier service.
Getting Started and How to Shop
Getting started, install the DHL Africa eShop app downloadable from App Store and Play Store. For web, install the Google chrome extension; DHL eShop. Unlike the chrome extension, for mobile application, the user has to create an account — to be in position to shop.
To shop, open app >> and login. Once logged in, choose the categories you wish to shop from. On the other hand, you can choose from what store to shop from.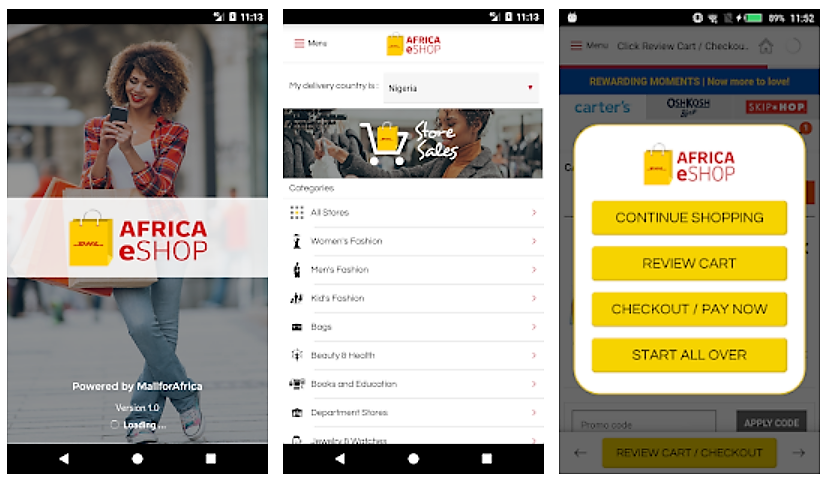 After ending all the products to purchase to your cart, select Review Cart/Checkout. You're redirected to a review and checkout page, and once satisfied with the products select checkout.
Select your shipping address. On the delay option, you choose whether if the product can be delayed or note. What this means! If your product is not processed with the 15 business days, you can get a refund or be patient to have it processed.
To make payment, you can pay using PayPal, Visa-Mastercard or your DHL eShop wallet balance.
Limits
Shopping using this platform, the product has to be less than 40kgs and can fit in a 30x30x30 cm box. Other than this, you are charged extra fee or order maybe cancelled.