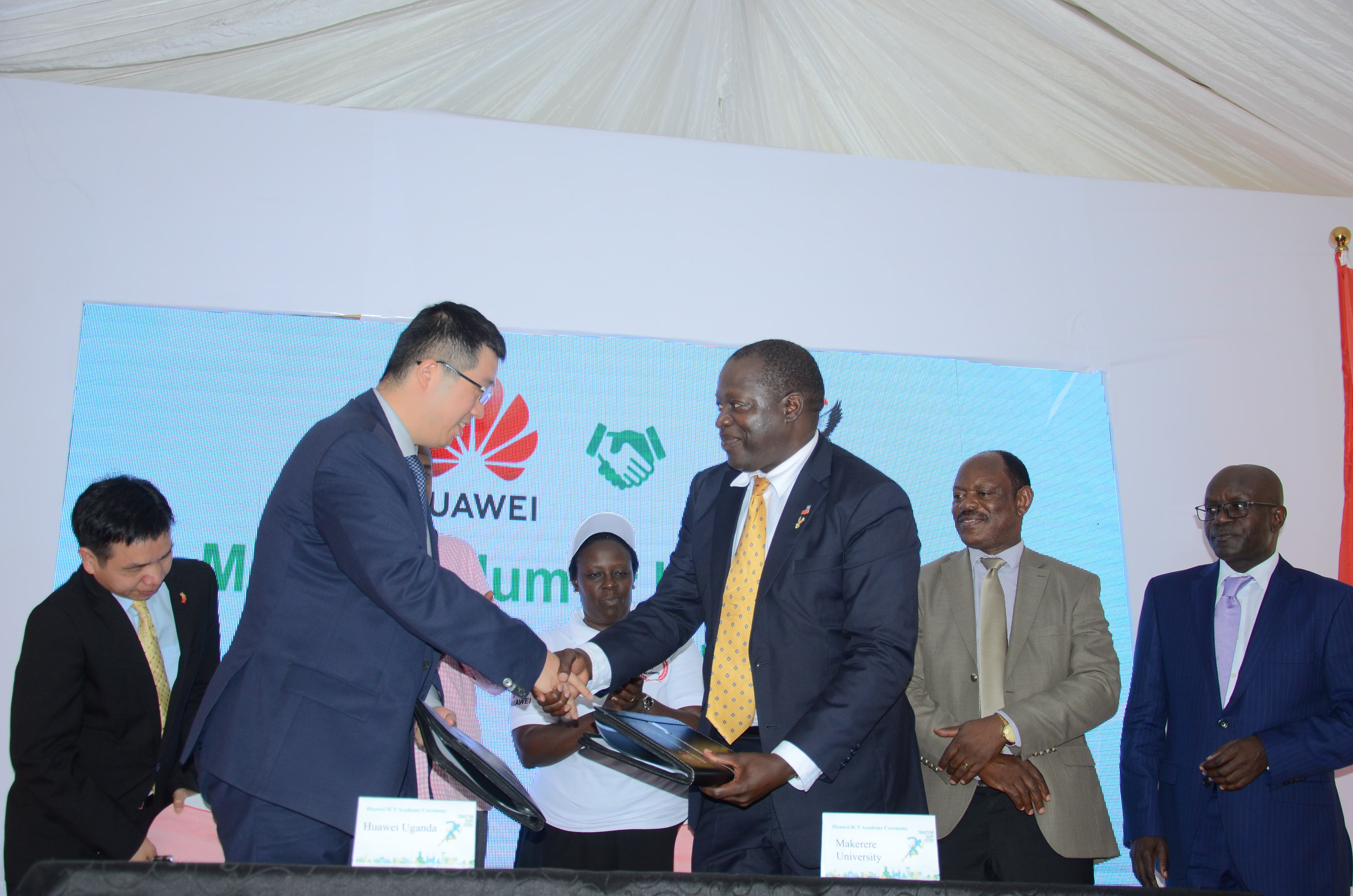 Makerere University (MUK) entered a collaboration with Chinese tech firm; Huawei to establish an ICT Academy in Uganda. The memorandum of understanding (MoU) was signed by Huawei Uganda's Managing Directior; Liujiawei, and Prof. Tony Oyana; the College Principal of College Computing and Information Science at MUK during its official launch at MUK on Tuesday.
The event graced by the Minister of ICT and National Guidance; Hon. Frank Tumwebaze as the guest honor officially took the veil off. At the same time, the Minister was flagging off 10 university students to China under Huawei's seeds for future program.
Huawei has invested USD$30,000 (approx. UGX113.6 million) in setting up the academy. The academy is to offer free certification to students with the aim to improve and cultivate ICT talent. In addition bridge the gap between universities and the corporate world by offering hands-on training, promote ICT industry technology certification, develop ICT industry talent and a strong learning ecosystem.
The academy, according to an MoU will run as a non-commercial cooperation project between Huawei and universities, colleges, and other educational institutions all over the world.
ICT Academy is to teach ICT courses to over 1,000 students without a charge.
The academy on the other hand is to encourage students on getting certified by Huawei and cultivate professionals with practical skills for the world and ICT Chain.
Tuwembaze noted that today students should be skilled. He claimed the gov't of Uganda through the Ministry of Education and Sports have a program specifically for skilling Ugandans — emphasizing that the gov't is skilling people to earn.
Quoting the Minister, he said, "If you've the skill, you're able to shape it, nature it, incubate it, tailored to solving a problem, and you will surely earn."
Therefore, the ICT Academy courses will combine both theories and practical operations since some students hardly have project experience.
The academy starts enrolling students in June this year after certifying the lecturers — who are currently undergoing training.
The academy for now is focusing on public universities, including; Makerere, Kyambogo, Lira, Gulu, Muni, Busitema and Mbarara.
Huawei Uganda's PR Manager; Allan Kyobe on the sidelines of the event told PC Tech Magazine, "the extension to private university will come at a later date. This time around the focus starts with public universities."
During his closing remarks, Tuwembaze commended Huawei for their consistency in skilling and talent nurturing. Claiming it is in line with the digital strategy of transforming Uganda into a middle income country.
He affirmed that, "through Huawei's initiatives shall cultivate and pool together ICT professionals that are crucial to industry development. Thus boosting ICT industry development, driving the development of different sectors and contributing to lower unemployment rates over the long term."
Notably, Huawei has so far cooperated with more than 300 universities around the world educating more than 10,000 students every year.